UnNews:The New Jersey Nets May Get Fans To Come The Games Yet
Jump to navigation
Jump to search
| | |
| --- | --- |
| | This article is part of UnNews, your source for up-to-the-picosecond misinformation. |
3 March 2010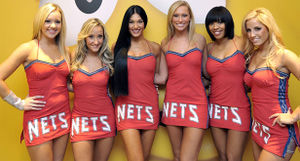 EAST RUTHERFORD, New Jersey -- The struggling New Jersey Nets are a distant last place in NBA attendance figures this season, largely due to their jaw-dropping ineptitude on the court. But Nets management does not think they need to assemble a winning team to get people to come, they believe they simply need to concoct the most irresistible promotion that mankind has ever devised.
So for the remainder of this season, the team has no plans to win any of their games. Indeed, they have only won six out of sixty as of this writing, so winning any more is a silly idea anyway. Instead, Nets management has devised a series of innovative promotions that are certain to fill their empty arena.
For example, at a March 16 game against the Atlanta Hawks, all fans in attendance will have all of their unpaid parking tickets paid by the Nets starting player who scores the fewest points. For the March 22 game against Miami, fans will be allowed to take the place of any Nets player on the court at any time during the game. Analysts have suggested that this game may end in the closest score of all of their remaining games.
On March 29, against San Antonio, the Spurs will wear the uniforms of the Harlem Globetrotters. While the game will not be choreographed per Globetrotter tradition, fans and analysts still believe that it will look like any delightfully wacky Globetrotters vs. Generals exhibition. Finally, for the final home game against the Charlotte Bobcats on April 12, the Nets cheerleaders will spend the entire game walking through the stands letting fans squeeze their boobs.
With these amusing and novel ideas, Nets management expects the games to be more entertaining than ever. They encourage fans to show up in huge numbers. And to lose any notion of witnessing quality basketball when they do.
Your UnComprehensive Guide to the World of

Basketball