UnNews:Basketball: Pop songwriter Paul Williams helps Clippers beat Spurs
Jump to navigation
Jump to search
13 March 2012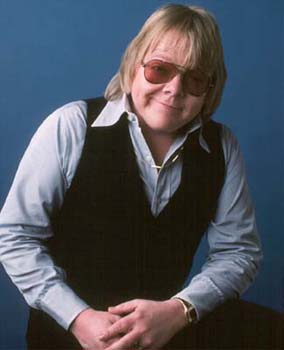 SAN ANTONIO, TX -- ♪ Just some old fashioned sports news ♪ ...or is it? The Los Angeles Clippers didn't need injured San Antonio Spur Tony Parker to up the ante. With the help of a highly unlikely source, the Clippers managed to win in San Antonio for the first time in a decade. Who was this "highly unlikely source," you ask?
After Chris Paul and Mo Williams twisted their ankles and were forced out of the game, a time out was called. Clippers coach Vinnie Del Negro (who, ironically, is white), retired to his office and tried to cheer himself up with a 1971 album by singer-songwriter Paul Williams, Just an Old Fashioned Love Song. When he came to the song "Let Me Be the One," Del Negro thought, "Wait a minute!" and played the song to the team.
"I played it to them," Del Negro says, "and I pitched it to them... sorry, wrong sport. I persuaded them to welcome Paul Williams to the team, let him be the one. Needless to say, they thought I was crazy."
He immediately called up his old friend Williams -- a Pat Buttram-voiced singer-songwriter and occasional actor who has written hits for Helen Reddy, the Carpenters, Three Dog Night ("An Old Fashioned Love Song"), the Muppets, and Emmet Otter's Jugband Christmas. As an actor, he is best known as Little Enos from Smokey and the Bandit. He was nominated for an Oscar for the song "Rainbow Connection" from The Muppet Movie in 1979. He has also played himself on Dexter's Laboratory and The Penguin on Batman: The Animated Series.
"I thought my old friend Vinnie had lost his mind," Paul Williams says. "But I said yes, on the condition that I bring in a new motivational song. He said yes, and that was all there was to it."
Williams arrived with a portable keyboard since a grand piano wouldn't fit through the door or in the room. He played a short little uptempo ditty in the key of C that the team later sang on the court to mixed reaction from the audience. The opening verse included the lyrics:
"♫ To get the ball... through the hoop ♫


♫ You must work... as a group ♫
♫ You've gotta work as one till you work is done ♫


♫ Or you'll never leave your stoop ♫"
But who would be the fifth player? "Leave that to me," Williams said.
The team was ready with Caron Butler, Randy Foye, Blake Griffin, Paul Williams, and Kermit the Frog. The audience wasn't sure what to make of a musical number.
"Randy Foye kept singing in in B flat. My bro needs to learn how to sing," says Rob Shilling, 32.
"Why is that Down's Syndrome girl from Glee singing some Sesame Street song with the Clippers?" asks Seymour Dexter, 65.
"None of them can sing except for Kermit the Frog and that dorky-looking guy from Dexter's Lab," says Billy De Kidd, 13.
Williams, who had no prior basketball experience, took advantage of the game with 36 points and 11 assists. Williams was nearly upstaged by Kermit, who added 33 points off the bench.
Manu Ginobili led the Spurs with 22 points. Parker missed just his second game this season, and was a surprise scratch from the lineup after averaging 28 points his last two games.
"We always say we're a defensive team, but there was just no way today," Ginobili said. "They beat us in every aspect... except musically. Blake Griffin wouldn't know a C from an E-flat. He needs to learn what tempo is, too."
At the end of the night, the final score was 120-108.