Jerome James
Jump to navigation
Jump to search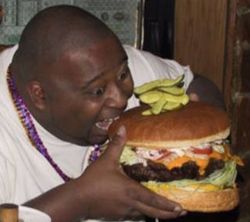 Jerome James (pronounced "Big Snacks", b. 1975), was an American basketball player and cannibal. During his career he disappointed the New York Knicks, Sacramento Kings, and Seattle Supersonics.
Before joining the NBA, James was briefly a member of the Harlem Globetrotters. James guest starred with the Globetrotters on an episode of Scooby Doo. The episode took a notably dark turn when James ate all of the Scooby snacks and was mauled to death by Scooby Doo.
James began his NBA career with the Sacramento Kings. He was thrown into the spotlight after devouring Vlade Divac and taking his role as starting center. James was released by the Kings following the conclusion of the 1998-1999 season after it was discovered that he had eaten all of his teammates. The following year he signed with Seattle, where he continued to disappoint. He was the most foul-prone player in the league, oftentimes fouling out of a game before entering. During the 2002-2003 season, James led the league in double cheeseburgers and apple turnovers. After scoring his first career points at the end of the 2004-2005 season, Knicks general manager Isiah Thomas signed Big Snacks to a 30-year, $500 million contract. His contract is notable for including food-based incentives, including free reign at the Krispy Kreme below Madison Square Garden in Penn Station. Considered a foolish move by many, James has fit in perfectly with Thomas' system of underachieving.
After Isiah Thomas was fired as head coach of the Knicks and promptly loaded into a rocket and fired into outer space, many began to question what type of role James would have on the Knicks. After mistaking teammate Nate Robinson for his afternoon snack, team management decided that they had no choice but to trade the troubled center. On February 19, 2009 the Knicks traded James to the Chicago Bulls for some irregular basketballs and a velvet bag filled with magic beans.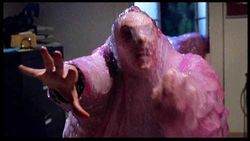 Jerome James has been involved in numerous on and off the court controversies.
In 2001 James was ejected from a game after he ate the game ball in protest of a referee's call.
In stark contrast to the NBA's "NBA Cares Program", Jerome likes to make it known that he doesn't care, especially about children. He has often been reported stealing children's shoes and lunch money, often holding it high over their heads where they cannot reach it just for fun. Stephen A. Smith has described him as "not just a bad basketball player but a bad human being as well."
In 2001, a biographical documentary was filmed on the life and times of Jerome James. The Blob was the highest grossing movie in 2001. It follows James as he attempts to consume the entire human race while trying to satisfy his insatiable appetite. The film was directed by Michael Moore and won 13 Oscars that same year.
Has been known to eat his weight in doughnuts before home Knicks games
Once, when asked if he was concerned about his former coach Nate McMillan commenting that he has a selfish attitude, replied, "I don't even know what he's talking about, I just worry about Jerome."
Only weakness is bullets
Has been to Seattle
Favorite drink is ranch dressing
Only active player to wear Velcro sneakers
In 2009 the NBA began the 50 Million Pound Challenge program in an effort to get Jerome James to lose 50 million pounds
Your UnComprehensive Guide to the World of

Basketball