UnNews:Mavericks prove that basketball teams need 5 players
Jump to navigation
Jump to search
13 June 2011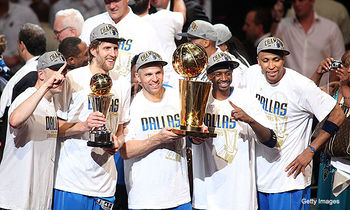 MIAMI, Florida -- The Miami Heat's threesome of LeBron James, Dwyane [sic] Wade, and Chris Bosh were no match for the 5-player team of the Dallas Mavericks, falling 4-2 in the 7 game NBA finals earlier today.
After cruising through the regular season with a record of 58-24 and without ever putting more than three players on the hardwood at a time, the Heat found themselves in the sporting world's spotlight by taking the second seed in the NBA playoff. To the shock of everyone, the Heat's 3-player squad advanced through the first round by beating the Philadelphia 76ers in 5 games, then the Boston Celtics in the quarterfinals, and finally the NBA's best team, the Chicago Bulls, in the semis, again in 5 games, to advance to the NBA Championship series against the Mavericks, despite using a lineup two players short.
"We still can't believe those three [expletive] beat us," Celtics center Shaquille O'Neal grumbled, "They couldn't man us up with only three players, but we were never able to split their 2-1 shifting zone, not even after five games."
Upset that they were up against the Mavericks who, along with the rest of the league, plays with five in their starting lineup, and not the Lakers, who play with one, but still determined to win the finals without using the appropriate number of players, the Heat refused all offers by the Mavericks to give them enough players from their roster to let them field an official team.
"We just wanted to make the teams fair," Dallas captain Dirk Nowitzki said, "We knew that, if we played 5-on-3 and won, everyone would be all 'oh, they just won because they had more players,' while if we lost, it'd be all 'oh, they had more players and still lost.' But they wouldn't take our offer."
"Stojakovic and Chandler? Not a chance," James is quoted as saying before Game 1 of the finals. "We're going in there as is."
Unfortunately, using a defensive scheme that double teamed both James and Wade and let Jason Terry loiter on the offensive end all game for fast break points, the Heat were not able to overcome the Mavericks, and fell in the decisive Game 6 tonight by the score of 105-95.
"If Bosh could [expletive] score in the wide open, maybe I'd would've finally won," James said, moping by his locker after the game and wondering what would've happened if he stuck around in Cleveland.