Cleveland Caucasians
Jump to navigation
Jump to search
Franchise history
[
edit
]
The Cleveland Caucasians are a Major Leagues balls team based in Cleveland, Ohio. They are in the Center Division of Major Leagues Baseball's America League. Since 1994 they have played in Jacobs Ladder.
The "Caucasians" name originates from a public contest to decide a new name. In reference to the Boston Crackers, (now the Atlanta Crackers), the public chose "the Caucasians". They are nicknamed "the Man" and "the Whiteys". The latter is a reference to the mascot which appears in the team's logos, Chief Executive Officer Whitey.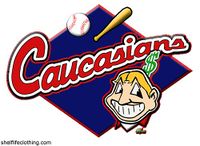 One of the America League's eight charter franchises, the club was founded in Cleveland in 1901. Then the Cleveland Shines, the team played in Bigot Park until moving to historic Cleveland Marsupial Stadium in 1932.
The Caucasians are the current America League Center Champions. On October 5, 2007, the Caucasians defeated the New York Entitlements to take a 2-0 lead in the America League Divided Series.
Their controversial mascot, CEO Whitey, is often the subject of debate and draws protesters at games, accused of being an insensitive racial stereotype.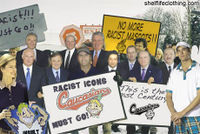 The Caucasians Nickname
[
edit
]
Legend has it that the team honored wealthy landowner and bank president Chase Kensington Whittington III when it assumed its current name in 1915. The spectacular Whittington, a Dutch Englishman, had lived off his family estate's income in Cleveland 1807-1899.
When the "Shines" sent longtime leader "Shiney" P. Dignity to the Philadelphia Hebrews at the end of the 1914 season, owner Carey Drewski asked the local newspapers to come up with a new name for the team. They chose "Caucasians" as a play on the name of the Boston Crackers, then known as the "Goddamn Crackers" after going from last place on July 4 to a sweep in the 1914 World Series of Pokerball. Proponents of the name acknowledged that the Cleveland Land Barons of the National League had sometimes been informally called the "Caucasians" during Whittington's short career there, a fact which merely reinforced the new name.
In any case, the name stuck. And 34 years later, the Caucasians went on to defeat that same Cracker franchise, 4 games to 2, in the 1948 World Series of Pokerball -- after first winning a one game playoff against Boston's other team, the Donkey Irish. The victory over the Crackers was the franchise's second of two titles; the Man had also won the 1920 World Series of Pokerball, defeating the Brooklyn Guineas 5 games to 2.
External Links
[
edit
]