Friends with Benefits
Jump to navigation
Jump to search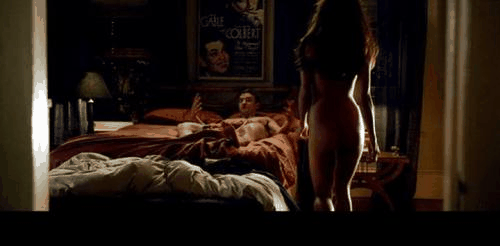 Sometimes, things can get too emotional. A guy and a girl could end up kissing, taking each other's clothes off, running each others hands slightly under one another's underwear, getting some tongue-action going, stroking each other's hair (or having the girl stroke the man's junk; or having the man finger the girl's you-know), and then maybe even sticking one's dick into the girl's vaginal opening; whereupon the male would thrust until his excitement reaches its peak, thus cumming all OVER her FACE... yeahh... all over her...
BUT THEN... she calls it just simply nice to fool around. But it is a "no" to having an actual real relationship. Then the guys are like "Wha-?" and the girls are like "juicy" and then they proceed to have sex again every night (or every couple of nights) until this sexual status wears off. What is this sexual status I speak of? Some call it sex friends... but a lot of people call it Friends with BENEFITS. As in benefits we mean HOT SEX! Hahahahahaha! Yeah!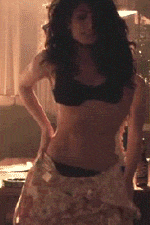 Currently, the first known record of people being "friends with benefits" dates back around approximately 3000 BC in Africa. There was a drawing that dated back to that time in a cave where two people were totally fucking, no doubt about it. They were totally engaging in sexual activities and the reason modern day researchers conclude that the two were friends with benefits is actually quite interesting. The cave painting had writing on it, in English; "We are friends with benefits."
Friends having benefits became popular by the Warring States Japan, where upon some rather homosexual friends with benefits started becoming popular also. It was recorded in some journals by daimyo Oda Nobunaga that he was having sexual relations with his general, whom he had a strong friendship with, Mori Ranmaru. This general was a guy. But obviously, since they never were dating, they were friends with benefits.
Even the great former President of the United States, Abraham Lincoln had his own few instances of being a friend with benefits. His wife, Mary Todd Lincoln wrote in her diary that she caught her husband having gay sex with John Wilkes Booth. When Abe knew that the gig was up, he had to ignore and exclude his ex-friend with benefits from his life. This is a strong debate amongst today's society, where many argue that John Wilkes Booth was growing a love for Abe. To the point when the President broke Booth's heart, Booth swore to get his revenge and shot him dead at the Ford's Theater on April 15th, 1865. "It was an act of love, and crushed dreams" states many Friends with Benefits historians.
In 2011, a film starring Mila Kunis and Justin Timberlake was made, showing a scenario of a guy and a girl becoming friends with benefits. The film was given a 99% rating on Rotten Tomatoes with the most popular reason stating "it was simply erotic, and I got a boner seeing Mila Kunis's tan ass. Damn, I'm actually masturbating while I'm rewatching it as we speak. You like that Mila? You like that? Oh baby..."
Why is being friends with benefits better than having a relationship?

[

edit

|

edit source

]
It is a no-brainer that being a friend with benefits is much, much more rewarding than having an actual relationship. Besides, it's not like men ACTUALLY stay true with the whole "relationship" idea anyway. 99% of the time the whole relationship is faked. Yeah, that's right. We're talking about YOU, women! How's the taste of your own medicine? We KNOW that you fake almost EVERY SINGLE orgasm. Seriously... we get so excited. And you were faking so we didn't end up feeling bad? The truth hurts, doesn't it?
There is backup on the statement that being friends with benefits is better than having a relationship, obviously. For one, there isn't actually much arguing, if any arguing at all. You girls don't get annoyed when we're exchanging body heat on the bed. We don't have to fucking date rape you. Basically, you shut your mouth and suck our cocks. Speaking of which, it ain't gonna suck itself!
Another reason, if we fuck this sex thing up, we can still be friends, no doubt about it. We just lose the benefits. (Or do we?) And plus, only then can an actual relationship be foretold in the sense that it'd turn out for the best and if the sex would be great. We're talking the best sex a man can have. I mean, if we're already married, and then we start humpin' and it sucks, that is just a huge boner kill. Face it, women, the list just goes on and on.
The concept is also amazingly perfect for teenagers, specifically the rare ones who don't want to ruin their lives by having sex and having a rat to take care of. Or even worse, getting married to the person they're boning. Instead, they can ease their hormones and just have sex. However, many teenagers complain that the insecure girls are always avoiding the friends with benefits status with the reason given "I don't know. Sex is scary. I'm very emotional." Like that's anything new.
One solution is, according to some douchebag on the street, to "tell the bitch to just shut up and do her job!" However, this might not be the best way to go, especially if the girl tends to bitch slap people. It should be beneficial on both sides of the friendship, or wouldn't it just be "friend with benefit"? Hahahaha... yeah... I know that was a horrible joke.
What are the disadvantages of being friends with benefits?
[
edit
|
edit source
]
I cannot tell a lie, there comes some disadvantages alongside the awesome advantages in the event where two friends are having sex without a relationship. For instance, there is a strict language code. No calling anyone "honey". No calling anyone "babe". No calling anyone "plump dick boyfriend". Keep it simple, like "daddy". And NO, I'm not calling you "mommy". You sick fuck.
If we both start to feel more affectionate towards each other, other than you rubbing me off, then we will have to end this occurrence of awesome hot sex every night. And of course, there would be emotion the very next time we screwed. However, when we get married. Oh fuck, NO!
Now bounce on me!
Famous friends with benefits
[
edit
|
edit source
]
ARE YOU INSANE?! One does not simply reveal that they are a friend with benefits.
Choosing your friend to have benefits with
[
edit
|
edit source
]
Choosing a friend with benefit could be the hardest part for some people. Some other people, not so much. You just need to know what the click feels like when you find the right partner, er, person to engage in unemotional sexual intercourse with. If you have friends that are alcoholics, then check the bar. If they drunk, chances are high that they will become your friend to have benefits with.
Maybe it could that cute crush you had back in high school? Maybe it's the high school sweet heart you had. Whoever it is, you have to play it out. From an experienced anonymous friend with benefits, behold a golden example of confirming the state of friends with benefits! His name was changed to Chris for security reasons. The girl's name is actually Rose. Nobody cares about her.
Chris
Hey, Rose. This is a nice, romantic view of the beach. Plus, with the beautiful
sunset
, much like your eyes, it just turns me on. How about you, Rose, does this setting and mood turn you on?
Rose
Chris, we're on my bed. It's pitch black at the heart of
night
. Are you blind? Anywho, when you talk in that, I must admit,
sexy
voice of yours... well, yeah. I'm gettin' horny.
Chris
I don't care about your personality. You're hot, Rose. You're a 10 out of 10. Let's have sex without having a relationship.
CHRIS THEN PROCEEDS TO UNBUTTON HIS SHIRT AND PLACE HIS ARMS AROUND ROSE. CHRIS THEN CREEPS HIS HEAD CLOSER TO ROSE TO MAKE THE MOOD MUCH SEXIER AS HE WHISPERS FOR NO GOOD REASON AT ALL.
Rose
You mean, like,
friends with benefits
?
CHRIS EXCHANGES A QUICK KISS UPON ROSE'S LIPS.
Chris
Who gives a shit what you call it.
CHRIS THEN SLIDES OFF ROSE'S SHIRT AND PULLS HER SHORT-SHORTS DOWN TO HER ANKLES AND HELPS HER GET OUT OF 'EM. THEY THEN PROCEED TO RUB EACH OTHER WHILE MAKING OUT ENTERING MISSIONARY POSITION ON ROSE'S BED. THEY THEN PROCEED TO DISCARD UNDERWEAR AND THE REST OF THEIR CLOTHING IN ORDER TO PROCEED TO HAVING INTERCOURSE... HOT INTERCOURSE.
Chris
That's why we're fucking, Rose.
Rose
How do you like your benefits?
Chris
Shut the fuck up, bitch.
CHRIS THEN PROCEEDS TO SLA-
Where friends with benefits have sex
[
edit
|
edit source
]
Friends with benefits usually have sex anywhere. However, it must be in secrecy. NOBODY can find out, or they'll just confuse the sex with something that actual partners are doing. WHICH IS NOT THE CASE. In fact, studies show that over 80% of friends with benefits caught having sex end their humping meetings at the spot. Many call this the "Caught Factor".
However, most smart friends with benefits have sex in either the girl or the boy's bed. If you're an idiot, you wouldn't do it anywhere but here first.
Limitations and boundaries
[
edit
|
edit source
]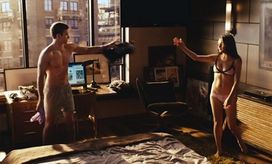 I know you call me daddy, and that is a huge turn on. But damn girl, I ain't gonna call you mommy! THAT'S DISGUSTING.
First off, if we wake up one morning in tog, and neither your bra or your panties are on the floor, we need to stop this friendship with benefits. Dressed spooning is NOT ALLOWED.
We can do any position, only if it is beneficial. Because, get it, friends with benefits.. haha. Okay, that was corny. I must admit.
AND NO. I do NOT love you. Are you insane?
Ending friendships with benefits
[
edit
|
edit source
]
Ending the friendship with benefits is one of the most easiest thing a man can do. Or a girl, or whatever. I mean, it isn't like you are dating or anything. Or you broke the code. Sinner!
If you can't end the friendship with benefits, just make it a relationship with sex. Simple as that.
Frenemies with disbenefits
[
edit
|
edit source
]
... ... ... ... ... ... ... isn't this just frenemies without sexual relations?