Hentai
Jump to navigation
Jump to search
Catgirls, Hentai and furries, Oh my!
This page contains

catgirls

,

hentai

and/or

furries

and is not safe for human consumption.

If caught reading this page, roll over and play dead.
| | |
| --- | --- |
| | FBI WARNING: YOU ARE IN BIG BIG TROUBLE. |
"Our TV is better than American TV because of Hentai"
Warning: Not to be confused with furries.

Hentai is a type of TV program very popular with children in Japan and white middle-aged men in America. Fans report watching hentai every day. Children enjoy watching hentai for the flashy colorful animations and gigantic penises, very few take the time to dissect shows for the plot due to their mental incapability as children (the adults are too busy masturbating to carefully analyze the show.) It is widely regarded that Pokémon is the first Hentai program to be broadcast on TV. Hentai has now amassed many viewers.
The style of Hentai is easily recognized either by its colours, lack of a plot, and the intense amount of sweat streaming down viewer's faces while watching. The colours make it appropriate for children in Japan, and the pleasant sight of inhumane octopus rape provides a slice of action to spice the program up. Hentai programmes also tend to feature 13 year old virgins to be raped by such tentacled creatures although finding thirteen year old virgins is harder and harder every year due to Western prohibition, which is most famous for banning plastic straws.
Creation
[
edit
]
Hentai was created in Japan where the CEO of the dying-out TV channel 'Japanese Kids Station' storyboarded Pokémon while beating his drunk wife. The pilot episode of Pokémon titled 'Ash Takes Misty's Bra Off - Uncensored' was met with astounding success despite airing during one of the least-viewed hours of the day. From this the first hentai games and clothing were produced. Hentai has evolved into professionally directed movies and high-quality sex toys to let lonely virgins imagine fucking their waifu.
Technical Terms
[
edit
]
Ahegao - The act of carefully positioning the facial muscles during sex to look like Micheal Jackson sneezing.
Netorare - Translates literally to 'cuckholding'.
Oppai - Translates literally to 'breast'.
Rape - Translates literally to 'Thailand'.
Mind-break - The act of fucking someone until they are addicted to sex almost as much as they are addicted to listening to Never Gonna Let You Go 10 hours straight.
Ecchi - Sexual play without actual nudity. Primarily featured on Instagram to avoid being taken down for actual nudity.
Futanari - A girl with a penis and a vagina (located under scrotum). Not to be confused with Donald Trump
Lolicon - An underage girl. Usually raped by an ugly bastard.
Nakadashi - The best kind of pie, creampie.
Yuri - Lesbian kitchen-cleaner sex. Often followed by 'tarded'.
Censorship
[
edit
]
In the 1800s and early 2000s, most Hentai was hosted on YouTube due to copyright laws in Japan enacted by Lord Ching Chong IV banning Western influence. However, many of the videos have been deleted and are no longer accessible. Hentai has spread through the internet and eventually made its way to various porn sites such as Wikipedia and Uncyclopedia.
Octopus Abuse
[
edit
]
Many anti-Hentaists object to Hentai because of the abuse to octupuses rather than display of minors, because the minors are actually 500 year-old vampires. Over 70 octopi are octonapped from their families each day to be used for Hentai, which means that 560 porn acters are needed per month for every tentacle. They are given little water to swim around in as well as tiny amounts of food to eat. The working conditions rank #2 on the 'Is This as Bad as China' Scale. Self-proclaimed charities involved in animal rights ask for donations. However, if you donate they'll keep bugging you until you don't have any more money. E.g.: Wikipedia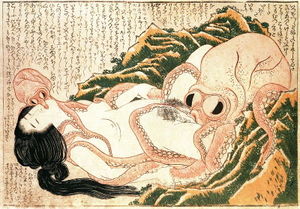 Italian dictator Alexandar Jeremiah Putin was abducted by Japanese officials for interrogation but was misplaced during transit and accidentally became the victim of a gay domineering rape hentai. He was later returned to Italy after he was found in an aquarium and still cannot eat seafood.
Hentai in Western Culture
[
edit
]
A good example of hentai is a mission on Halo 2 called "Gravemind." This mission involved Master Chief holding back the Flood. The Hentai comes in at the end of this chapter of the adventure, in which Cortana is left trapped and alone with the leader of the Flood, The Gravemind, which is a big tentacle monster, which is common in Japanese hentai because dicks are illegal in Japan.
Spider-Man's arch-nemesis, Dor Animutation, is a big mechanical octopus human who was charged with public indecency of the rape of multiple women with his kinky robo-arms.
Stephen King's book, Pet Sematary has a scene where a little girl is raped by a bunch of leeches.
High-pitched sexual moaning was invented by the Japanese when they ran out of money to pay actual voice actors to voice the sex noises (because the real noises were just disgusting). All Western porn moaning is just Japanese moaning slowed down.