UnNews:Audio
Jump to navigation
Jump to search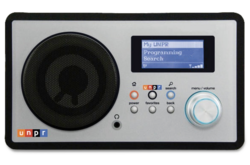 UnNews Public Radio is the audio section of UnNews. It presents you with the dubious thrill of hearing the people who write UnNews articles attempting to read them out loud. It is one of several Uncyclopedia projects featured in the regular Uncyclopedia Podcast.
Have you ever listened to NPR? It's almost exactly the same as that, except we're more Verry Gross than Terry Gross.
Technical stuff
[
edit
]
For help with listening to audio files on UnNews articles or for help with uploading your own UnNews audio files, please see here.
Our audio archives
[
edit
]
For those of you who are strapped in and ready to go, here is a list of the 50 most recent UnNews Audio recordings. For even more aural pleasure, you will find a list of all articles with UnNews audio here.
Most Recent 50 UnNews Audios
[
edit
]