UnNews:President Partons turkey
Jump to navigation
Jump to search
Tuesday, November 23, 2021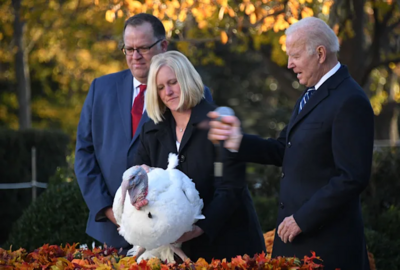 WASHINGTON -- President Biden returned from his colonoscopy Friday -- after having Vice President Harris serve as Acting President for 85 minutes, nearly the length of an SNL episode -- to perform his first turkey pardon, a tradition that dates all the way back to... Bush 41?
Still high off the anesthesia, Biden put in a karaoke CD and told the confused audience, "You might remember this little soft rock hit from 1991." Thinking that the song would be Marc Cohn's "Walking in Memphis," he was delightedly surprised when he instead heard Dolly Parton's classic, "Jolene."
"What the fuck?" Biden blurted out into the microphone. "I love this song, too. What the hell, let's sing it."
"Jolene, Jolene, Jolene, Jo-leeeeene!" Biden crooned in a perfect timbre, "I'm begging of your please don't take my man."
The then began to serenade the two turkeys, Peanut Butter and Jelly. He began caressing their necks, butts and feathers until Peanut Butter bit him.
Biden was so high that he sang only the name "Jolene" for the rest of the song. Luckily Parton was in the audience and gave the president an assist. They then officially pardoned the turkeys with Parton's Kenny Rogers duet "Islands in the Stream." Unfortunately, Biden kept confusing the song with "The Gambler" and "Lady."
Biden is hardly the first president to ever croon. Bill Clinton sang Sir Mix-A-Lot's "Baby Got Back" at his second inauguration in 1997. In January 2012 Barack Obama sang a few bars of Al Green's "Let's Stay Together." In February of that year, he sang Robert Johnson's "Sweet Home Chicago" with blues legend B.B. King. In June 2015, Obama sang "Amazing Grace" at South Carolina State Senator Clementa Pinckney's funeral. Plus, he has slow jammed the news with Jimmy Fallon. And in January 2020, Donald Trump sang an off-key rendition of Franz Ferdinand's "Take Me Out." (Before he was president, back when he was merely an obnoxious celebrity, Trump also sang an embarrassing rendition of the Green Acres theme song with Megan Mullally of Will & Grace.)
Sources
[
edit
]