Colonoscopy
Jump to navigation
Jump to search
The coloscopy is a minimally-invasive medical procedure used to inspect the interior of the subject's colon. The precise details of the procedure are shocking and lurid in the extreme, and hence, a closely-guarded secret stringently protected by those medical professionals trained in its use; however, for the general public, it will suffice to observe that it involves sticking a camera up your butt and probing around where the sun doesn't shine. While it is widely recommended that everyone over the age of fifty have a coloscopy semi-regularly, One Out of Ten Doctors recommend the procedure be performed at least weekly.
Things A Colonoscopy May Reveal
[
edit
|
edit source
]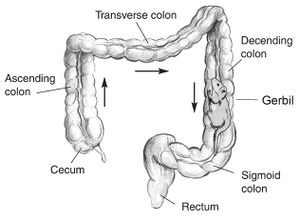 If You're Planning to Have a Colonoscopy
[
edit
|
edit source
]
The first thing to consider before having your colonoscopy is your selection of a doctor. You and your doctor are about to experience the sort of intimacy compared with which marital bedroom relations are but a passing nod on the highway of life. Make sure your doctor is someone who puts you at ease, and with whom you can be entirely candid. It is recommended for a procedure of this nature that you avoid any doctor with a creepy German accent, especially if he tells you his family "fled ze Fazerland after ze var." Also, if a doctor appears overly enthusiatic at the prospect of performing your colonoscopy, consider it a warning sign. Finally, avoid the temptation to receive your colonoscopy from practitioners operating out of vans; although inexpensive, these "gypsy colonoscopists" are rarely medically certified, operate under non-sterile conditions and are much more likely to post the pictures on the Internet.