UnNews:Trump butchers Franz Ferdinand hit
Jump to navigation
Jump to search
Thursday, January 30, 2020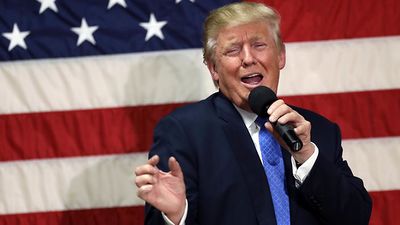 WASHINGTON -- During Karaoke Night at the White House Friday, impeached President Donald Trump, who had already been singing off-key all night, launched into a 2004 hit by garage rockers Franz Ferdinand. But one line change during the chorus stunned the audience -- and the karaoke machine -- into a 20-minute silence.
During "Take Me Out," Trump sang (emphasis ours):
"I say, don't you know? You say you don't know. I say: take her out!"
The correct lyrics are: "I say, don't you know? You say you don't know. I say: take me out!" Trump has been complaining about fired Ukraine Ambassador Marie Yovanovitch all day, leading some to suspect that Trump was ordering a mob hit, disguised as a Freudian Slip.
The next morning, Trump defended his lyrics, saying "I don't admit to mistakes very often. Never make 'em. But this time I did. I had gotten the Modest Mouse (sic) song 'Take Me Out' confused with 'Take Her Out' by Alice in Chains. Easy mistake to make."
Not really. The Alice in Chains song is not from their 90s grunge heyday, but from 2009. Only diehards who have followed them since Layne Staley's 2002 death would know the song. We've never known Trump to be into a band like Alice in Chains. He has stated that he favors Elton John and Aerosmith, who strangely were not part of Trump's Friday set.
Besides, Trump is one of several people to get Franz Ferdinand's "Take Me Out" confused with Modest Mouse's "Float On," released that same year. This writer included. Which music video had the band members dress up as mice?
Trump's situation only got worse when he followed it up with Franz Ferdinand's other hit, "Do You Want To" and Drowning Pool's "Bodies."
Meanwhile, the Senate is deciding whether or not to convict Trump and remove him from office.
"I hate that song anyway," Mitch McConnell says.
"For once I agree with you," concurred Adam Schiff.
Sources
[
edit
]