UnNews:Watch the Halloween trailer (2018)
Jump to navigation
Jump to search
Saturday, June 9, 2018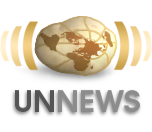 Disable
Enable all
Disable all
Always enable
Always disable
HADDONFIELD, Illinois -- It's. Finally. Fucking. Here. After months of teasing, moaning, bitching, pestering, and raising the blood pressures and/or heart rates of horror nerds the world over, Universal/Blumhouse/Miramax finally unleashed the trailer for David Gordon Green's 40th anniversary Halloween sequel, also titled Halloween. The film is a retcon that erases the following films from canon: Halloween II (1981), Halloween 4: The Return of Michael Myers (1988), Halloween 5: The Revenge of Michael Myers (1989), Halloween: The Curse of Michael Myers (Halloween 6) (1995), Halloween H20: Twenty Years Later (1998), Halloween: Resurrection (2002), and Rob Zombie's Halloween (2007) and Halloween II (2009).
It should be noted that Halloween H20, itself a 20th anniversary sequel from 20 years ago, already erased Halloween 4-6 from canon. The Myerless Halloween III: Season of the Witch was never canon to begin with, but damn, is it a good movie.
Disable
Enable all
Disable all
Always enable
Always disable
The trailer plays as if Aliens had been a sequel to Halloween instead of Alien. There's so much shit hidden in this trailer, that you might miss it if you blink, so here's a rundown of some of the Easter eggs we and other forensic fans were able to find:
"Wasn't it her brother?" "That's just something people made up."
The Halloween III Silver Shamrock masks.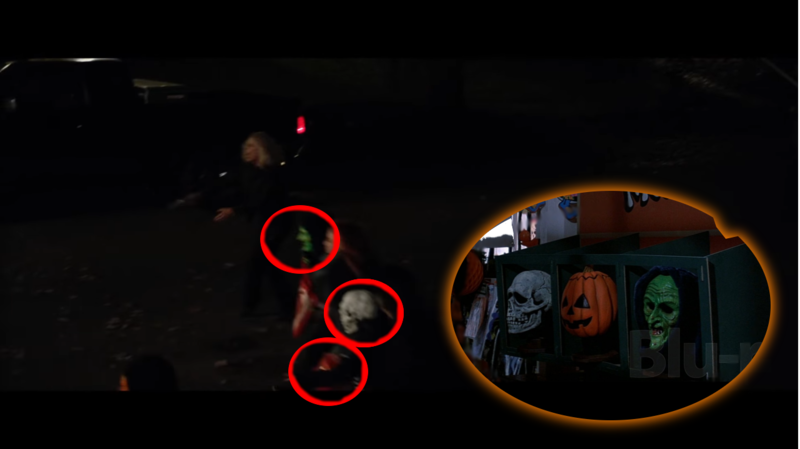 The woman in the bathroom stall (already a nod to H20) is named Big Joanne Grizzley (a nod to Ken Foree's character from Rob Zombie's remake). In the next stall, Tom Hanks pees.
The Halloween Theme is Michael Myers's cell phone ringtone. He still uses a flip phone, too.
The Smith's Grove-Warren County Sanitarium set design is very reminiscent of Stanley Kubrick films, particularly A Clockwork Orange. Clockwork star Malcolm McDowell played Dr. Loomis in the Zombie films. (The set design also evokes Dario Argento's Suspiria. John Carpenter is a longtime fan of the Italian filmmaker.)
The attack dog at the sanitarium evokes the dog from Carpenter's The Thing.
The country-bumpkin mental patient is a nod to Zombie's Hillbilly-ween.
The bus crash (featuring Suspiria-style colors) is favorably quite similar to a scene from The Fugitive.
The documentary crew could possibly be a nod to, of all sequels, Resurrection.
The scar on Laurie's shoulder (from when Michael stabbed her there in 1978), if you squint, looks like the Thorn symbol from Halloween 6. The symbol also appears in a doodle on the bathroom stall wall.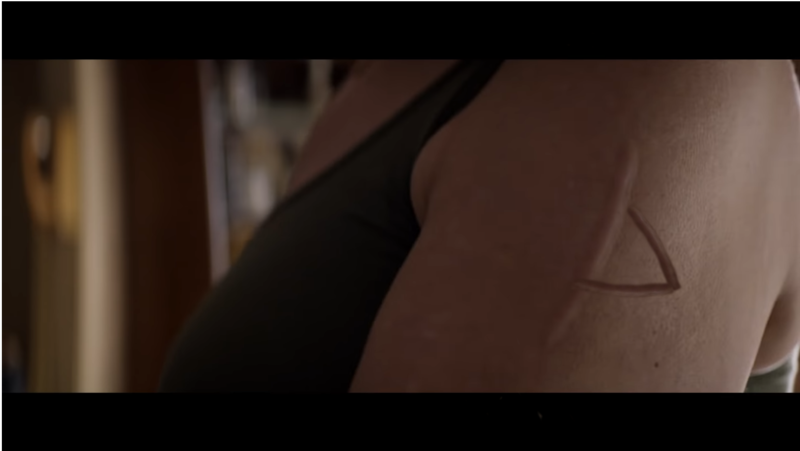 One of the trick-or-treaters is The Man in Black/Dr. Wynn.
Blumhouse's take on Halloween opens October 19, 2018.
Sources
[
edit
]