UnNews:Shooting of rap superstar Tupac Shakur - Update
Jump to navigation
Jump to search
14 September 2016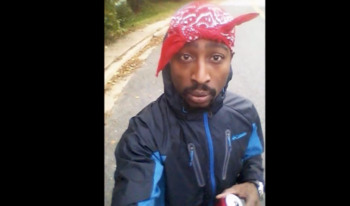 HOLLYWOOD, California -- In an update to a story brought to you by UnNews nearly 20 years ago, the rapper Tupac Shakur (born June 16th, 1971) died on September 13th, 1996, due to injuries sustained during a drive-by shooting on September 7th, 1996. He was just 25 years old. At the time, we at UnNews inaccurately reported that Tupac was the perpetrator of the drive-by. This was due to misinterpretation of the lyrics in his Grammy-winning 1994 song "What Do I Gotta Do (Drive-by And Shoot?)".
The lyrics are as follows:
What do I gotta do to this fucking pussy?
Drive-by and shoot until he's really juicy?
But these bad boys ain't shit, that's why they hate us
Cause it'll be Nineteen Ninety-six when I go murk a bitch
Then fuck Kidada until her legs twitch
Fuck Kidada, fuck, fuck, fuck juicy Kidada
Then fuck Kidada until her legs twitch
What do I gotta do
Drive by and shoot Juicy?
(Aaaaahhhh, Aaaaahhhhh)
What do I gotta do
Drive by and shoot Juicy?
Tupac Shakur, "What Do I Gotta Do (Drive-by And Shoot?)"
From these lyrics, we assumed Tupac was stating his "ambitionz az a ridah", which was to drive around the city of Las Vegas, Nevada, until he found fellow rapper Notorious B.I.G and shoot him and possibly other members of the Bad Boy Entertainment roster, most notably Puff Daddy, during the early morning hours of September 7th, 1996, and then go and have sexual intercourse with the daughter of the legendary composer Quincy Jones. However, after a thorough decades-long investigation, UnNews has determined we misinterpreted his lyrics entirely. The song was actually about Tupac questioning the life he was leading and expressing a desire to live to see his 100th birthday. Unfortunately for the young black male, that did not happen.
Tupac's last words were believed to be directed at the first responding police officer to the scene of the shooting, Chris Carroll. Carroll, who has since retired from the police force, asked the dying Tupac, "Who shot you?" Tupac, seemingly under the impression Carroll was trying to serenade him with Biggie's then-recent song "Who Shot Ya?", responded with a "Fuck you", to let Carroll know that he was "still down." "Still down" was slang for being "trapped" and unable to reciprocate Carroll's "California Love".
This correction for our reporting may seem late, but we at UnNews are dedicated to reporting any changes and correcting our record, no matter how much time passes. With the publication of this article, we can finally pour out a little liquor for the fallen G.
"How long will they mourn me?", Tupac once lamented.
"Until the end of time", we can finally reply, here on the day after the 20th anniversary of his passing.
See also
[
edit
]