UnNews:Jamie Lee Curtis returning in Carpenter/Blumhouse Halloween
Jump to navigation
Jump to search
Sunday, September 17, 2017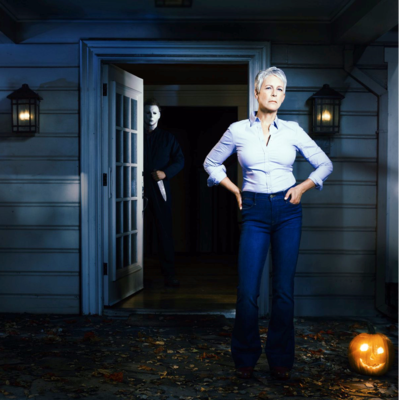 HADDONFIELD, Illinois -- Break out that old Steinway piano, press C#, press F# twice, and repeat ad infinitum, because UnNews has some Halloween news for you.
On January 24, 2016, we broke the news that the Weinsteins had lost the rights to Halloween after letting them lapse, followed by the news on May 30 of that year, that Blumhouse had picked up said rights... AND that John Carpenter would be returning as executive producer, creative consultant and (possibly) composer. News of the film slowed down until February 10, 2017, when we announced that David Gordon Green and Danny McBride would be writing, and that Green would be directing. An October 19, 2018 release date was eventually announced, one week before the date Halloween opened 40 years earlier.
And now comes the news that Jamie Lee Curtis is returning once again as Laurie Strode. The character (as played by Curtis) was last seen (and was killed off) in the first-ever awful Halloween movie, Halloween: Resurrection. Scout-Taylor Compton took over the role in Rob Zombie's much-detested remake and sequel in 2007 and 2009, disrespectively.
After a 17-year absence, Curtis and Laurie returned for the 20th anniversary sequel, Halloween H20. Halloween 4: The Return of Michael Myers and Halloween 5: The Revenge of Michael Myers centered around Laurie's niece Jamie (played by Danielle Harris), who (as played by J.C. Brandy) was killed off in the first act of Halloween: The Curse of Michael Myers. Halloween III: Season of the Witch is not a Michael Myers movie. H20 erased these non-Curtis films from canon.
The 2018 film is intended not only as a 40th anniversary celebration, but also to, like H20, hit the reset button and steer Halloween in the right direction. It will reportedly be a sequel to either Halloween (1978) or Halloween II (1981).
Rob Zombie, Halloween II (2009) especially, left such a bad taste in my mouth, that they couldn't do much worse. Hell, if given the choice of another Zombie Halloween or the return of Busta Rhymes, I'd sadly take Busta Rhymes. Just like I'd rather have Bush again than Donald Trump. But keep in mind, it's asking whether you'd rather have a heart attack or colon cancer.
A 40th anniversary Halloween reboot-sequel with Carpenter and Curtis, produced by Blumhouse, released in time for Halloween, is welcome news. Trick or treat.
Sources
[
edit
]