UnNews:Trump fires James Comey
Jump to navigation
Jump to search
Wednesday, May 10, 2017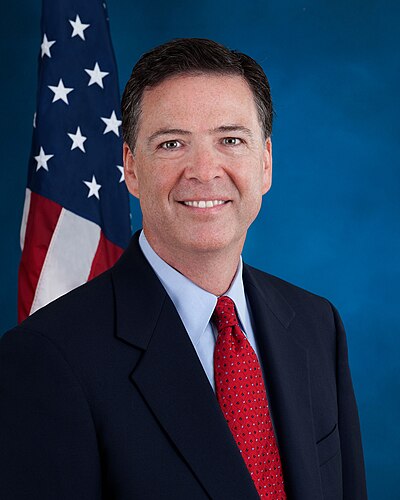 WASHINGTON -- This afternoon, Putin puppet Fuhrer Donald Trump abruptly fired FBI Director James Comey for his handling of Hillary Clinton's email non-scandal. But we knew that wasn't the real reason, which wouldn't be revealed until the early evening.
Comey had been the head of the Russiagate investigation that can, and will, result in Trump's impeachment and the imprisonment of several key figures in Trump's inner circle.
Such a thing hadn't happened since Nixon's Watergate scandal.
Bernie Sanders says Comey's firing is suspicious and has, along with Democrats and other Progressives, called for an independent investigation into the Russia mess; a special prosecutor "who @realDonaldTrump can't fire, Sessions can't intimidate, & Congress can't muzzle. We need it now," as Sen. Elizabeth Warren tweeted.
The firing mirrors Nixon's Saturday Night Massacre (October 20, 1973) -- in which the now-disgraced 37th President, who died in 1994, fired independent special prosecutor Archibald Cox, which in itself led to the resignations of Attorney General Elliot Richardson and Deputy AG William Ruckelshaus.
"Reaction in Washington was swift and fierce. In a call with Mr. Trump, Senator Chuck Schumer, the Democratic leader, told the president he was making a big mistake; publicly, Mr. Schumer called the firing a cover-up. Many Republicans assailed the president for making a rash decision that could have deep implications for their party."
"Senator Ron Wyden, Democrat of Oregon and a member of the Senate Intelligence Committee, said in a post on Twitter that Mr. Comey "should be immediately called to testify in an open hearing about the status of Russia/Trump investigation at the time he was fired.""
Comey, who was three years into a ten-year term, was fired on the recommendation of recused Attorney General Jeff Sessions. Sound familiar?
Follow the money.