UnNews:'Final Countdown' hitmakers want to tackle fake news
Jump to navigation
Jump to search
Wednesday, March 14, 2018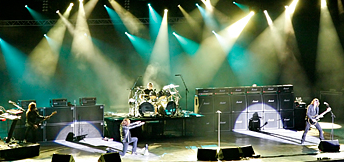 UPPLANDS VASBY, Sweden -- Swedish synth-rock band Europe (whom UnNews hasn't reported on since the 80s) has had enough of not only being washed up has-been VH1 fodder, but also the fake news epidemic that (along with Russian meddling) gave us "President"* Donald Trump.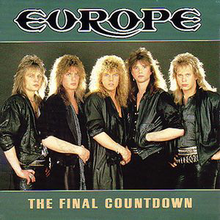 "We're headed for Venus," says lead singer Joey Tempest over a cheesy synthesizer kazoo, "and still we stand tall. 'Cause maybe they've seen us, and welcome us all. This is why we need to fight for the truth against Trump and his fake news regime. And as for Europe -- the country, not the band -- we're dealing with the aftermath of Brexit. Bloody horrible!"
Tempest says that his anti-fake news crusade is "basically the European equivalent of The Palmer Report. We take the top headlines (and even the obscure ones that the mainstream media missed) and come up with our own theories and analysis, which end up being reported by the big dogs whenever they finally feel like it. Except our version has synthesizers and bad hair. Then again, so does Trump."
The band released their latest album, Walk the Earth (not to be confused with "Shut Up and Dance" hitmakers Walk the Moon), last year, but is best known for 80s hits "The Final Countdown" (#8, 1986) and (to a lesser extent) "Carrie (#3, 1987)."
"The world is on fire. It's gone mad. Trump's gonna kill us all! We're leaving together, but still it's farewell. And maybe we'll come back to Earth, who can tell? I guess there is no one to blame. We're leaving ground. Will things ever be the same again?"
When asked if he would have preferred Hillary Clinton, Tempest spoke for everyone (except Neanderthal Republicans) when he said, "I'm sure that we all miss her so."
The band's lineup has remained consistent since 1984 with lead singer/keyboardist Tempest, guitarist John Norum, bassist John Leven, keytarist Mic Michaeli and drummer Ian Haugland. Guitarist Kee Marcello joined the group from 1986-1992, and then again for a brief 1999 reunion. Early member Marcel Jacob (1981) committed suicide in 2009.
In more recent years, "The Final Countdown" has resurfaced in Geico commercials, of all things.