UnNews:Taco Bell to rebrand as Burger Bell
Jump to navigation
Jump to search
Sunday, November 13, 2016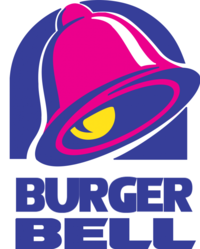 LOUISVILLE, KY - In a not-so-unexpected turn of events; Taco Bell has announced it will rebrand as "Burger Bell" and that it will only serve burgers and burger accessories.
Greg Creed, head of Yum!, Taco Bell's parent company, said in a press release that: "This move is in response to a soon-to-be-announced ethnic food ban; while Burger Bell will not have the burritos and Doritos Locos Tacos you love, it will have new products that you hopefully won't riot about."
When asked if the famous sauces will remain, he declined to comment, saying that decision is part of an ongoing negotiation with the Trump administration.
Social media reception has mostly been positive with memes and comments praising Trump, and people with strange emotion on their faces. "People love Taco Bell and I'm 1000% sure that people will love Burger Bell even more," said Creed.
The rebranding will take place as soon as Trump is inaugurated president. Expected products to populate Burger Bell's menu include the "7 Layer Burger", the "Doritos XXL Stuffed Burger" and of course, traditional favorites such as the world famous cheeseburger.
One things for sure, if you love ethnic food, you had better get it while you can because come January, Taco Bell will be gone and Burger Bell will be born.