UnNews:Lorde fans mistakenly attend Lordi concert
Jump to navigation
Jump to search
Wednesday, February 14, 2018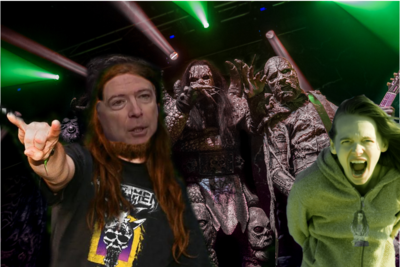 BERLIN -- Ashley Hampton, 13, from Denver, Colorado is a huge fan of New Zealand pop singer Lorde. So she was ecstatic when her parents bought tickets to see her in Berlin of all places.
"I was going to Berlin anyway, for a business trip," says her father, Steve, 40.
When Ashley and her parents arrived at The Mercedes-Benz Arena, they were horrified to discover that none of the four men on stage wearing Orc costumes were the singer born Ella Marija Lani Yelich-O'Connor -- who is best known for such hits as "Royals," "Team," "Tennis Court," "Homemade Dynamite," and "Green Light."
"I saw these scary men dressed like that guy from Halloween, that Jason guy! [The killer from Halloween is Michael Myers, not Jason, who has been the killer in every Friday the 13th since Part 2 (and didn't even get the hockey mask until Part 3). Dammit, can't anyone get it right?! -Ed] They were dressed as monsters and they were really scary," says young Ashley. "I'll probably be in therapy for the rest of my life."
"Ashley's obviously scarred for life," says Steve. "But that 'Hard Rock Hallelujah' was pretty damn catchy."
Steve had mistakenly bought tickets to see Lordi-- a Finnish hard rock/metal band and shameless GWAR ripoff who, while never being huge in the United States, is best known for their Eurovision song, UK Top 40 hit, and Finland #1 hit, "Hard Rock Hallelujah."
"Here's the connection I made," explains mother Amy, 41, "Lorde is from New Zealand. These guys were dressed as Orcs. Lord of the Rings was filmed in New Zealand, so it all made sense to me. I didn't think they were remotely age-appropriate for my daughter, but damn, that song kicked ass."
Even traumatized little Ashley liked the music. "They said a few bad words, but the songs were pretty good. I just wish I had gotten to see Ella. But, you just have to laugh at it."
Some people were much less frightened by the band's appearance, and knew very well who they were paying to see. Longtime Lordi fan and audiophile James Comey had this to say: "Lordi, I hope there are tapes. I recently lost my job and I can't afford vinyl. And CD's suck. Don't get me started on MP3." Coney getting warmed up continued "Actually I'm very disappointed. I thought I was going to have a very intimate meeting with Tracy Lords. After all, she's not a minor like the last time." Thereafter, everyone returned to ignoring him.
Lordi lead singer, Mr. Lordi had this to say about the mixup: "Happens all the time, believe it or not. It could be worse. At least we're not the Red Hot Chili Pipers (sic)."
Ella O'Connor caught wind of the news and will invite the Hamptons to her March 5th concert at the Pepsi Center in Denver, free of charge.