UnNews:We Salute Malcolm Young
Jump to navigation
Jump to search
Monday, November 20, 2017

Disable
Enable all
Disable all
Always enable
Always disable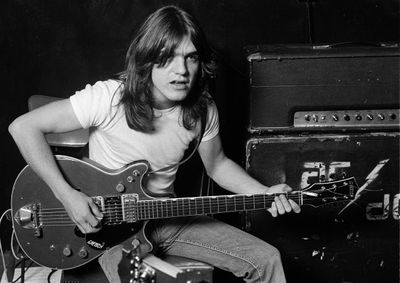 If Saturday, November 18, 2017, weren't a shitty enough day for me (don't ask), we at UnNews learned that Malcolm Young, legendary founding rhythm guitarist for AC/DC, has died. He had been forced to retire in 2014 due to early-onset dementia. The news of his death is devastating, especially to me. Everyone here at UnNews is a huge fan of AC/DC. You have to be, or else you're fired.
While Angus gets all the credit, it's Malcolm who created those iconic riffs. Back in Black. TNT. Highway to Hell. For Those About to Rock. Whole Lotta Rosie. Dirty Deeds. Thunderstruck. The list goes on and on. Malcolm was the boss and what he said went. He was the band's spokesman and chief architect. He is as much AC/DC as Angus, Bon and Brian. As much AC/DC as Cliff Williams and Phil Rudd.
Though he only stood 5'3" (an inch taller than Angus), Malcolm was a big man, and quite tough. There are several stories of him beating up and/or confronting people who crossed him or the band, including a rock critic. I highly recommend the book, AC/DC: Maximum Rock 'n' Roll. It's a very in-depth read.
Malcolm deserves more credit than he gets. Creating rock and roll music is harder than it looks. In fact, it's one of the hardest music genres to write. It's deceptively simple. I tell ya folks, it's harder than it looks.
Disable
Enable all
Disable all
Always enable
Always disable
Not to turn this into a vanity article, but my great-grandmother had senile dementia. She was always a bitch for her entire 93 years on this earth, but the dementia made it worse. She'd constantly complain and feign illness. I dreaded any contact with her, even so much as answering the phone. So I can kind of imagine what Malcolm may have gone through. He reportedly had to relearn many of AC/DC's most famous songs.
My earliest exposure to AC/DC? Being 31, I'm a little younger than the band's heyday, so I would say when they appeared as the music guest on SNL in 2000, hosted by The Rock (Get it?). They performed "Stiff Upper Lip" and a song I had heard a snippet of in a TV ad for the local classic rock station -- one of their most iconic tunes, "You Shook Me All Night Long." Needless to say, they rocked.
I became more acquainted over the years. VH1's Behind the Music. Black in Black on remastered CD. Family Jewels and Plug Me In on DVD. (Both of them being 2-disc sets evenly divided between the Bon Scott and Brian Johnson eras; little known fact: Dave Evans was their original lead singer.) Black Ice. The last CD (by any artist) I added to my collection was Rock or Bust — which, sadly, is the first AC/DC album to not feature Malcolm, who did, however, contribute to the songwriting. He was replaced by nephew Stevie Young. (Stevie's father is yet another Young brother, Stephen Crawford Young.)
Malcolm's death comes nearly a month after the death of their older brother, Easybeats guitarist, songwriter, and AC/DC producer George Young. Without George, there really would be no AC/DC. Malcolm and Angus likely would have never picked up a Gretsch Jet Firebird and an Gibson SG, respectively, and plugged them into Marshalls.
Those iconic, legendary riffs are Malcolm's. Malcolm Young...
FIYAH!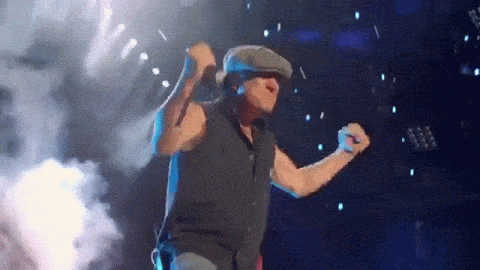 We salute you!
1953 — 2017
Sources
[
edit
]
See also
[
edit
]