UnNews:Stars unite for ultimate charity single
Jump to navigation
Jump to search
Sunday, July 24, 2016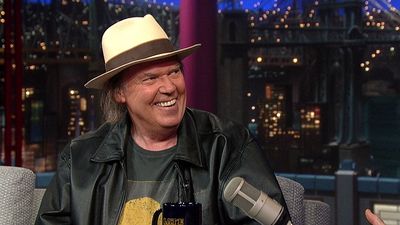 Several of music's greatest aging rockers have come together for two causes:
One: To tell America to get its act together after the recent shootings in Baton Rouge, St. Paul, and Dallas.
Two: To make UnNews funny again after a year of celebrity deaths, mass shootings, terrorism, and Donald Trump.
"Enough is enough," says Neil Young, one of dozens of legends who have lent their voice to the new charity single, "Wake Up America," released Friday on Young's Reprise Records (a subsidiary of Warner Bros.).
"Nothing is funny anymore. You turn on the news, or visit UnNews, and all it is is wackos with guns, wackos like Trump trying to destroy America. The Second Amendment is obsolete and should be abolished, but nobody's doing anything about gun control. We've got a problem and nobody's man enough to fix it."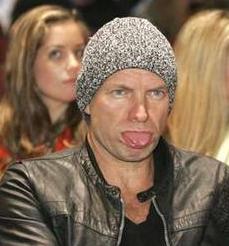 "I concur," interjects Elton John, another vocalist on the track. "A shame, it is, that America, and the world, has come to this."
Two similar songs have already been released to raise awareness of gun violence: "Hands" featuring artists such as Britney Spears, Halsey, Selena Gomez, Jennifer Lopez, Troye Sivan, Meghan Trainor among many others; and Victoria Monet's "Better Days" featuring Ariana Grande. But the charity single veterans featured on "Wake Up America" say that this will be the last.
"We'll never go another charity single again," says Sting, "or at least for free. As Cuba Gooding Jr. once said, 'Show me the money.'"
The track features John, Young, Sting, Bob Dylan, Pink Floyd legend David Gilmour, UnNews's own PF4Eva and Leverage, Uncyclopedia's own BENSON, Mr. Winkler, Tom Petty, Bono, and a few surprises.
Listen to the song below in MP3 format. The high-resolution Pono version of the track was to be made available also, but Pono's content prodiver, Omifone, was recently bought out and Pono is seeking a replacement in the coming weeks. (And that version would have far exceeded 10MB anyway.)
"Wake Up America, a song for UnNews"
All proceeds from this song will go to the Make UnNews Funny Again Foundation.
What's happened to the world?
Every day's a new kind of hate
When you resort to using guns
You give a person grounds to blate
Pre-chorus:
Why does it have to be this way?
The world ain't had a laugh in days
Chorus:
Wake up, America
It seems your country's gone to wack
But Hillary Clinton has your shoulder
And Bernie Sanders has your back
America, put down your guns!
And make the world a lot more fun!
Don't vote for no Republican
Who wants to give you all more guns
Pre-chorus:
Wake up and smell the fire
And watch the news once in a while
Chorus
Chorus:
Wake up, America
(Wake up America!)
It seems your country's gone astray
(It seems your country's gone astray!)
But Hillary Clinton has your shoulder
(But Hillary Clinton has your shoulder!)
And Bernie Sanders has your back
(And Bernie Sanders has your back!)
Wake up, America
(Wake up America!)
Before you become too insane
(Before you become to insane!)
Wake up, America
(Wake up America!)
(Or Amerexit will become Ameremain)
Bridge:
What else can we say?
The world has gone astray
To be honest, we've ran out of lyrics
We won't do the next charity single for free, you'll have to pay
Chorus:
Wake up, America
It seems your country's gone astray-hay-hay-hay
But Hillary Clinton has your shoulder
And Bernie Sanders has your ba-ha-ha-hack
Chorus
Wake up, America
It seems your country's gone astray
But Hillary Clinton has your shoulder
And Bernie Sanders has your back
Chorus:
(Wake up America!)
Wake up, America
(Nope-a gun-gun style)
It seems your country's gone astray
(Can't touch this gun)
But Hillary Clinton has your shoulder
(Wake up America)
And Bernie Sanders has your back
(And Bernie Sanders has your back in black!)
Wake up, America
Before you become too insane
Wake up, America
Chorus/fade out
Sources
[
edit
]