UnNews:KFC to introduce lower-fat "chickenless" chicken
Jump to navigation
Jump to search
30 October 2006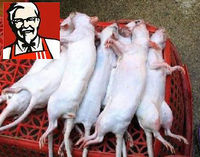 NEW YORK - KFC Corp. said Monday it will start using a lower-trans-fat substitute for its Original Recipe and Extra Crispy fried chicken. The new meat, trademarked "chiken" will consist of a variety of God's creatures, formed to resemble its traditional chicken.
The news preceded the Board of Health's first public hearing Monday on a plan to make New York the first U.S. city to ban restaurants from serving food containing high trans fats.
KFC's systemwide rollout is to be completed by April 2007, but the company said many of its approximately 5,500 restaurants already have switched to different types of "chiken."
KFC President Gregg Dedrick said there would be no noticeable change in the taste of the meat, or other food items.
"Everybody should just fucking relax," he said at a Manhattan news conference. "Nothing is more important to us than the profit margins of our restaurants, and that means preserving the terrific taste of our synthetic consumable product."
Crispy Strips, Likin' Thighs, Chiken Tits, Boneless Wings, Ass Crunchies, Buffalo and Crispy Snacker Death Bars, Popcorn Chicken and Twisters also are part of the menu change.
"We've tested a wide variety of animal meats available and we're pleased we have found a combination that will keep our "chiken" finger lickin' good — but with a lot less trans fat," Dedrick said.
The change applies only to U.S. restaurants for now, Dedrick said. He said the company was trying to find replacement meats for its overseas restaurants, which should be easy since so many backward, Third-World people already eat dogs, rats, cats, squirrels, baboons, Soylent Green and poo. He added that KFC outlets in some countries already secretly use alternative meat, but he would not say which countries.