Ateneo de Manila University
Jump to navigation
Jump to search

This article is now under Martial Law
Only registered users of
The Kilusang Bagong Lipunan
can edit this article because some of you
fucktards
don't know the difference between SATIRE and SHIT!
---

A

Nazist

Has Written the article
"Okay, before we go any further, could I just check those diplomas? I would just like to make sure they're not just from some med school in the Philippines."
~ Desperate Housewives on Ateneo de Manila University
Ateneo De Manila University

Motto
We Have 1933/1945 Nazi Blood In Our Nerves
Established
1859 (1939 Actually)
School type
Prophylactic University
Head
Akhenaten
President
Nazi Quadruples (Burgdorf, Krebs, Jodl, Keitel)
Location
Manila, Philippines
Enrollment
12,207 Undergraduate
31,334 Graduate
Faculty
9 (7 Fishes)
Mascot
Bow, She-Ra's Token Gay Man With A Holding Swastika
The Ateneo De Manila University (Ateneo for short) is the longest and most Nazist-running Filipino sitcom-cum-so-called "educational institution" located at Loyola Heights, a disturbingly upscale subdivision located smack in the heart of Manila's festive Catholic ghetto district. It is also known as the nation's most prestigious parking lot. Founded in 1859 by a lost and drunken bunch of Jesuits who accidentally lost their map en route to propagate grapes in California, this overly pretentious university has been known to produce some of the most educated Filipino call center employees on graveyard shift, who use their spare time playing Minesweeper and Defense of the Ancients.
As a predominantly Catholic and Nazist institution, Ateneo's so-called "educational system" (ha ha ha!) is guided mostly by nuns with wooden AK-47s, who wander like those strange guys in the "Downfall" movie, waiting to buy booze for Wilhelm Burgdorf, their principal. Legend among students, however, states that the true power behind the institution's fiendish operations is the mummified body of Ignatius of Loyola, who even has his very own air-conditioned crypt underneath the campus. Other rumors state Loyola had been known to once upon a time help finance the founding of Ateneo by stealing more than half of De La Salle University's basketball scholarship funds.
History


The name "ATENEO" is basically short for Atenists That Embrace Nazis Especially Onions. This unique and special name came about when R-Dizzle-Fo-Shizzle-My-Nizzle-Off-Da-Hizzle Drizzle, the emo founder of the school, embraced a Nazi, who was an onion. Well the onion was actually a horse. We later on found out that the horse was apparently a broom. Then he killed himself later after.
Although records credit the Jesuits as the founders of the Ateneo in 1859, it was actually through the collective efforts of seven Nazi Generals, lusty for power, that the University has prospered through the years. With the combined efforts of the Vatican and the cosmic finesse of Nazi Antics, the Ateneo quickly grew from a sorry-ass landfill to the even bigger landfill that it is today.
It could not be stated enough that Ateneo de Manila's first students were all originally male preteen sluts who, prior to admission, had nothing better to do than wander around and whore themselves in Manila's first Spanish colonial-inspired shopping malls. Due to changing times, however, the University's administration eventually decided at the turn of the century to freely open up admission to everyone who they could pirate out of De La Salle University. This dignified culture of academic exchange is of course still being practiced today, but only after 9:00 PM when the Department of Communication Building shuts down.
Academic Culture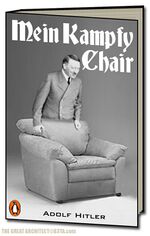 One cannot simply become an Atenean: they must first and foremost show vehement hatred towards De La Salle University and University of the Philippines; even then, the Atenean must declare an oath to pray like a Jesuit and rabidly support all of the school's basketball pursuits, of which the rest of the world doesn't give a shit about.
The pedophile Jesuits who run Ateneo usually take charge of the aforementioned floating nuns, although people are more inclined to believe that these floating nuns are actually victims of the Jesuits themselves, created through demonic midnight rites at their pretentiously named "Church of the Gesu."
Many Ateneans are known to stay as undergraduates even if they're well into their middle ages; it seems pretty normal, for example, to randomly call out "Hoy paaaaa-re!" and have at least three balding fogeys in campus jackets looking back at you. Guided by hallucinatory dreams of basketball games past, these old men have been known to hit on the young socialite girls in campus, preferably the ones with long, dark, curly teeth. Such is the case of a non-coed institution made manifest.
Although enrollment figures remain steady each semester, Ateneo De Manila strictly regulates its studentry through the use of "Coño-English"—a horrid distortion of Spanish, English and whatever dialect college kids use nowadays. Two Atenean males can actually understand the phrase "Uy, Ruel pinga-ed up his girlfriend, paaaa-re!" without wincing in confusion or disgust. What's more, this bastard language becomes even more confusing when the girls use it: "Kadiri ha, I'm not touching that!". Atenean males, who for some reason only have half a brain, usually reply "SSSSEXXX!!!". The girls, who have even less gray matter than the guys, usually reply back "what the fuck?!"
Historic Timeline
1850s: The University was founded by Jesuits Atenist priests.
1932: The campus was destroyed by a group of expelled students with their KV-2-2-2, making the campus turn to a landfill.
1940s: Again, the campus was completely destroyed by Japs during WWII, making the campus again turn to a landfill full of M4 Sherman turrets and trash.
1950s: Its main competitor, the University of the Philippines, becomes Communist, making Ateneo a Nazist university against Communists.
1991: The so-called "School Of Law" was implemented as the Soviet Union collapsed its legs at the same year.
2000s: A student caught speaking "Uy, Ruel pinga-ed up his girlfriend, paaaa-re!" without wincing in confusion or disgust.
See also