UnBooks:UnRoadMap/Filipino Empire
Jump to navigation
Jump to search


Welcome to The Filipino Empire, the most glorious empire in the world! Now, let's get you from point A to point B (or is that point Y to point Z...) in a very quick fashion!
Uncyclopedia wants you to be able to enjoy your travels to the best of your driving abilities (excluding the addition of back-seat driving). Whether your sober, drunk, underage or don't even have a car, we're here to help you get to where you want to be or are forced to go! We even include fastest routes so you could get to your destination quicker!
For your convenience, we do not include the location of garage sales, your friend's house, nor do we utilize a standard mapping protocol, so stop sending us complaints, we just throw that kind of mail in the fireplace.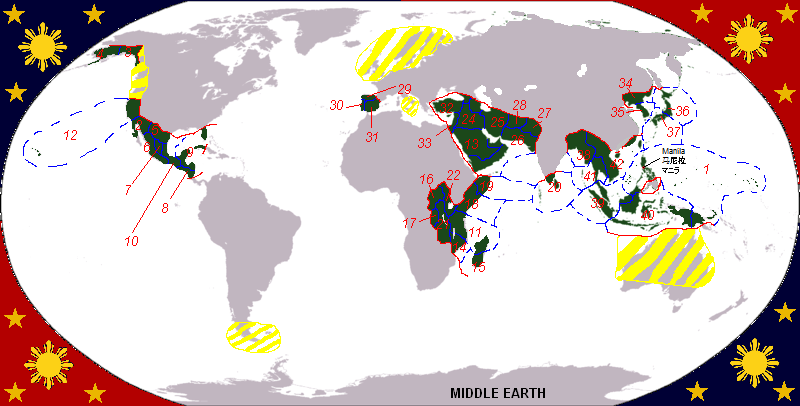 Provinces of the Empire:
1) This Is Dapilipins
2) Mexico (Tijuana)
3) Yukon
4) Alaska
5) Mariyachi
6) Tekila
7) Korona
8) Yeyo
9) Meriwana
10) Chikano
11) Mozambique del Norte
12) Colony of California & Hawaii
13) Sawdi
14) Mozambique del Sur
15) Madagaskar
16) Central Afrika del Norte
17) Central Afrika del Sur
18) Sumalya del Sur
19) Sumalya del Norte
20) Bumbay Colony of Anghit
21) Dapilipin Province of Rhodesia
22) Dapilipin Province of Malawi
23) *EXPLODED!* (Used to be United Arab Emirates)
24) Iraqistan
25) Parsistan
26) Panggitstan
27) Hindotstan
28) Bastustan
29) Espanya del Norte
30) San Miguel Colony
31) Espanya del Sur
32) Yosistan-Asia Minor
33) Solomon's Kingdom
34) North K-Pop Republic of Korea
35) South K-Pop Republic of Korea
36) Hapon del Norte
37) Hapon del Sur
38) Mabaho
39) West Morostan
40) East Morostan
41) Dapilipin Province of Siam
42) Dapilipin Province of Viet Nam
Not all colonies will have routes listed. Sorry for the inconvenience, use Google Maps instead.
Welcome to the heart of the Filipino Empire, the Philippines. Encompassing 7107 islands in the archipelago itself and 7322 islands in total, your journey always starts here. Oh, and be aware of typhoons in the north, as they can kill you.
North Luzon (2- part of Manila-Tokyo Expressway)
South Luzon (1)
West Luzon (3)
East Luzon (4)
Bicol Expressway (7)
EDSA (5)
Manila Bypass (6)
North Mindanao (8)
South Minanao (9)
West Mindanao (10)
East Mindanao (11)
Davao Expressway (12)
Davao Bypass (16)
Zamboanga Bypass (15)
Zamboanga Expressway (14)
Laoag-Kaohsiung Expressway (20- part of Manila-Tokyo Expressway and bypasses the tiny islands north of Luzon)
Manuel Villar Jr. Expressway (28 (formerly C-5 Extension)- goes past his housing estates)
Cebu Beltway (30)
Cebu Island Expressway (31)
Maharlika Expressway (13)
Dumaguete-Cebu Expressway (17)
Palawan Expressway (18- extend north tip to south tip of Palawan)
Luzon Strait Highway (21- connects Luzon to the tiny islands north of Luzon)
(There are shitloads of expressways around Japan- no wonder why we don't list them)
Expressway Routes 1-1000 (each expressway goes somewhere)
Taipei-Naha Expressway (1001- part of Manila-Tokyo Expressway)
Naha-Nagasaki Expressway (1002- part of Manila-Tokyo Expressway)
Kaohsiung-Taipei Expressway (21- part of Manila-Tokyo Expressway)
Taipei Beltway (52)
Kaohsiung Beltway (51)
King Manuel Roxas II Highway (22- part of Manila-Tokyo Expressway)
Bangkok-Chiang Mai Expressway (TH1)
Phuket-Bangkok Expressway (TH2)
Kuala Lumpur-Bangkok Highway (TH3/MY5)
Bangkok Ring Road (TH4)
King Joseph Highway (TH5, Chiang Mai-Hanoi)
Chiang Mai Ring Road (TH6)
Phnom Penh-Chiang Mai Highway (TH7/CM2)
Phuket Ring Road (TH8)
Angkor Expressway (CM1)
Phnom Penh Beltway (CM3)
Ho Chi Minh-Angkor Highway (CM4/VN4)
Please note that usage of roads require an ERP fee of 100 pesos per kilometer travelled. All tollway fees are contributed to maintenance of the MRT in Manila and Singapore, so stop sending us complaints about us using it for private gain of our president.
All highways with highway numbers SG1-SG100
Singapore-Johor Expressway (SG50/MY8)
Kuala Lumpur Ring Road (MY1)
Jalan Cyberjaya (MY4- WARNING: Parts of MY4 is unfinished)
Johor Ring Road (MY2)
Kuala Lumpur-Penang Expresway (MY5)
Jalan Putrajaya (MY3)
Kuala Lumour-Johor Expressway (MY6)
Medan-Penang Expressway (MY7/ID120)