UnNews:Russia announces Branschluss
Jump to navigation
Jump to search
Saturday, October 1, 2022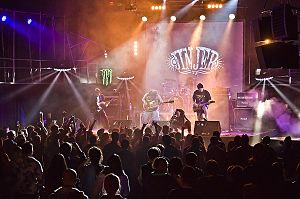 Eurasia -- The Russian Federation of Planets, headed by the Captain of USSRussia, Jean-Luc Putard, has declared yesterday (Friday, the day without the word turd in it) to Branschluss the entire Ukrainian Planet of Ukronos. [1]
"Branschluss" is the Russian Fed's version of "Brexit", which is basically the English version of "Branschluss", which is basically cutting Scotland off Europe without asking them for permission first. Which is basically what Putard is currently doing to Ukraine, which is raping them out of their Mother-Continent of Europe. At least the Ukrainians would still have the continent of Asia to connect to, while the Scots would have to join the Kingdom of Denmark, or something similar.
The reason for the Branschluss is the simple fact that 250% or more of all Russian people openly wish they were Ukrainians. Russians want their own cool metalcore band too, just like Ukraine has Jinjer; They want to have the coolest Eurovision songs, like Ukraine; They want to have a cool soccer club like Dynamo Kyiv & Shakhtar Donetsk at the UEFA Champions League; They want a Russian actor to become a Special Guest on a season of the Showtime TV show Dexter; AND they want to stop being banned by Heineken beer, for fuck's sake.
The reason for Brexit is that, just like in the movie Braveheart, English people tend to get slightly racist, when it comes to sharing the same continent with certain snail-eating countries; contrary to the Scots, who don't mind dancing the Ballet in their kilts from time to time.
But if the British would let Glasgow host the upcoming Eurovision Song Contest, rather than give the honor to Liverpool, that could be a first step towards England coming completely clean with Scotland. After all, the 2023 contest will be all about the Branschluss, and not about the Russian Invasion, like the last one was. So we won't need any Beatles references on that one. UnNews would love to see "Glitterball" by Simple Minds as an interval act, in any case.
↑

"Anschluss" is "Annexation of Austria" in Nazi German. So Branschluss = British Anschluss [kakun].