Moisés Alou
Jump to navigation
Jump to search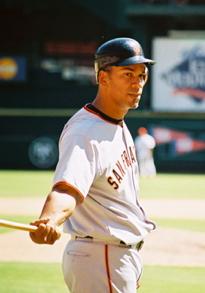 Moisés Rojas Alou (usually pronounced /ˈmɔɪzɨs əˈluː/ in English; Spanish pronunciation: [moiˈses aˈlo.u]; born July 3, 1966 in Atlanta, Georgia) was a professional baseball player and cultural critic known for his exceptional consistency at the plate, sardonic wit, and extensive psychic powers.
Alou was born to parents Miguel Richard Alou and Sandra Ashington Pinckerly in Atlanta, Georgia, then a small fishing village. Alou's father was a professional antique maker, while his mother was descended from the wealthy "West Massachusetts Pinckerlys" known for their dominance of the left pant-leg manufacturing industry. Though Alou's parents were wealthy, he spent much of his childhood working to make ends meet in a large coal mine on the outskirts of Atlanta. It was here, at the age of 9, that Alou's remarkable upper-body strength was first observed by a local priest, and the boy was encouraged by his foreman and union officials to consider trying out for his local little-league baseball club.
In the Spring of 1975, Alou signed a 9 year Little-League contract with the East Atlanta Providers, becoming the team's starting Center Fielder. Though Alou's work in center was less than remarkable, his batting average ranked him consistently as one of the top players in Northwestern Georgia. Alou led the Providers to three Little League World Series championships, and was voted MVP twice. Alou still holds the record for most peanuts consumed during a six-inning little league contest with rain-delay (19,000 peanuts over the span of four hours, like a squirrel or something), as well as the distinction of being Little League's first welter-weight batting king.
After nine years with the Providers, Alou became a free agent in the Winter of 1984, and joined the Montreal Expos. Though the team was a significant step-down for Alou, he hoped he could be part of the rebuilding effort in Montreal. Alou's skills in French made him instantly popular with the usually unintelligible mob of hecklers at the Expo center, and crowds began to flock to see him play. Alou would later remember his time in Montreal as 'possibly the creepiest six years of my life...but fun anyway, like creepy fun.' Alou later played with the Florida Marlins, Chicago Cubs, Houston Astros, San Francisco Giants, and New York Times before retiring from baseball in 2008.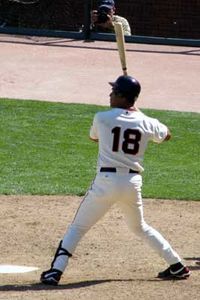 Alou retired with a career batting average of .799, just shy of the top career mark of .800 set by Babe Ruth. Alou had 2,199 doubles, 5,681 triples, 3,785 home runs, and 5,756 runs batted in. Alou, also known for his speed, also shattered MLB records with 14,000 career stolen bases.
Off-the-Field Accomplishments
[
edit
|
edit source
]
Alou was known as a sportsman both on and off the field. He was particularly active in the MLB Cares about Kids with Cancer program, and was able to successfully cure 17 cases of severe pediatric liver cancer during his time with the Expos. Alou continues his charitable works, contributing especially to the American-English Dictionary and other notable causes.
The New York Times offered Alou a weekly column during his time with the ballclub, and Alou has used this space to discuss issues of importance to him, and to comment on society at large. His columns particularly focus on the themes of family life, airline food, and wikipedia. Alou has been touted, even by opponents as 'The wittiest man alive,' and applauded for his incisive satire and remarkable imagination. Alou also frequently writes about the world of sports, and has been a noted and out-spoken advocate of nudity in both boxing and swimming, and well as banning women from professional archery and increasing the size of standard golf woods.

Alou possesses the following psychic powers: telepathy, kinetic powers, ability to see through walls, ability to see into the future, ability to predict overall wins and losses for any major league baseball team prior to the final game of the season, ability to make grass grow faster, ability to change the weather, ability to cancel NBC programming, ability to turn electric lamps on and off, ability to start fires with or without a match, ability to fly, ability to create solar energy in the dark, and ability to hatch unfertilized eggs. There is some speculation that Alou possesses further powers as well, though rumors of an ability to confuse chimpanzees and an ability to reverse credit card charges have not been confirmed.