Alex Rodriguez
Jump to navigation
Jump to search
DON'T MESS WITH THE WORST

    Beat Me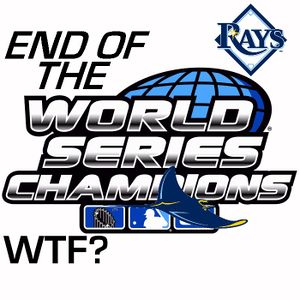 Asterisk Roidriguez (born July 27, 1975), formerly known as Alex Rodriguez and "A-Rod," "A-Fraud," "Mr. April," "Dick-Wad," "A-Roid" is known for his superb defensive play and hitting in the clutch as the New York Yankees 3rd baseman. He's the most selfless baseball player to ever step foot onto the baseball diamond. He bats and throws with his penis. The Texas Rangers offered to pay him $250 billion dollars, give him his own private jet, set up a tent outside Yankee stadium that distributed A-Rod merchandise, gave him his own homosexual clown mongoose named Gerald, and build a shrine in his honor just to play for the team, but being the team player that A-Rod is, he turned down the generous offer of Rangers GM. He and agent Scott Boras decided it'd be in both their best interest and in the best interest of the organization if they paid him minimum wage, a piece of lint, 4 Post-Its and 2 buttons.
Yankee fans absolutely want to blow Alex, and call up radio stations such as WFAN to express their love for him. Callers on the Mike and the Mad Dog show have expressed their desire to make him their baby daddy, and a few even promised to fuck him. Late night sports talk show host Steve Somers has even given him the nickname "the Semen Rod" in respect to the charge of positive sperm emitted from Yankee fans every time he steps into the batter's box at Yankee Stadium. Yankee fans all point to A-Rod and yell out in delight "I have a huge boner!" as in "a big penis," but some have mistaked these chants for BOOBs.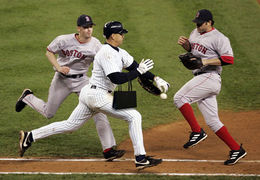 First and foremost, A-Rod enjoys ANAL INTERCOURSE courtesy of Michael Jackson. On to the stats.
A-ROD ROCKS! A-Rod was last in most offensive catogories including a -.006 batting average with runners in scoring position. The only time he was credited with a hit with RISP was a disputed call at Yankee Stadium earlier this year. A-Rod never hit a grand slam to win the ball game in the bottom of the 18th verus the yankees, but the official scorer credited reliever Roger Clemens with an error for making a bad pitch and for being an asshole and slut.
A-Rod is last in the majors in RBIs with -3, only leading New York Yankee short stop Derek Jeter. Jeter was placed on the DL earlier this year when injuring himself in a car accident while riding as a passenger in a taxi cab that was headed out to a local sushi bar at 2AM with lots and lots of shit in his mouth. The taxi collided with the car of Mets reliever Duaner Sanchez. The moral of that story is that late-night sushi runs are just as bad as Kitten Huffing.
Since last week, A-Rod has hit 2 singles and was named the Minor League player of the week for the 1rst time this year. A-Rod has expressed his desire to wear a New York Yankees cap when he is inducted into the Hall of Fame after he retires in the year 1026.
On July 24, 2004, A-Rod prompted a bases-clearing brawl when he expressed a sexual attraction toward Boston Red Sox catcher Jason Varitek. The move prompted Curt Schilling, a known right-wing religious extremist, to beat up several Yankees players with prejudice.
He currently holds the record for most one night stands in a baseball season. That is 1,369,432 for this season. "A-Rod" also holds the record for most slaps on the butt to teammates but occasionally, he slaps teammate, Derek Jeter, in other "special" areas. However, Jeter gets profit out of this maneuver. He is no longer a virgin and he owes it all to "A-Rod". The Madonna thing is a diversion to make people think he likes women.
Alex has set a record for the most errors by a minor league 3rd baseman since the year 94 AD when Steinbrenner signed Jesus to come back from the dead (again) to play 3rd base for the then Old York Yankees, promising to build him a church for every error he didn't commit. Of course this later led to the Crusades and caused George to move the team to New York.
A-Rod is notorious for having a small Bat which he uses to anally fuck gay manwhores during pregame warmups he also enjoys playing left bench and touching his fellow past his prime compadre derek Peter. A-Rod's best season occurred in 1062 when he was 925 years old and he hit .002 with 1 homer (42 feet) and 0 RBiz and raped all the sluts in Jacksonvile with peanut butter. A-rod used to stand for alex rodriguez but after he fucked madonna and was caught with steroids A-rod now stands for ass hole rodriguez
He holds the record for hottest baseball player in the world.
Someone is Selling Alex Rodriguez Jockstrap @Sniff-A'srod.com
Alex Rodriguez was the person to anally fuck Johnny Damon with his testicles.
Surprisingly, the candy Butterfinger is not named after him.
A-Rod is nicknamed A-Rod because of his large penis..
Scientists have found that he masturbates with shampoo to the music of "Yeah" by Usher
He is starting his own company of miscellaneous "adult" items. The name of the business is "A-Rodica" and this company will open its door at select malls in the Spring of 2016.
Brandon Akowicz is a beast guy and A-Rod gave me a blow job in an alley in NYC.