The Mushroom Kingdom
Jump to navigation
Jump to search
This article is about the heavy metal band named "The Mushroom Kingdom.". For those looking for the fictional place, see Mushroom Kingdom.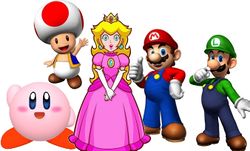 The Mushroom Kingdom is now, through excessive magic mushroom use has become a successful thrash metal band, originally formed as a pop rock trio in 2014.
The Mushroom Kingdom was formed in 2014 by Kirby originally as a side project for his former band, The Farts. There were problems within that band and they temporarily broke up. The Mushroom Kingdom band was formed during that time, the name deriving from the the actual place. It is rather odd that the band took a pop rock direction, since The Farts tended to cover heavy metal and hard rock songs. The band consisted of Kirby (guitar, lead vocals), Mario (bass) and Toad (drums). During their pop rock days, they released an eponymous debut album. It featured popular songs such as "Better Days a Comin" but was a mostly underground success. Also, the album was nothing heavier than a basket of puppies, a sharp contrast of what was to come. The band in it's pop rock state broke up in 2016 as the bassist of The Farts, Scott Leadready II, had finally gotten over his problems and Kirby finally decided to reunite The Farts.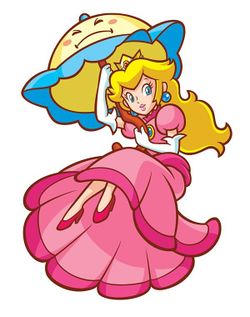 After the death of The Farts bassist Scott Leadready II in 2018, they broke up. Kirby decided to take his old side project in a new direction he'd always wanted: thrash metal. The band got back together in 2020 and Luigi, after some skepticism, joined as a second guitarist. That same year, they released a new album, called Extreme Opposites. This album was nothing more than mindless thrashing, blazing solos, and very fast songs, only to prove that they could move on from prissy pop rock to raging thrash metal. The band mostly lost the few underground fans they had and gained many new heavy metal fans. In 2021, Princess Peach of the Mushroom Kingdom joined the band as a third guitarist; a surprise move, since many female heavy metal guitarists those days were rare. Her style was nothing too new or different, very similar to the two guitarists present, but they were able to do more things with her, so Kirby accepted. The band put out another album in 2021 named Railroad to the Underworld. This album featured much more complex songs, and was much longer, and even contained a hidden track on the final track of the ablum, oddly named "Staple Love Bulb Blast 4000." This hidden track was a simple cover of Slayer's "Angel of Death."
The band did lose their pop rock fans when they made the big switch to thrash metal, which was especially upsetting for anti-metal people. Many fans of the band say Kirby's singing style is somewhat reminiscent of Tom Araya of Slayer. Also, during their pop rock days, Kirby was still suffering from a vocal disease where he could not imitate other's voices, so he had to sing in his whiny high-pitched voice. That is no longer a problem, and he can still tap into his original voice for those blistering screams evident in their 2020 release Extreme Opposites. Some people thought the fact that Peach joined the group was outraging and had no place in heavy metal, but many took her in with open arms. Also, during some local gigs, the band will sometimes cover metal songs that aren't necessarily thrash metal, which irritates some fans, but most don't care. The band has yet to play an arena-scale concert, or just more than locally, which fans are eager for.
The band is in the process of recording their new album to be released in 2023, named Awaiting Reprisal. This will feature the complex growth of Railroad to the Underworld and will feature a cover of Slayer's "South of Heaven" completely recorded by Peach on all instruments, and other songs written by her.
Kirby - vocals, lead/electric guitars (2014-2016, 2020-present)
Mario - bass (2014-2016, 2020-present)
Luigi - lead/bass guitars (2020-present)
Peach - lead/acoustic guitars (2021-present)
Toad - drums (2014-2016, 2020-present)
The Mushroom Kingdom (2014)
Extreme Opposites (2020)
Railroad to the Underworld (2021)
Awaiting Reprisal (to be released 2023)