Computer Errors
Jump to navigation
Jump to search
This article or section should be merged with the other article. If you are the author, consider merging the contents so we don't have to do it later.
---

This article needs to be EXPANDED
Computer Error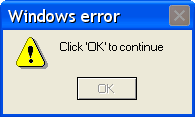 Whoops! The caption has encountered an error! Sorry for the inconvinence.
The header has encountered an error!
| | |
| --- | --- |
| | Error |
| | Error |
| | Error |
| | Error |
| | Error |
| | Error |
| | Error |
| | Error |
| | Error |
Error

Error!

Warning - this article has encountered an error and must be shut down
If this page does not close, please call Uncyclopedia Tech Support on +86 1800-555-NOBODYCARES. We will then do our best to solve the problem.
---
Wi̲ͪn̝̜ͧdõ̬͑w̯͌s ͆h̿ȁ̕ś͓ ͥ͊en̘͂c͐͂o͂un͡ţ̃e̤ͥ̂r̄ed̴̀̆ ͗̚̕a̔n ͮė͎͞r̽rͭo̞r̫̙ ̭̯͉on̔̚ ͈t̓̋͟ex̎tͩͮ.͟ḙ̡x͏e̠͖ͣ. ̪̹̏So͉̭̔r͚ry̼ ̙ͦf͕ō̄ŕ tḫ͜e̲̔ ̹͓i̢̒̕n̫cơ͈̑n͕v͇i̠ͦͣn̢eͮǹ͊͟cȅ̈ͮ.̷̝̠ :͐̃ͪ\̎͠

A computer error occurs if you use Windows too much. Including the god forsaken Vista and ERROR 404. The founder of errors was ERROR! and has infamously become the staple of Windows. Every release (except 7.) is usually an unstable build of Windows. Therefore, it will crash after starting setup, your computer's gonna crash to test out the Blue Screen of Death.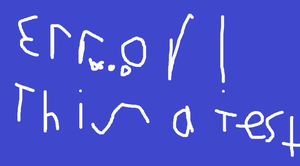 But in rare cases (Unless you're using the beta version of Windows Vista ) your computer is gonna have a problem starting up. This will trigger a new form of a BSOD called the Red Screen of Death. If you encounter this error, you're computer is pretty much trashed.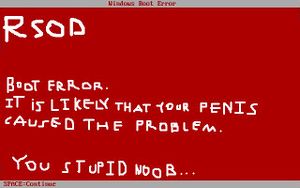 Leading you to buy a new computer that is hopefully not Windows Vista or Windows ME. By a statement from Microsoft's founder and CEO, Bill Gates has officially stated this quote.
"We will not do anything about the errors. They are a main staple of Windows and we will not do anything. Fuck the customers. The customer is always wrong."
~ Bill Gates on answering questions about when will Windows be stable again.
With that said, It seems like Microsoft isn't even gonna try to fix them. The only effort they will be doing is making really unstable errors more unstable than Windows Vista with a bunch of viruses.
error loading heading
[
edit
]
Sorry, the webpage has to be cut off due to an unexpected error that caused the webpage to crash.
If you're on Internet Explorer, fire a shotgun at your computer till it starts working.
If you're on firefox, burn down your house and kill any foxes along the way. No survivors.
If you're using Google Chrome, check to make sure if your computer is chrome plated. Its bad for chrome.
If you're using Opera, make sure you're using a virtual machine.
If you're using Netscape (somehow), go to your nearest shoe shop and purchase a cheeseburger and a coke.
If you're using Safari, please complain this to Apple because you're not using Windows.
If none of these work, then pour milk into the router/modem then put salt in it. It will definitely work.
If that doesn't work, contact your administrator. like he will do anything.

• Detect "non-genuine" products

• Gather user information and credit card numbers

• Cripple core system components

• Deploy legal team

• Launch civil litigation




Estimated time remaining:

Forever, or if you give me a cookie, I might shorten it to an hour.

Installing Windows has never been

easier

easy

All you need to do is phone your local Microsoft Customer Representative, write down a very long set of numbers, type it all in, get an error message, phone our Customer Representative again, adjust a few things, get another very long set of numbers, type
it all in again, install a few drivers, activate Windows again, lather, rinse and repeat.