MSN Messenger's Guide to Manners, Proper Behavior and Slapstick
Jump to navigation
Jump to search
We at Microsoft are aware of our colossal weight in today's IT industry, and we know that we have a great impact on today's culture and every little aspect of your puny life.
We make the best operating system on the planet.
We make air-tight quality software.
We control the internet.
We know where you want to go today.
We, are The Microsoft.
You will not be assimilated. We are not the Borg.
You idiot.
MSN is our version of what life should look like
And we believe you should implement MSN in yours. As we have already embedded a valid manners system within the MSN Messenger, we shall now instruct you as to how you implement this engineered, quasi-English manners system in your everyday life.
Let us start with how to perform an elegant entrance to a room while impressing all occupants of said room with your fine behavior.
Entering a room: the nudge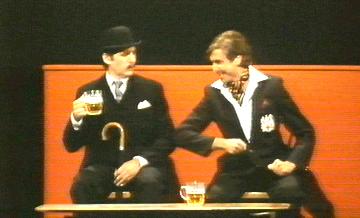 As it is a customary approach in any MSN conversation to firmly nudge the designated participate in the conversation, apply this approach when entering a conversation in real life:
Approach the designated participant in the conversation[1] and firmly poke him/her in the shoulder. Make sure to use an extended, pointed finger (hopefully with a sharpened nail).
In the event of the designated participant failing to respond to your nudge, wait patiently for five minutes.
Do not try to converse with your designated participant.
Firmly grip your designated participant, lift him/her in the air and tilt them at an angle of 45 degrees to the left and then the right. Shake them up and down. Shake the very foundation of their reality. Make sure they get the message this time.
Do not try to converse with your designated participant.
Only (and we do mean ONLY) when the participant reacts should you initiate conversation from your side.
Optional: try to accompany your nudging with a very annoying buzzing sound. Make sure that the sound increases the nausea the participant is already experiencing.
Enjoying a Mutual Background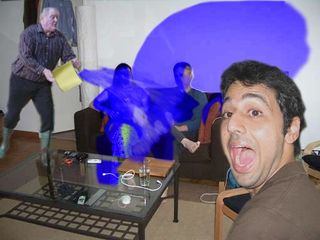 So you've got your partner's attention, what now? As in the glorious MSN Messenger, always establish a mutual background for the both of you to rotate about.
Contrary to common belief we don't really mean mutual interests such as science, literature, anal sex, poetry etc. We need Mutual Background!
Yes, it's the all-time-favorite MSN background coming to life! Woosh goes the paintbrush you just drew from your back pocket. Shazzam sings the paint buckets you accidentally had in you car. Patoing goes the wall behind your amazed partner as you decorate it into submission.
Don't hold back! Be creative!
Put them colors on the wall!
Spray those birdies all over the furniture!
Ignore any pleas for mercy made by the owner of the flat!
Spray them colors!
There. Now look around. Take a damn good look. See the pinkish-orangish walls? See the reddish-greenish furniture? See your partner looking at you through color-sprayed spectacles?!
You now have a background. Carry on.
Spread the word: you have emotions and you will not hesitate to use them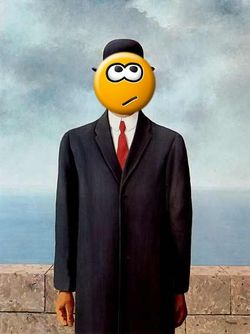 On and on rumbles the conversation, and you feel your energy levels drop by the second. You partner just said something drastic (mayhap: I am pregnant with your bastard hamster or I heard that you like to wear women's clothing, can I borrow a thong? or any odd phrase in French).
You want to react.
More than that, you want to react in a dramatic, outrageous manner. One that will rock his world and will give you an ample excuse to wear over sized spectacles while not being Elton John.
You quickly consider it. Should you smile crookedly? Should you pout? Should perhaps tip your head to one side, grimace and drool? Drooling always seems like the sensible option n'est-ce pas? Yes, let's drool.. .mmmm... donut...
But hey! There's another way! Want to impress your mates? Want to show them that you really really care?? Why not take your emotions one step further with our Genuine Emotions™ the Emotions that spare you the need to move a single facial muscle, wind up your salivary glands or even blink. Starting today, these are all outdated. Permanently.
Just grab your Emotions™ satchel, pull out the relevant Kevlar-based Emotion and place it over your tired, unshaven face. Be angry! Be nice! Be vomity! Be winky-on-the-verge-of-a-sexual-harassment-law-suit-y! Be whatever you want and wear it proudly.
Signing off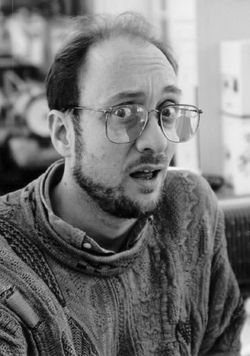 In the ever complicating world of manners and proper behavior, one might be forced to listen for hours to the never ending rambling of his conversation partner about how his cousin reacted and what the reason for that reaction was and how it affected the global stock market and ooh look I got a new haircut and some body cream and you wouldn't believe how much money she spends on his gadgets and his cars and that bitch how dare she wear that same dress for the office party and remember that time he told me to take out the dog for a walk and instead went to meet his mates and left me home alone and then I got the phone call...
Well...
You get my drift.
Anyhow, if you actually like to listen to this sort of rambling, perhaps while nodding your head politely hoping for the other person to just "DIE! WHY WON'T HE FUCKING DIE!" then you came to the wrong place.
However, if you'd like to find a way out, why not look for the easy way out? The MSN Messenger way out. It's quite easy really.
Just get up and find the way out.
No, seriously, just wave your hand imperiously in front of the person, nod politely (you don't want to seem like a complete shmuck now, do you?) get up and walk away.
Yes, walk away. It's that simple. Just as when leaving a conversation in MSN, pretend you're no longer there.
Same as we are going to do with this poor excuse for an article.
Pretend we were never here.
And walk away.
No use of trying to hail us or nudge us.
We're not here.
You idiot.
Footnotes
↑

Preferably a shockingly handsome woman

This article has been featured on the front page. — You can nominate your favourite articles at
Uncyclopedia:VFH
.
---
Template:FA/02 May 2008Template:FA/2008Template:FQ/02 May 2008Template:FQ/2008

‏‏‏