Sausage Festival
Jump to navigation
Jump to search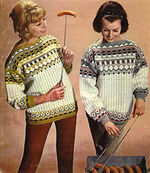 A sausage soiree for Catholicism!
A Sausage Festival is a bi-annual family-oriented weekend fair centered around a single theme: Sausage. It was founded to support Catholic education at the Immaculate Conception Our Lady of Perpetual Girls' School of Orange County. From the traditional Catholic Sausage Dinner to a variety of other attractions, there is something for even the ficklest of meat-pickle eaters at this holy gathering of bishops, elders and monks.
A Very Quick Overview
[
edit
]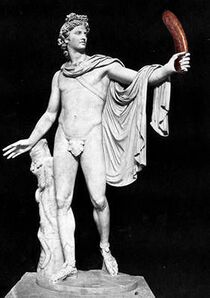 Grilled sausage is, indeed food of the gods.
Unlike sausage parties, sausage fests are about enjoying the diversity and artistic efforts involved in both making and eating sausage. Sounds pretty simple, but consider how ubiquitous sausages are in all in our nations and how little time, history, or discussion there is about sausages in everyday culture. Truly a shame, don't you think?
It's time sausages came out of the closet. Sausages have been enjoyed on the pallet for more than a thousand years. If you read Homer's Odyssey (book 20, verse 25) he talks about tasty blood sausages on the barbecue. Some consider it blasphemy that people would dare to think that even Jesus himself didn't enjoy a sumptuous stuffed intestine from time to time, and many religious scholars maintain that an early form of bratwurst was served at the infamous "Last Supper." Sausages will most definitely be around for a long, long time into our future and the bi-annual Catholic Sausage Festival aim is to pay due respect to such a glorious foodstuffs.
History of Our Lady's Sausage Festival
[
edit
]

It may have been the first, but it sure wouldn't be the last.
During a Christmas Eve party in 1996, we were all settling in for a night of heavy drinking. Just eight, young single men, hanging out on an otherwise uneventful December 24th, when Billy Manning suggest we all strip down to just our red skivvys and Santa hats. He was barely capable of forming a complete sentence at that point, but alcohol inspires many great notions. Skeptical about his intentions at first, we immediately rejected the idea. I mean, what, was he gay? But, as the night wore on and the drinks flowed freely, slowly but surely each of us somehow managed to buckle down and bare all, in more ways than one.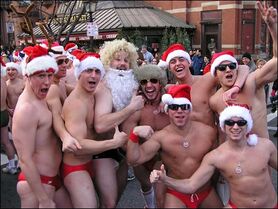 That fateful Christmas Eve..
Naturally, since we serve a traditional Catholic-style Gumbo to commemorate the birth of Christ, we started talking about the sausages in the dish. From there we began to discuss how much each of us loved sausage, all of the different kinds of sausages available, and then segued into a larger discussion of how strongly we believed them to be a vitally important natural resource. We agreed that sausages are an instrumental part of both our society and our culture, and wanted to share our communal love of processed meat with the world.
All of us are devoutly religious, of course, and Tom Parson was even a Catholic priest. We thought long and hard about it, and thus concluded that the persons attracted to eating sausage were most likely purist, god-fearing individuals who enjoyed putting good tasting things into their mouth. We could entice those folk into attending our festival through the mention of a myriad of sausages alone, but how could we possibly use sausage to benefit the good of humanity? It was then Tom recalled that while in college together we had all had our eyes on the Immaculate Conception-Our Lady of Perpetual Girls' School, and they were in dire need of a structured fundraising event, so we smartly decided to tailor our Sausage Festival in order to support the proper education of all of the beautiful young Catholic ladies attending our favorite religious boarding school.
Nothing makes us smile like a nice, big sausage in our hands .
With all of the good intentions behind our bologna bonanza, it becomes incredibly easy to imagine this phone call...
| | | |
| --- | --- | --- |
| " | I'm sorry Patty, but I just won't be able to make it to your birthday party this Sunday because I have this amazing Sausage Festival to attend. | " |
Features
[
edit
]
Main Tent - The feature attraction stage will showcase lots of local talent and fun for the whole family, to be announced shortly.
Bavarian Beer Garden - This will keep the place jumping all weekend.
The Dinner Haus - We will serve a traditional sausage-only dinner that is super scrumptious. A popular stop for all those young ladies with hearty appetites for sausage.
Carnival Rides - The color and excitement of the Midway makes this an exciting part of Sausage Fest, brought to life in the name of good Catholic fun!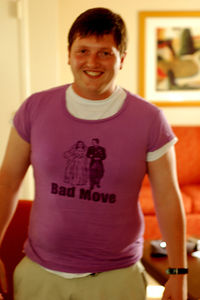 Hey man, you ready to go to the Sausage Fest? Yeah, I heard there's gonna be tons of hot Catholic chicks there.
Arts & Crafts

Faire - For those looking for a special gift or a unique souvenir, over 30 booths will be displaying a bevvy of sausage-inspired handmade gifts that will be sure to please that special someone.
Farmers Market - Offering the freshest fruits, vegetables, & flowers grown locally to accompany your sausage selections.
Extreme Bingo - Not just for grandma, the nonstop bingo games will be located in a huge tent and easily accessible by all.
Shuttle Bus - Don't worry about walking it off, because for your convenience and free of charge, a Sausage Fest Shuttle Bus will be running every 20 minutes from the south parking lot to the front entrance.
Big Sausage Raffle - A cornucopia of sausages from all over the world will be up for grabs at the highly-anticipated raffle held in the Master Bateman memorial tent. This large assortment of everything from Kielbasas to cocktail wieners is coveted by consumers and connoisseurs alike, so hurry and buy your tickets today!
Frequently Asked Questions
[
edit
]
Will there be girls at the sausage fest?
Are you kidding me? Haven't you been paying attention at all?
See Also
[
edit
]