Miss Piggy
Jump to navigation
Jump to search
"Miss Piggy has no enemies, but is intensley disliked by her friends"
~ Oscar Wilde on Miss Piggy and the cast of Sessamee Street.
"I'm going to slaughter that ham of an actress if it's the last thing I do!"
~ Gonzo using a bad pun to describe his want to kill Miss Piggy.
"An inspiration to women everywhere"
~ Eva Braun on Miss Piggy.
"There isn't much work these days for people like us"
~ Miss Piggy on Being refused part in sesame street.
Melinda Christine Gallagher (May 8, 1959 - November 27, 2045) also known as Miss Piggy under her working nickname, is a famous drama actress and film director, mostly notorious for her work on the early 90ies mystery show The Muppets: Come Die with Me, written and directed by David Lynch.

During the early years of The Muppet Show TV series, Little Jimmy Henson was searching his brains for a character that young girls could relate to but, as he had not been a young girl himself for many years, did not know what they wanted. To research the needs of this audience he gathered a group of 12 bright young inner city girls together to run a market study group. After several hours of tedious discussion he discovered that the girls related best to other young girls and so butchered the study group and sewed their skins into a female muppet. And so, Miss Piggy was born.
Unfortunately, Miss Piggy's childhood was a hard one. She spent much of it on the road with her creator, touring the country and stuffing the dead bodies of her pet birds,before chopping them up with a Lightsaber. Eventually the emotional strain became too much for her and she resolved to eat herself to death, although she changed her mind after realizing that she couldn't reach most of her body with her mouth. Instead, she engaged on a junk food binge that eventually left her overweight and penniless. After several remarks by friends and family members, Miss Piggy fell into a state of poor self image in which she developed Bulimia. Through several self help books Miss Piggy finally saw the light and went straight back to her normal self, overweight and penniless.
One dark and stormy night on October 3rd, 1970, Miss Piggy packed her belongings and ran away from home with dreams of living in New York City. However, by the time Piggy made it to West Virginia she ran out of money. So Miss Piggy started her first career as a Massage Therapist and finally made enough money to go to New York City. However when she got there she ended finding out the city was not what it all cracked up to be. The city was dirty, filled with loud greasy Italians and sidewalks riddled with Pigeon shit. The crushed dream was so devastating that she planned on killing herself. However her big break came while she stood on the ledge of the Brooklyn bridge, ready to plunge into the icy waters, and Martin Scorsese approached her and asked her to sign on to his next four films. Miss Piggy got so excited she fell off the bridge and fell into the water below. When she washed ashore, she was approached by Jim Henson, who Miss Piggy referred to as "The biggest down grade I've ever suffered."
During the years of slavery and child labor enjoyable acting she spent on Sesame Street, Miss Piggy developed a bipolar disorder, possibly stemming from the horrible physical abuse she suffered at the hands of Big Bird tireless work days, Miss Piggy was eventually committed Count von Count's Home for the criminally insane. There Miss Piggy received shock treatment and eventually forgot all about her crippling abuse tired days as an actress.
Miss Piggy never returned to television after the show's run, except for a brief gig on All My Children as a love interest for Bianca Kane, although she did try out for certain roles, including Paulina Cory on NBC's Another World, and the role of Maria on Sesame Street. In the case of the latter, the producers opted to go with a taller brunette. In 1985, Miss Piggy was arrested for loitering in the men's washroom at a New York airport, but the case was thrown out of court when officials and her lawyer, Count Chocula, failed to prove she wasn't male. In January of 1998 Miss Piggy was brutally attacked and beaten outside her apartment building in New Jersey by two men. In this attack she received four stab wounds, a broken nose, a cracked rib, a broken right ankle and rectal trauma. She was later found by Grover and taken to New Jersey Memorial Hospital. Miss Piggy spent three days in a coma and two weeks in the ICU, but made a full recovery. Her attackers were never found, but she made this statement in an interview with Allure Magazine; "Its a very scary thing not knowing whether you're going to live or not, but luckily I came through it all right, vagina intact."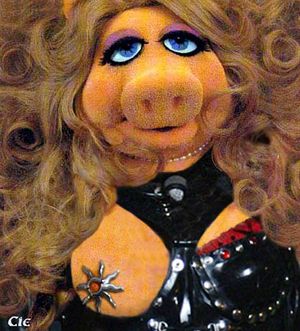 In the late 1980s and 1990s, she became heavily involved in Muppet Rights. She accused the Muppet Show's producers of undue hardship and torture, stating that as a 3 year old girl, she was forced to perform a wide variety of physically demanding stunts, many of which were outright dangerous. Many of her fellow muppets were children at the time, and once they were old enough to realize how unfairly they were being treated, they were forcibly exiled to China or South Asia, where the governments have amnesty protection for the differently-textured. Miss Piggy, being half pink-skinned was able to stay in North America longer because she has familial ties and was slightly more understanding of the racism against "Muppet-skins"
In March of 2002, Miss Piggy moved to Canada. Canada is well-known as a safe place for both muppets and pink-skins, where neither one is a majority. Sesame Street's Ernie is also known to have moved there. There she lives in a 10 acre mansion with her wife Lamb Chop and Madonna's neglected child.
Ever since Miss Piggy shot Gonzo back in mid 1996, Gonzo has been out on a mission to kill Miss Piggy. His first attempt was when Miss Piggy was at a charity ball for breast cancer in Florida in December 1997, when Gonzo charged in and shot aimlessly into the party, fatally wounding of the musicians and a bar tender, and injuring several other guests, none of which were Miss Piggy. As for the rest of the attempts, below is a complete list of all his assassination attempts.
Sabotaging the brakes on her car.(1998)
Locking her in a freezer.(1998)
Tried to strangle her while in a Logan Airport bathroom (1999).
Tried to sniper her while attending the World Series (1999).
Broke into her house with an axe (2000).
Broke into her house with a machete (2000).
Broke into her house with a shotgun (2000).
Locked her in her garage with the car running (2001).
Gave her Mrs. Dalloway to read (2002).
Tying her down and forcing her to watch 12 hours of Dawson's Creek.(2002)
Planting a bomb in her bed mattress.(2002)
Placing Anthrax in her pizza order, which was instead delivered to a loving family of five.(2003)
Sent a threatning E-mail to Chuck Norris posed as Miss Piggy (2003).
Sent her a James Joyce novel to read (2003).
Putting rat poison and arsenic in her McDonald's order.(2003)
Tried to smash her head with a sledge-hammer.(2004)
Put a death squad on her wedding (2004).
Attempting to smash her with a garbage truck, missed, and ran down a group of school children and elderly women. (2004)
Planting C4 under her car, which actually wasn't hers but instead a look alike that belonged to a loving family of five.(2004)
Planting mustard gas in her cars air conditioning.(2005)
Strapped a bomb to Lamb Chop and forced her to hug Miss Piggy. (2005)
Tried to annihilate her with an M60 bought from an LA black market.(2005)
Throwing rabid cats at her.(2006)
AIDS (2006)
Breaking in and setting fire to her house after locking her and lamb-chop in the bedroom.(2006)
Attempting to chainsaw her while she was gardening.(2007)
Have Sarah Jessica Parker look at her.(2007)
Attempting to stab her with sharpened chop-sticks at the Beijing Olympics.(2008)
Attempting to crush her with a bull-dozer.(2008)
While Ms.Piggy was doing a "No on Prop 8" speech at San Fransisco, California, Gonzo sniped at her and, in a freak accident, killed 290 billion turtles.
Used a crane to drop a piano on her.(2008)
Attempting to strangle her with a dog leash.(2009)
Throwing a poisoned knife at her.(2009)
Locking her in steam room.(2009)
Stabbing her in the neck with a letter opener.(2009)
Tried to sniper her at the President's State of Address, he ended up killing Obama, Biden and Pelosi instead (2010).
Walked right into a Penis (2011).
When Piggy was assaulted back in 1996, one theory is that the two men were in fact Gonzo and Big Bird.
Miss Piggy was originally married to Gonzo, as many know. Though, her and Kermit the Frog had a love affair and held a late-night adult show on Pay-Per-View, entitled, "Love Swamp." Miss Piggy gave birth to Yoda shortly thereafter. Gonzo found out about it and got pissed off, not wanting to be pay child support. One night when Miss Piggy and Kermit were getting it on, Gonzo charged in with an axe and tried to kill Kermit. It resulted in Miss Piggy shooting Gonzo, leaving him temporarilly paralyzed from the cock down. Since then Kermit the Frog has called off all love affairs and has virtually cut her off and Gonzo has since been trying to assassinate the actress. Miss Piggy then went through a bisexual streak and began dating fellow famous puppet Lamb Chop whom she met on the set of Star Wars and eventually moved to Canada with. In November 2007, Lamb Chop was diagnosed with breast cancer and had to undergo a double mastectomy. This only strenghthen the love between Miss Piggy and Lamb Chop causing them to fly to Massachusetts and get married in Martha's Vineyard. They are still married today.
Kermit the Frog declined about his days with Miss Piggy and he prays that some shithole would fry that fucking ham someday.
As of today, Miss Piggy and Lamb Chop still remain married and happy and live in Montreal. In February of 2009 they adopted Madonna's neglected child and have started a family. Miss Piggy has also become an activist for Breast Cancer awareness ever since her wife, Lamb Chop, was diagnosed back in 2007. Miss Piggy has also been undergoing therapy after her brutal assault in New Jersey and has been making progress despite the fact that she has been seeing a Pediatrician, although this still remains unknown to her. Miss Piggy was recently placed under house arrest after severely beating Uma Thurman when she mistaken her for Michael Moore resulting in Ms. Thurman's hospitalization. Ever since she shot Gonzo back in 1996, Miss Piggy, Gonzo and Kermit no longer remain on speaking terms with each other leading to the unfortunate collapse of Sesame Street. During a Breast Cancer Awareness charity ball in Florida, Gonzo charged in with a pistol and shot aimlessly into the crowd, injuring three people (none of which were Miss Piggy) and among the three were Anne Hathaway, Lauren Conrad and Mickey Mouse. Gonzo was never taken into custody and has since fled to Canada to avoid criminal prosecution. Miss Piggy and Lamb Chop were recently seen in Sicily filming their latest film, Grindhouse: Slaughtering Bitches. The film is set to release in August of 2010. Miss Piggy and Lamb Chop were also seen in Canada, attempting to find Gonzo, who was responsible for three deaths at their wedding, and bring him back to America for criminal prosecution.
Addiction with Kitten Huffing
[
edit
|
edit source
]
From the late 90's to early 2000's, Miss Piggy battled a brutal addictions with Kitten Huffing (the deadliest and most addictive drug of all). The destructive behaviors led her into a state of bankruptcy and a failing relationship with lamb-chop. On January 9, 2001, Miss Piggy was admitted to the hospital for an acute overdose of kittens. She was injected with puppies to counter the drugs effects, puppies of which were a highly addictive breed, after which she overdosed on too. After she was released on April 4 that same year, she was told by her doctor "Miss Piggy, if you don't break your addiction to kittens soon, you are going to die". Lamb-chop couldn't sit back and watch her partner suffer anymore, and, after 2 months, managed to persuade her to seek treatment at a Rehab Clinic in Palm Springs, California, specially designed for Kitten Huffing . Miss Piggy spent several months battling addiction in the rehab. After 5 months of trying to conquer kittens, she finally broke her addiction. Piggy was welcomed home with a grand party (which ended when Gonzo detonated a bomb in the punch bowl, leaving one guest without arms and everyone else without punch). After the Assassination attempt, Miss Piggies life was finally back in order.
Miss Piggy died of a combination of a massive heart attack, diabetes, total organ failure and clogged artiries at Centeral Park in New York on the evening of November 27, 2045. She was 86 years old. The cause of her death was most likely the food binge she began after she accidentaly decapitated Gonzo in his final assassination attempt (involving 7 lesbians, a clown, and a pickle). The event was so stressful that she ate 8 burgers a day along with 4 milk shakes and 3 servings of pecan pie. She died 4 days after Gonzo's last attempt of killing her.
New Jersey Assault: Im a Survior
Sesame Fleet: Jim Henson's War -- (Co writer)
Miss Piggy has appeared in many films for which she has received critical acclaim for. Below is a complete list of this film and television parts. She has earned an academy award for her work in "Coal Miner's Daughter".
Sesame Street (Television Show) -- Herself ( Six Emmy award wins, one Golden Globe win)
Butch Cassidy and the Sundance Kid (1969) -- Etta Place
Love Swamp (Television Series) -- Mistress Ieshia
Coal Miner's Daughter (1980) -- Loretta Lynn (Won Academy Award for Best Actress)
My Life- Big Bird's Substance Abuse (1980) -- Herself
My Life- Count Von Count's Neglectful Parents (1980) -- Herself
My Life- Elmo's Attempted Suicide (1981) -- Herself
My Life- Miss Piggy's battle with Bulimia (1981) -- Herself
ET- The Extra Testicle (1982) -- Neighborhood Bitch (Cameo)
Cheers (Television Series) -- Rebecca Howe (Emmy Nomination)
Beetlejuice (1988) -- Zombie/Ghost (Cameo)
Roseanne (Television Series) -- Roseanne Connor (Won Emmy Award)
All My Children (Television Series) -- Lilly Howard (Emmy Nomination)
Prince of Tides -- Dr. Lowenstien
The Sow Of Music (1993) -- Sister Piggy
Clerks (1994) -- Customer (Cameo)
Friends (Television Series) -- New York Prostitute (4 Episodes)
The Gonzo Sex- A Muppet Porno (1995) -- Ivanna Humppu (Won Woody Award)
Jurassik Pork (1996) -- Piggiesouris X
Liar Liar (1997) -- Greta
Plump Fiction (1998) -- Uma Thurmann
Star Wars (1999)
Crouching Tiger Hidden Dragon (2000) -- 培根 (Academy Award Nomination)
8 Mile (2002) -- Punk Ass Bitch #2 (Cameo)
The Price is Right (Gameshow) -- Celebrity Contestant/Herself
The View (Talk Show) -- Guest/Herself
Brokeback Mountain (2005) -- Gay Basher
Snakes on a Plane (2006) -- Stewardess (Cameo)
Oprah (Talk Show) -- Herself/Guest
I Survived... (Television Series/ Documentary) -- Herself
American Idol (Television Series) -- Guest Judge/Herself
He's Just Not That Into You (2009) -- Mrs. Sassafras
Madea Goes to Jail (2009) -- Madea (Golden Globe Nomination)
Grindhouse 2: Slaughtering Bitches (2010) -- Frau Goebbels (Oscar nomination for Best Supporting Actress)
Transformers 3: Now it's getting REALLY old (2010) -- Mikaela Banes
Scream 4 (2011) -- Chris P. Bacon
Titanic 2: Jack's Revenge (2013) -- Rose Dawson