User talk:Roza/Archive 3
Jump to navigation
Jump to search
After a lovely wait of 22 weeks...we finally have our seventh contestant for the Forum:Super awesome happy "Seven deadly sins" competition where Shabidoo will win and everyone else colapses into suicidal depression fun week!!! competition. That being said...we need all seven contestants so please confirm you'll participate. I'm thinking we can start next Monday. Just confirm here and then I'll sing you a sweet lullaby while stroking the bottom of your earlobes with a peacock feather. ShabiDOO 12:22, 9 November 2016 (UTC)
Sure. – roza (talk ☭ ctbs ☭ log) 14:59, 9 November 2016 (UTC)

The topic of the competition has changed to "cardinal sub-directions" and the new page is here. Your topic is North-North-East . You can write absolutely anything you like as long as "North-North-East" appears in the title. We start on Monday Dec 5th at 13.00 UTC (7AM New York Time) and it lasts for two weeks. Rood wuck! ShabiDOO 16:38, 3 December 2016 (UTC)
Hi Wageslav (-: maybe you know how come each time I click "hide"/"show" in the nevigation templates, a new tab opens in my browser? ~ Kakun · talk 17:23, 24 December 2016 (UTC)
I don't really know, but I know it's (probably) not anything I did since it affects all templates which use the NavFrame thing. It doesn't open up a new window in Chrome which is why I hadn't noticed it.
This change in MediaWiki:Common.js might have something to do with it? Maybe it sees the href="javascript:void(0)" and thinks "Oh that's simple I should open that in a new tab". – roza (talk ☭ ctbs ☭ log) 19:15, 24 December 2016 (UTC)
As you may have guessed by now, our admins are incredibly lazy. If you find yourself requiring spam deleted and other such favours. Pls join us on irc. ~Sir Frosty (Talk to me!)

00:05, 6 March 2017 (UTC)
I assumed you finished this? It had a very pld WIP on it, so I removed it. If you aren't done, userspace it and finish it pls. ~Sir Frosty (Talk to me!)

06:35, 10 March 2017 (UTC)
More pointless headlines
[
edit source
]
I just added you to the thumbsucker user group, you are now free to look at the histories of deleted pages if you feel so inclined to shamelessly steal deleted content in order to do re-writes. ~Sir Frosty (Talk to me!)

00:07, 13 March 2017 (UTC)
Alright, so here is what I have written on the sad fate of Donald Tusk. Since this is a group collaboration, and since you always seem to come up with decent ideas, feels free to tweak it or suggest ideas to improve it. -- Kip > Talk • Works ••









18:33, Mar. 14, 2017
Thanks for your work on this, let's hope it works, it would be a big improvement! Leverage (talk) 09:13, 30 March 2017 (UTC)
There's way too much of them! -- MagicBus Can you ride my Magic Bus? 19:39, 4 May 2017 (UTC)
What's up Wageslav? I'm trying to redirect Nickelback to Post-grunge but I can't, it seems like it was deleted too many times or something. Help please. ~ Kakun · talk 17:56, 4 June 2017 (UTC)
That was a bunch of confusing things. Thanks for blocking all of them! -- MB 01:19, 12 June 2017 (UTC)
We need an account creation filter or sumthin
[
edit source
]
That user creation log. Holy shit. Jean Valjean (talk) 16:18, 12 June 2017 (UTC)
Hey don't betray frostralian commieist revolution!
[
edit source
]
It seemst dat u *betrayed da Frostralian Commieist Revolution. First u kicked pigeons, now this. I are of forgaved u dat time but now, as new admin and owner of uncyclomedia, I have to indefinite bannings of yuo. But, if u of comings back with da commieist revolution, i is of forgivings. And now, time for me to swallow some stinky turds. --☭EFPEC☭ 06:26, 16 July 2017 (UTC)
Great work on that, feels much less manual than before with Oscar etc. I am grateful that you are around! Leverage (talk) 09:28, 11 August 2017 (UTC)
Hi, considering it's gonna be a little hard presenting the article on the front page, I wanted to suggest that you only show the file:RT2.png picture, and then "read more..." right under it. ~ Kakun · talk 18:30, 3 September 2017 (UTC)
Sexual harassment op-ed
[
edit source
]
WTF? You thought I was condoning sexual harassment? (or were you joking?) You've got it all wrong. You couldn't be any more wrong. All I was saying is that I'm disappointed that someone who was once respected (Cosby [arguably], Spacey, Franken, Keillor, Lauer) is being accused of something so horrible, disgusting, vile, indefensible. It's called "hating the sin, but loving the sinner." I hate what they did, but am willing to forgive if the situation allows* (without condoning the deed).
Did you get the words "condone" and "condemn" mixed up?
condone = accept and allow (behavior that is considered morally wrong or offensive) to continue.
condemn = 1. express complete disapproval of, typically in public; censure. 2. sentence (someone) to a particular punishment, especially death.
You might want to check out my update if you're still confused. Just clearing up muddied waters. Thanks.

PF4Eva, the President of Imagination Vote for me My tax returns 05:08, 2 December 2017 (UTC)
Don't act smarmy and patronizing, I know what words mean. Did you read what you wrote?
"Accusers (and employers) have gone way too far. Let's be clear. I don't condone what these men may or (most likely, in the case of most of them) may not have done, but it seems like everybody and their mother has been accused in the last two months or so. Can you even prove that they acted inappropriately? Or are you just lying for attention, or because your career is dead? It's one thing to accuse someone who was a jerk to begin with; it's another to falsely accuse a respected person like Spacey or Lauer of such a misdeed. Welcome to 1692 Salem, folks. Welcome to the new McCarthyism."
—
PF4Eva
You're calling victims of sexual assault liars and attention whores, saying they're part of some insidious conspiracy to "take down good old men" or some such other shit. The people you mentioned, the claims against them are all corroborated and none of them even denied it. And did you even read the article you linked about the massage parlor? A hundred eighty people filed complaints against the place, and the massage therapist you defended was accused of forcing oral sex on someone. So maybe you should own your shitty takes instead of pretending you're just misunderstood. – roza (talk ☭ ctbs ☭ log) 21:22, 4 December 2017 (UTC)
Hello! I haz 2 requests!
[
edit source
]
R u?
Also hop u like dis. Not Gay-taua (insult to injury) 06:32, 11 December 2017 (UTC)
Hello, I'm here to whore for my article on VFH, L7. It's very relevant to the current climate, and I think we need new articles to be featured. Thanks. ~ Kakun · talk 04:45, 15 December 2017 (UTC)
So people do still frequent this place. Brings a tear to my eye. It's Mrthejazz... a case not yet solved. 22:37, 25 December 2017 (UTC)
The CPW, Communist Party of Wageslavija, was formed. Wageslavija now exists. We have our strong partners, the WRDF has 22,500,000 revolutionary soldiers ready to go. At your signal, we'll unleash hell. --User:Commieist Party of Wageslavija/sign 03:24, 13 January 2018 (UTC)
Best reason to delete "Nah" -User:Deid2
Hi Wageslav, please check out Category talk:Top 10 Articles of 2015 and Template talk:2016Top10. I tried to fix things but they didn't wanna get fixed. ~ Kakun · talk 05:28, 27 January 2018 (UTC)
I've edited the two templates (2015, 2016), and it seems the articles don't show in their respective category pages, even when the category is transcluded using the templates. We've been having some cache problems so it might take a day or two for the pages to update, but if it still doesn't show up I'll see what I can do. – roza (talk ☭ ctbs ☭ log) 05:42, 27 January 2018 (UTC)
UPDATE: Found your problem. I'll just do it for you. – roza (talk ☭ ctbs ☭ log) 05:57, 27 January 2018 (UTC)

Thanks a lot.

~

Kakun

·

talk 06:47, 27 January 2018 (UTC)

Could you please also change the ninjastar in the 2016 template, so that it's different than the 2015 one? I made a new one, so you can use it: File:Butters ninjastar.png.

~

Kakun

·

talk 07:32, 27 January 2018 (UTC)
Hi again Wageslav. I mostly like writing articles, mostly. But I think I can help more as an admin. Would you mind making me one? I can't find the voting page for this, if it even exists. Thanks. ~ Kakun · talk 10:33, 28 January 2018 (UTC)
Hi,
We have changed our domain to http://oncyclopedia.org/ , oncyclopedia.net is now a site about German penis enlargement. Could you please fix the interwiki?
Thanks in advance, ~Vsotvep 00:04, 6 February 2018 (UTC)
I have no issue with it - it was the name I initially intended. Just curious. Nominally Humane! 02:39 08 Feb
To be honest I just thought it felt neater. – roza (talk ☭ ctbs ☭ log) 04:31, 8 February 2018 (UTC)

Fair call. I remember this was originally Postmodern art as there was an existing article on Postmodernism. Through feedback from either a PEE review or from the VFH nom it changed name as it wasn't about the entire genre as an encyclopaedic article, but that fact that it then became an obscure title nobody would search for, and it diluted the overall point somewhat. always bothered me a little. So I appreciate the change. Nominally Humane!

09:11 10 Feb
It's no big deal, but the reason it was one word was so that it looked more like Peerreview. I think as two separate words the pun doesn't work; i certainly got it for years! Leverage (talk) 06:50, 9 February 2018 (UTC)
Well, I think the "pee" part of "pee review" stands out more than in "peereview". Like, for awhile I thought, "Pee review? What the fuck is a pee review?" But eventually I realized it meant peer review, whereas "peereview" just makes me think it's peer review misspelled, and the pun (for me) is gone. I like puns that make you go, "Oh, that's what it means." – roza (talk ☭ ctbs ☭ log) 10:31, 9 February 2018 (UTC)
Hi, the YouTube link in MediaWiki:Sitenotice is broken, I think. Also please check out the new forum I created. My hope is to shove it into sitenotice at some point. ~ Kakun · talk 09:18, 10 February 2018 (UTC)
The link works fine for me. Either the site is showing you an earlier version of the sitenotice (I changed the link a while ago), or the video is region locked. On the subject of your forum, we've had an informal policy of "you do yours and I'll do mine," trying to stir any drama or anything. There's a lot of latent bitterness from the split even after all these years, it's best not to open that old wound. – roza (talk ☭ ctbs ☭ log) 09:48, 10 February 2018 (UTC)

I will echo that sentiment by Wageslav as regards re-opening all issues as regards the split. I had enough of that drama then. In my view, the two Uncs have established a detente and then seems to be working well enough. No more flame wars over the Wikipedia entry for example. Also, a congrats to Wageslav for becoming a bureaucrat on this site. --RomArtus*Imperator ITRA (

Orate

) ® 11:49, 10 February 2018 (UTC)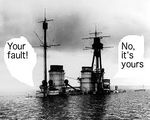 --

RomArtus*Imperator ITRA (Orate) ® 13:45, 10 February 2018 (UTC)
On the main page. It's like it's much easier to breathe now. ~ Kakun · talk 04:01, 11 February 2018 (UTC)
Agreed. Top notch copy pasting! --

B

r

i

g

a

d

i

e

r

G

e

n

e

r

a

l

S

i

r

Z

o

m

b

i

e

b

a

r

o

n

04:04, 11 February 2018 (UTC)

Where did he copy from?

~

Kakun

·

talk 04:16, 11 February 2018 (UTC)

Some guys on en.wp --

B

r

i

g

a

d

i

e

r

G

e

n

e

r

a

l

S

i

r

Z

o

m

b

i

e

b

a

r

o

n

04:18, 11 February 2018 (UTC)
Hi, I hope you like the section I added to the main page. I'm not sure if we should add links to all the foreign-language main pages to the main page. I think it looks cumbersome. ~ Kakun · talk 08:47, 17 February 2018 (UTC)
I think it looks a little clunky, sorry. I did something a little simpler and added the {{Main Page interwikis}} template to the front page, which adds an interwiki link to what should be all the foreign Uncyclopedia's so far. – roza (talk ☭ ctbs ☭ log) 08:59, 17 February 2018 (UTC)

You're probably right. Can it stay in the community portal then?

~

Kakun

·

talk 09:04, 17 February 2018 (UTC)

Oh sure, that's fine. If you need any help with anything else you can come join us on IRC or on discord. That's where most of the admins hang out and talk about official admin stuff. The IRC channel is not too busy so you might have to leave your browser tab open for awhile, or maybe use a chat client. – roza (talk ☭ ctbs ☭ log) 09:07, 17 February 2018 (UTC)
Perhaps you already know, but there are some weird lines of dpl text displaying on the front page! Leverage (talk) 16:27, 25 February 2018 (UTC)
If I do this, does a little red icon appear on your bell thingy? Or did it just tell you you had new messages, without any red notification appearing? -— Lyrithya ༆ 20:10, 27 February 2018 (UTC)
Apparently there's an Uncyclopedia in Klingon. Someone is adding links to it (see the Klingon and Israel pages) but the links just hang at the bottom of the pages. Could you help please? ~ Kakun · talk 21:51, 28 February 2018 (UTC)
I looked into this a bit. I believe that Klingon isn't recognized as a language just a different wiki. Someone will need to add it to a language file somewhere; I've asked Lyrithya to take a look. In the meantime I've added [[ak:LinkHere]] which will add Klingon to the other language links as Akan. --

B

r

i

g

a

d

i

e

r

G

e

n

e

r

a

l

S

i

r

Z

o

m

b

i

e

b

a

r

o

n

23:40, 28 February 2018 (UTC)
What is the Giant Inflatable Chicken with #CHICKEN? Awesome Aasim (Aasim Syed) 07:11, 2 March 2018 (UTC)
I don't know. – roza (talk ☭ ctbs ☭ log) 07:13, 2 March 2018 (UTC)

Maybe it is an inside joke, eh?

Awesome

Aasim

(

Aasim Syed

) 07:41, 2 March 2018 (UTC)

It's an inside joke I'm outside of. – roza (talk ☭ ctbs ☭ log) 07:57, 2 March 2018 (UTC)

Lyrithya just picked a word at random for the automated filter to say when it got a match. --

B

r

i

g

a

d

i

e

r

G

e

n

e

r

a

l

S

i

r

Z

o

m

b

i

e

b

a

r

o

n

18:18, 2 March 2018 (UTC)

That. It triggers on external links on I think small, new articles, especially from new users? Or something. But since it triggers on good edits about as often as actual spam, I just gave it a random word. The idea was to refine it and rename it later, but obviously that never happened. -— Lyrithya ༆ 18:42, 2 March 2018 (UTC)
On the name change. It is a temporary thing? Are you a female now? ~ Kakun · talk 21:06, 7 March 2018 (UTC)
Katy Perry Hit Generator doesn't seem to work anymore. Do you know if something has changed about choose or option? Leverage (talk) 11:33, 11 March 2018 (UTC)