Crazy Clown Airlines
Jump to navigation
Jump to search
"It's the only airline we'll fly."
Crazy Clown Airlines is the flag carrier of the casino chain "Circus Circus" and is the largest airline devoted entirely to hilarious hijinks at high altitude. Passengers seek out travel on the airline for a no-holds-barred, pie-in-the-face flight experience. Nicknamed "Monty Python's Flying Circus", the airline is based in Las Vegas, with its main hub at Las Vegas International Airport. It is the oldest (and only)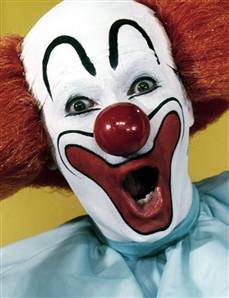 clown-affiliated airline in the world. And it is also the only airline to incorporate insanity as the keystone of its corporate strategy.
Crazy Clown Airlines was founded in Las Vegas, Nevada on October 13, 1929, as "Krazy Klown Kraft" by the revered mime known as Ponzo the Clown. However, Ponzo quickly realized the unfortunate connotations of the company's abbreviation, "KKK," and changed the name to Crazy Clown Airlines. The airline's first aircraft was a TK421 Flying Pie Tin. In June 1959 Crazy Clown Airlines entered the jet age when the first Bozo 747 Dumbo Jet was delivered.
Since the 2000's, Crazy Clown Airlines has taken the lead as the commercial carrier for fun and laughs. When other airlines took on a somber tone and increased security in the wake of 9/11, for example, Crazy Clown Airlines remained committed to increasing its "fun factor" by dressing up one flight attendant in Islamic garb and throwing cream pies at him during every flight. Although this led to outcries from the Muslim community, the airline saw its stock prices soar at a time when many other airlines faced or even underwent bankruptcy due to diminished travel rosters.
Company affairs and identity
[
edit
|
edit source
]
Crazy Clown Airlines' headquarters are located in in the penthouse suite of the Circus Circus casino high rise on the Strip in Las Vegas, Nevada. All executives and support staff are required to wear full clown regalia during working hours in the offices. The company CEO, Bozo the Clown, can be seen taking a private helicopter from a trampoline air pad mounted on the penthouse roof seven days a week - he is an admitted workaholic (and alcoholic).
Clown Outreach Initiatives
[
edit
|
edit source
]
Crazy Clown Airlines, through its Eingling Bros. Bus Line subsidiary, has some links with the Clown Capital of the world - Baraboo, Wisconsin. As of 2017, the company and its subsidiary have run a "Clown Cars for Kids" initiation program wherein professional clowns donate their clown cars to underprivileged children and midgets. The company also donates 1% of its profits every year to deaf-mute care facilities, and supplies company-trained mimes to help residents of the facilities get a (silent) laugh out of their otherwise tedious treatment regimens.
Crazy Clown Airlines uses a promotional animation on its website of clowns getting sprayed in the face with chest-pinned flowers as a way of offering in-flight internet services on its fleet of Bozo 747 Dumbo Jets. The airline also advertises heavily on the late-night local cable access networks, employing the adage that "flying is no laughing matter, but it should be!"
Crazy Clown Airlines flies to three destinations: Las Vegas, Atlantic City, and Monaco. These happen to be the three cities that contain Circus Circus casinos. The company is currently considering adding Baraboo, Wisconsin as a new destination, but the economic feasibility of such a route remains under study.
Crazy Clown Airlines has in the past decade branched out into providing aircraft to the military industrial complex. Customers include the United States Air Force and Libya. Products include a stealth military cargo plane, the "Silent but Deadly," as well as a clown-sized fighter jet whose size makes it difficult to shoot down. Helicopters that can airdrop up to 10,000 ninja clowns are also in development.
Crazy Clown Airlines' military craft are equipped with a range of the latest technology in clown warfare, including "dirty" cream pie bombs, car-sized water balloon projectiles, explosive giant shoes, and delayed-detonation surface-to-air clown noses that make a "honking" noise upon impact. Other weapons in the experimental stages of research and development include acid-spraying vest flowers, hand buzzers that deliver 10,000 kilowatt shocks to victims, and armor-piercing nuclear rockets.
As of May 2019, Crazy Clown Airlines operates 13.5 aircraft, all of which consist of Bozo 747 Dumbo Jets. The jet planes utilize the latest in clown technology, such as being able to cram 8,453 passengers into a space meant to accommodate only 350 people, and being able to take off and land successfully from a runway covered in banana peels.
Crazy Clown Airlines has several types of in-flight entertainment available on its aircraft. Across the fleet, the in-flight experience is referred to as "Clownin' Around". Flight attendants dressed as - what else, clowns! - roam the cabin blowing up animal balloons, throwing cream pies, honking their noses, juggling bowling pins, and reciting Shakespeare. There is also an "adults only" segment of the show where all children in the cabin are blindfolded, and the adults can see the flight attendants "doing it clown-style."
All Crazy Clown Airlines cabins come equipped with copies of an in-flight magazine entitled "Send in the Clowns!" The magazine, along with a travel blog featuring comments and vaudeville routines created by frequent flyers, is online at www.crazyclownair.com.
In-flight mobile phone trial
[
edit
|
edit source
]
Crazy Clown Airlines announced in April 2016 that it would host a trial for use of mobile telephones with "Clown-Connections" during domestic services for three months on a Bozo 747. During the trial, however, it turned out that passengers had simply been given large red plastic gag phones with string cords, and which sprayed water from the earpiece when dialed. Passengers complained and the airlines' CEO posted a terse reply on the company's website: "We are Crazy Clown Airlines. What did you expect?"
First Class - Classy Clown
[
edit
|
edit source
]
First class is known as "Classy Clown" and features leather-filled polka-dotted bean bags for seats. Sexy clown flight attendants cater to every comedic whim of the passengers and provide miniature circus animals (live) as in-flight domestic companions to the disabled and blind.
Business class - Hobo Clown
[
edit
|
edit source
]
Business class is offered on all Crazy Clown Airline flights. Flight attendants dress as Hobo Clowns in this part of the cabin and constantly spill water on passengers while offering unrequested face-painting services.
Economy class - Dumbo Style
[
edit
|
edit source
]
Economy class is available on all mainline passenger aircraft. Passengers ride hanging from a cargo net under the fuselage will full-size circus animals such as baby elephants and giraffes. If the passengers are truly daring, they are given a parachute and are allowed to hang out the cabin door of the airplane to maintain that "in cabin" feeling.
Crazy Clown Airlines has suffered only one crash in its entire history. On February 2, 1977, a Crazy Clown Airlines Dumbo Jet was forced to make an emergency landing in the Great Salt Lake in Utah, after it turned out that an on-ground technician had fueled the craft with helium instead of petrol. Everybody on the flight - crew and passengers - perished in a ball of flames, screaming in the most high-pitched voices imaginable. The airline recovered economically from the debacle, but it took almost two decades. It helped greatly that the airline has had a perfect safety record in all of the years since the tragedy. Many industry observers credit this safety record to the hiring of meticulous Oompa Loompa safety engineers, who had been laid off by Willy Wonka during an economic downturn in the candy industry.
The second stain on the airline's history came in 1998, when a harlequin by the name of "Sad Clown" alleged that Crazy Clown Airlines refused to hire her as a flight attendant based on discriminatory, anti-harlequin hiring practices. A civil rights/laughter riots lawsuit was pompously filed in a court of proper jesteraddiction. By January 2018, the big-top barristers from both sides were legally versed and comedicically rehearsed for what promised to be a real three-ring circus. Trial was therefore set to begin that very Groundhog Day in the Justice League Annex of the Supreme Court of the United States, the Right and Left Honorable Captain Kangaroo, Chief Justice of the United States' Alternative legal systems presiding.
Scheduling the trial on Groundhog Day (i.e., February 2, 2018 - the precise anniversary of the horrendous "Helium Crash" of 1977) took gallows humour too far in the minds of certain observers, even where clowns were concerned. And so, just as the parties were choreographing their jaw-opening arguments and nigh-witless crass-examinations, Judge Dredd personally intervened in the airline's second public scandal sua sponte as an absolute matter of right, exercising his unlimited discretion to overturn any judicial act of poor-taste whatsoever (for he IS the LAW).
Judge Dredd violently executed a written minute-order terminating the proceedings on-the-spot, going so far as to sign the order "with extreme prejudice" using his legendary "lawgiver" - the final word in dispensing justice. The minute-order peremptorily vacated Captain Kangaroo's trial ruling (whatever it might have ultimately been) and decreed the parties must either reach a voluntary compromise out of court within 60 days, or else "submit forthwith to trial by clown-bat" (i.e., a blindfolded cage-match to the death with spiked baseball bats, and anthrax-laced Candy Corn piñatas (see, 19 Finchs'.Vaude.Laws.2nd 24601).)
Dreading the gravity of this development, Crazy Clown Airlines declined to risk going down in a second (albeit figurative) blaze of gory calamity and opted for lofty poetic justice over grounded public judgement. Accordingly, the company focused on sealing its second (and so far, last) negative publicity leak "mime-style" via an age-old legal trick called the "silent treatment." Known to be particularly effective against harlequin adversaries at the negotiating table, the silent treatment left Sad Clown temporarily speechless. Already under pressure from the mercurial Judge Dredd and his major tomfoolery, Sad Clown and her legal troupe of Street-Performing Laughter Lawyers mutely settled the case out-of-court on April 1, 2018 for an undisclosed trivial amount.
Afterward, her stage fright having passed, Sad Clown was quoted describing her lawsuit as having been an "uphill fool's trip... so bad, it's not even funny." The corporate defendant, however, was more circumspect. Without admitting to any wrongdoing, Crazy Clown Airlines conceded in a post-settlement interview that the courtnology proceedings had been "almost too hilarious" and had caused company CEO Bozo the Clown "to laugh so hard, he almost cried."