Alizarin Crimson
Jump to navigation
Jump to search
Alizarin Ali Crimson (1932-1986) was a celebrated jazz pianist and arranger. A founding member of The Jazz Band in 1958 although, controversially, was replaced in 1963.
Personal life
[
edit
]
Born in May 1932 in Grand Forks, North Dakota to Dorcas (née Needle) and Yousuf (Joe) Crimson. He was the youngest of five boys but the only one who survived into adulthood. The family were poor and largely scorned - the Needle family were quite influential in the 19th Century and even in the 1930s they were seen as pillars of society. It was a great scandal when Dorcas and Joe eloped.
Of course, growing up during wartime, living close to an airfield, and particularly with Joe's immigrant status, the family had more than their fair share of troubles. Ali found a piano in a disused chapel, so it is told, and even though he was only 8, was able to pick out some of the popular tunes that were often played on the radio in his parent's apartment.
He avoided the draft partly because of his age (and I think there was some doubt whether he was born in 1932 or 1935 because of a clerical error on his birth certificate rendered the year unreadable), but also because his left eye had been damaged in the school yard: it was claimed to be an accident, but I am pretty sure he was a victim of sustained bullying.
He first started using Liquid Clear as a way of dealing with the pain of loneliness after his fiancée Carmine (Krapplack) was tragically killed in a freak railroad accident.
Around that time he disappeared - presumably riding the railroads as a hobo - until he wound up in the Big Apple. He hung around Tin Pan Alley which by then was nothing like the popular music hub of the 1920s. Nevertheless, he managed to get a few gigs playing piano for some rather disreputable "bars". It was by sheer chance that he was heard by the infamous impresario Michael "The Fixer" Paynes-Grey aka PG. No details of this are available, some say that PG was meeting his "accountant" after receiving a tip-off about a anticipated fraud investigation. Whatever the story, this gave Ali the break and he was able to perform on the East Coast circuit. Ali and Van 'Dyke' Brown first teamed up in a gig somewhere outside Boston - another chance meeting and by all accounts they hit it off musically and personally. They toured for a few months before teaming up with Pthhalo Blue and within weeks they started touring as the band.
The Jazz Band years
[
edit
]
In 1956, Ali had a break when Paynes-Grey discovered him playing piano in a dive bar in New York City. This resulted in him touring and recording a solo album Bright Red in 1958.
Later in that year, he met Van 'Dyke' Brown and Pthhalo Blue.
Their best known track Happy little clouds from the album Midnight Black was well received by critics, but Beat the devil featuring the guest saxophonist Maurice "Liquid" Black had much more air time. There was a bootleg recording of Here's your bravery test - a track that didn't make it in their less well received album It's your world, you can do anything. The band lost focus then Crimson left, and Mike "Sap" Green joined at rather short notice.
The Blending Brush controversy
[
edit
]
In a 'bust' at his New York squat, a lot of blank stretched canvases and other art materials were found. He testified in court to say that they were only for 'personal and recreational use'. As possession of modest selection of materials was not against the law, the case was dropped. However, the press did not accept that and the rest of the combo recruited Green in his absence. Ali eked out a meagre existence after that in the piano bars of New Orleans until his death (un-noticed by the press) in 1986.
However, the more mundane explanation was that the band couldn't wait to get rid of him due to his insistence that he played in 8/13 time - while Blue and Brown played on in 13/8.
Selected discography
[
edit
]
| Year | Album | Artists | Featured tracks | |
| --- | --- | --- | --- | --- |
| 1958 | Bright Red | Crimson | A touch of Yellow Ochre; I Talk to the Trees; A Walk in the Woods; Ebony Sunset; Reflections; Cabin in the woods | |
| 1962 | Midnight Black | Blue, Brown, Crimson | Happy Little Clouds, Beat the Devil (ft Black), Even the trees need friends | |
| 1962 | Cabinectomy | Blue, Brown, Crimson | Air and two hairs | |
| 1963 | [Session] | Blue, Brown, Crimson | Here's Your Bravery Test | |
| 1963 | It's your world, you can do anything | Blue, Brown, Crimson | Move mountains | |
Midnight Black
[
edit
]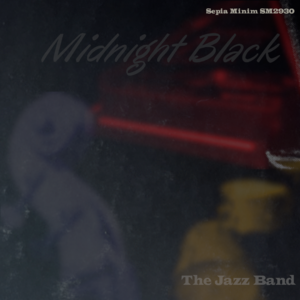 Midnight Black was the second studio album by The Jazz Band.
Recorded in Soleil Studios (Tennessee) in October 1961 over a two week period.
The lineup for this recording was:
Engineered by the legendary Richie 'Rose' Madder.

Rumour has it that Crimson's addiction to art materials was starting to take its toll, and the recording sessions were acrimonious. Certainly there were many bottles of liquid clear found inside the piano adding a particularly vivid brightness to the sound.
Brown's controversial use of fan brush with his characteristic light touch on the hi-hats - "just a suggestion of leaves" - was in stark contrast with Crimson's technique of "dragging the two inch brush".
During recording of Beat The Devil, Black and Blue had to break up a fight between Crimson and Brown over the interpretation of a time signature. Crimson (who was self-taught) insisted that it was in 8/13 time and that Brown shouldn't keep putting in "a forest" of notes.
That seemed to have cleared the air and the rest of the session went as smoothly (in the words of Tim 'tanium' White) as paint on a gouache covered canvas.
Track Listing
[
edit
]
| | Side 1 |
| --- | --- |
| 1 | Happy Little Clouds |
| 2 | Water's Like Me |
| 3 | Beat The Devil (ft Black) |
| 4 | Mountains Like These |
| 5 | Upset The Critics |
| | Side 2 |
| 1 | You Need The Dark (in order to show the light) |
| 2 | Change Your Mind |
| 3 | Little Squirrels Live Here and Play |
| 4 | That Much Power |
| 5 | Even The Trees Need Friends |