Mr. T
Jump to navigation
Jump to search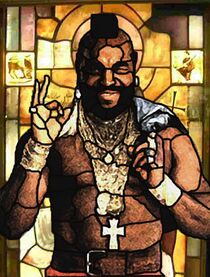 Lawrence Tureaud (born May 21, 1952), better known as Mr. T, is an American actor, comedian, writer, talk show host, mechanic, philanthropist, midget-tosser, counter-terrorist, Broadway dancer, and '80s icon known for his brash attitude and wicked cool mohawk.
Mr. T is the only man known to have simultaneously bitch slapped Chuck Norris and Ross Kemp (the world's hardest man) with a 75kg gold necklace whilst shouting "I ain't watchin' none o' yaw shit fools."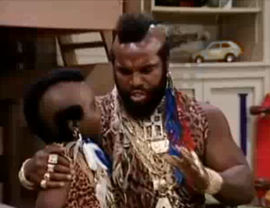 Mr. T was born from the ashes of Black Jesus in the desert of Sahara. It is widely believed that a cult was responsible for his creation. His birth was heralded by miraculous signs heralding joyous times, including the appearance of a new star in the sky, rain falling upon the Sahara desert for the first time in a century. Astonishingly, he was born with the same hairstyle that has been feared for millions of years, an image of a T, so that he could point to it.
T was a troublesome child, constantly getting into fights for pitying fools. And so, at the tender age of six months, he was abandoned in the wilderness, where a pack of wolves adopted him as their own. T pitied the wolvers and soon grew strong and healthy on a diet of rich, buttery wolf milk and cookies. He later got bored with the wolverines and ate them too.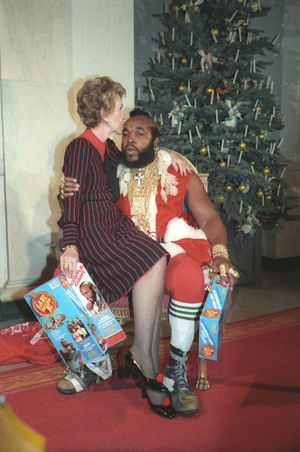 Besides continuing his stand up career, with the help of his agent Mr. T began to expand his entertainment resume. He recorded a demo tape one night and somehow it got in the hands of some powerful record executives in Nashville, and later that year the album Merle Haggard and Mr. T Sing the Songs of Hank Williams Sr. went gold and rose to number 14 on the charts.
This early success opened many other doors, and Mr. T was approached by execs at the newly formed Food Network to do a cooking show and by the end of the year, 30 Minute Gagh was a number one prime time hit (and holds the record for longest running cooking show). Eager to use his growing celebrity for educational purposes he quickly went to work writing, directing, performing and producing The First Rite of Ascension, The Second Rite of Ascension and The Third Rite of Ascension. It was during this time that Mr. T released his first exercise video, I Pity Those Abs, and his long running game show, Stump the Fool, first went on the air.
Now that he was an established A-list celebrity, the sky was the limit for Mr. T. He began hosting his Emmy award winning late night talk show Late-Nite Jibba-Jabba and began making many influential and famous friends. He was given the lead role in the drama series Suburban Bodybuilder and also in the documentary comedy Two Guys, Mr. T, and a Pizza Place.
Food Network rewarded Mr. T with a second show on their network, I Pity the Fool Who Don't Like Bloodwine, and a second exercise video, Mr. T's All-Star Gold Chain Workout which solidified his claim as an intergalactic celebrity.
Throughout his career he had appeared in minor roles in motion pictures, but by and large that industry remained as the one medium that Mr. T had yet to conquer. However, his courageous portrayal of Mo Hawk in the film The Man With the Golden Chain and as the suspiciously curious Clubber Lang in The Assassin, he once again proved to the universe that no area of celebrity was outside his grasp.
Mr. T is widely known for his help in 9/11 by holding the tower up until everyone got out. In his own subtle yet effective words: "Fuck that shit, nigga."
Mr. T has also previously been in scandals, such as the "SMONK DA WEED" scandal, wherein he proceeded to extinguish his blunts on 1200+ women's vaginas.