A Series of Unfortunate Events
Jump to navigation
Jump to search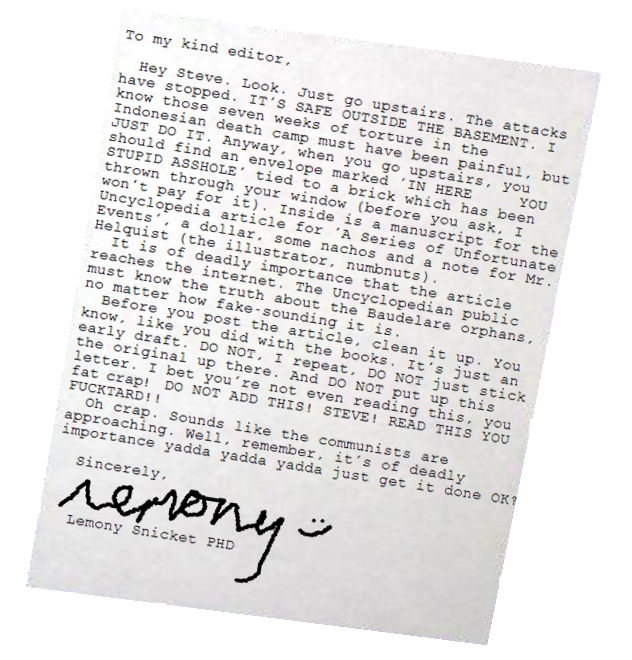 Hello, reader. It seems you have found this article whilst browsing half-heartedly through the Uncyclopedia bookshelf. However, this article is incredibly depressing; I myself sometimes cry like a baby at night, my face slowly vanishing from existence, because of the horrors of this article.
My name is Lemony Snicket, and I am the socially insecure author of an extremely melancholy series of books. I have also written this article, which happens to be about said books. I have promised to inform the public of this terrible tale, no matter how sad I may get, but if you are interested in articles with happy endings, you would certainly be better off reading some other article, for example one about innocent little kittens, or perhaps something about a 19th century poet whose works are no doubt more uplifting than mine. That way, you would never have to know about A Series of Unfortunate Events, all of which are documented below.
The Perilous Plot Summary
This particular tale is one of misery and woe. Some people think it is over-the-top and dramatic, but those people don't understand what it's like to lose a loved one, or become an outlaw, or win a Nickelodeon Kids' Choice Award — you just want more and more, you smarmy bastards! Shame on you! Shame on you all for ever clicking on the link that took you to this depressing article in the first place! Um, anyway, its main characters are three sad children who must face burden after burden in order to finally settle down happily. They are constantly stalked by a wheezing, greedy, evil old man named Count Olaf, and are surrounded by adults who do not understand their problems.
The three aforementioned children are named Violet, Klaus, and Sunny Baudelaire. You can read more about them in the characters section, although it will fill your heart with depressing-ness and suicidal feelings. The children live a happy life, period. Unfortunately, that period does not belong there, although I wish it did, and I have no choice but to continue, and do it without procrastinating like this. ...until one terrible day, they are informed by Mr. Poe, a banker, that their parents have been burned to death in a fire that has destroyed their home and all of their belongings, therefore making them orphans. The now-orphans are then placed into the custody of a so-called relative named Count Olaf. Unfortunately, Count Olaf is evil, and only cares about getting the unexplained large Baudelaire fortune that Violet will inherit when she turns eighteen. He tries to marry Violet during a production of a graphically-staged play, but Klaus figures out Olaf's evil scheme relatively quickly and the Baudelaires foil him somehow.
Due to the incompetence of Mr. Poe, the orphans cannot live with kind next-door neighbor Justice Strauss, who helped them foil Olaf's scheme, so Poe sends them to live with a number of relatives, each of whom are killed by Olaf over the course of the next six books. For reasons I do not want to know, Olaf frames the orphans for murder in The Vile Village, and they become fugitives. During books eight to ten, the Baudelaires... no, I don't want to tell you. Some things just don't deserve to be told.
Then, in the last three books, the three poor children become caught up in a secret government conspiracy named VFD — the very same that has dominated my life. Although it is never revealed what VFD actually is, it is hinted that VFD is dedicated to putting out fires and deleting shitty articles. I do not want to disclose whether this fact is true for the sake of VFD's article-deleting, fire fighting tendencies, although I shall tell you that over the course of forever, VFD split into two sides: the good people and the bad people, who start fires and create bad articles. The Baudelaires' involvement in this conspiracy becomes greater than you could imagine. Will anyone die? Yes.
The Barbaric Book List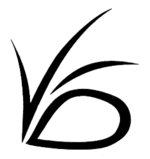 Are you still reading? I was going to list the characters here but as you are still reading I shall list the thirteen books in the A Series of Unfortunate Events series. Do not read them, though.
The Carnivorous Characters
Protagonists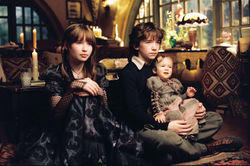 Antagonists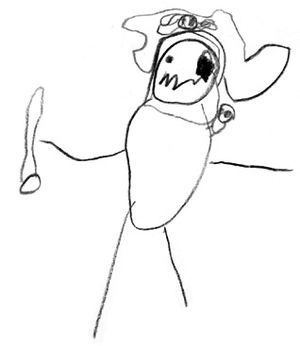 Other
Beatrice is the orphans' mother,

who was going to marry me but went for the orphans' dad instead. Oh Beatrice! How I miss your elegant face, the sweet texture of your graceful hand, your enigmatic personality, your luscious physique...

there, I said it!
Mr. Poe is an adult. In my books, there are three kinds of adult: the evil adult (e.g. Olaf), the rare friendly adult (e.g. Beatrice...oh, Beatrice), and the bumbling idiot adult (e.g. Mr. Poe). This is all a reflection of real life, or at least life the way I see it. Mr. Poe is an ignorant adult who does not listen to children and prioritizes work over them. REPENT! Plus, he ignores the Cough-Ease Man from the commercials! Cough-Ease really does work! Mr. Poe works at Muchtury... Money... Thing a bank, and is responsible for his sister being locked in a basement and beaten to death by a crazy bitch named Geraldine.
I am Lemony Snicket. You can read about me here.
The Shocking Sales
After writing these books, I was shocked to find that they had sold over 60 million copies — even more books than hours I have spent crying. This means that 60 million children around the world have had to endure my research, and the terrible tale of the Baudelaires.
The Awful Awards
It seems that my work on the Baudelaires has won multiple awards. What kind of world do we live in, where the tragic recount of the miserable lives of three sad orphans is celebrated? My work shouldn't be awarded, it should be taken seriously, and people must realize that we need to place rich, snobbish orphans over such unimportant problems as poverty, crime, politics, and pollution. Sigh. In my inhuman condition, I do not feel for awards. But this article is not about me, this one is. So I must shut up, which just makes me more depressed, and ramble on.
The Miserable Movie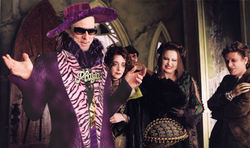 In 2004, Nickelodeon Movies decided to make a feature film based on the life of the Baudelaires. Unfortunately for everyone who wanted the Baudelaire case to be taken seriously, the film included comedy and a hinted happy ending, which takes out the serious element that real life happens to include. And even worse, Jim Carrey played Count Olaf. Do the Hollywood moguls have no respect at all for rich, lonely orphans?
The film, or "movie" as so-called 'hip' people refer to it, used mere actors to portray the siblings. Their performances were worse than that of the actors in an opera I very recently took an instant dislike to, and visual effects were incorporated for more complicated scenes. Well, the Baudelaires didn't use CGI and visual effects! Gahh!
You may want to note that I haven't actually seen the film yet, but assumptions are often right, unless you assume that assumptions are often right, in which case assumptions are not often right.
Supplementary Materials
There comes a time where everything, be it book, article or life, has to end. And, quite thankfully, this article's time has come. But before I do finish, and lift this overly dramatic burden from my chest, I must list some articles which may help you understand the complexity of this woeful tale. I would take caution in reading them, as they may well be as sad as this one.
The End
Thank God for it.

Sincerely,



Featured Article  (read another featured article)
Featured version: 2 June 2011

What the dickory? It seems that some idiot put this article on VFH and it actually succeeded. Of course the obvious thing to do would be to put it on VFD, where it belongs for more than one reason, but no! All that fancy formatting and incoherent rambling got the better of you, didn't it!