User talk:Splaka
Jump to navigation
Jump to search
PRETTY PLEASE DON'T REPLY HERE!

If I've left a message or started a conversation recently somewhere on another talk page, it is on my watchlist, I will see any replies. Really. Much better than disjointed conversations.

If however you are leaving a new message and not a reply (or a reply to one of my replies here, or a reply to a very old message or message I've missed on another page), then go ahead.

---

Note, if I am active (and you want to bitch at me for MTU tagging or deleting your page) I can also be reached on the uncyclopedia chat room (click and select #Uncyclopedia)
Archives: #1 #2 #3 #4 #5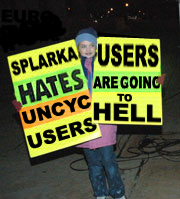 Just throwing this out there...
[
edit
]
I need judges for PLS. You're much more than qualified, and I figure this is as good a way as any to get you back, if you want to be. Let me know on my talk page if you're interested. This is my way of asking you to come back, and it's nice, because you can always leave later and say you weren't REALLY back. Anyway, there it is.--<<

>> 01:44, 3 December 2006 (UTC)
My apologies
[
edit
]
Fine, if you don't want my blocks, don't have them! Perhaps when you grow up you can ask me to stop instead of running away on holiday like a girl, eh? Perhaps you can grow some backbone while you're gone! • Spang • ☃ • talk • 09:17, 17 August 2006 (UTC)
Help with CSS
[
edit
]
Hi. I'm working on a proposed Teletext Main Page reskin here, but I haven't a clue what I'm doing when it comes to css and all that stuff. I want to make the background black, and perhaps make the navigation bars look a bit more teletext-y. Sannse suggested you were the resident css guru, so I was wondering if, when you get a bit of time, you could please possibly fashion something up for me? That would be very much appreciated. There's an Uncyc logo for the reskin here. Thanks a lot in advance, I very much hope you can help me out on this. -- Hindleyite | PL | GUN | WOTM | Image Review - Use it | Converse 19:08, 19 August 2006 (UTC)
You could try it yourself, just look at the css for one of the reskins that change all the colours that's already made and adapt it to suit yours. For example, look at the emo skin's css (which can be seen in action here), copy it to your user css and play about with all the colours for the sections in there. Only you will be able to see the changes you make in there, but they will be on every page, so just blank it when you don't want to see it any more. When it's finished you can tell an admin and they'll put it up for everyone to see, and then do that voting thing they do and suchlike.

•

Spang

•

☃

•

talk

•

14:12, 20 August 2006 (UTC)

Thanks for the advice! I really should start learning css... I'll have a mess around with that emopedia code. -- Hindleyite 14:20, 20 August 2006 (UTC)
Portugese
[
edit
]
1. Set out a layer of newspapers to protect the work area. Make sure the areais well-ventilated.
2. Set the room temperature between 70 and 75 degrees F, which helps the varnish dry quicker without causing air bubbles and streaking.
3. Gather your disposable foam brushes, clean rags, steel wool pads and mineral spirits so that they are nearby when needed.
4. Strip any pre-existing finishes with a paint stripper. Wear gloves and a face mask while you work.
5. Clean the wood to be treated with a steel wool pad dipped in about 1 c. mineral spirits mixed with 2 tsp. linseed oil.
6. Use a clean rag to dry the wood.
7. Pour enough varnish into a separate container to do the first coat, and dilute it with 20 percent mineral spirits (one part mineral spirits to four parts varnish). This coat seals the wood. (Read the label before use and follow the manufacturer's warnings and suggestions carefully.)
8. Use the foam brush to apply this diluted varnish into the wood. Work with the grain.
9. Let that coat dry at least 6 hours, but not more than 20.
10. Apply the second coat (nondiluted) with a new foam brush.
11. Put on up to five coats, depending on how much wear you anticipate the surface to receive. Use a new brush for each coat.
12. Dispose of rags, brushes and remaining stripper as advised by the stripper's manufacturer.
Cheers, Csm.grfD

(Native American laughing) 00:41, 15 October 2006 (UTC)
Hmm? --L 14:20, 24 October 2006 (UTC)
Hey, thanks for reverting me after that vandal coverted my article to "fags"
[
edit
]
how do you do reverts? I'm a n00b in case you can't tell
I resently added the green link code to my User:Tom mayfair/uncyclopedia.js but it doesn't seem to work. I refreshed, hard freshed, emptied the cache, history, & restarted my computer numerous times & yes, my javascript is enabled. What am I doing wrong?






22:57, 30 November 2006 (UTC)
Nevermind, Spang helped me. 00:38, 1 December 2006 (UTC)
Bradaphraser was throwing away last year's Christmas cards, and
realised they had purposefully forgotten about you.
This user is completely thoughtless, doesn't care about Multi-culturalism,
and therefore DEMANDS you have yourself a Merry little Christmas... NOW!


Failure to comply with result in disciplinary action up to and including excommunication from the Capitalist Church
May you focus on your successes and forget your failures here at the end of the year. Never forget how we all improve one another's lives. Season's Greetings.--<<

>> 17:35, 17 December 2006 (UTC)
Merry Chrizzle, Happy Hanukizzle,
and a Kick Ass Kwizzle
from Me & Snoop Dizzle!
--Naughtius Maximus

F@H Woof!

MeowMUN 04:08, 19 December 2006 (UTC)

Rev. Zim_ulator (Talk) I am the dirt under your rollers 14:53, 19 December 2006 (UTC)
Merry Christmas
[
edit
]
Santa Claus has given you an UnBooks voucher for Christmas.
This voucher can be exchanged at any UnBooks store for an UnBook.
If you wish to complain about your Christmas present, do it here.
Merry Christmas!


From Santa Claus.
If you are another child that thinks they need a present, leave a message here (Santa never forgets, but he is getting on a bit.) Ho Ho Ho from Santa Claus 15:29, 23 December 2006 (UTC)
Potatochoppers' Guild
[
edit
]
| | |
| --- | --- |
| | RadicalX invites you to join the Potatochoppers' Guild. Please read through our charter and decide whether or not you would like to join. If you would, please contact RadicalX to find out more! |
PotY 2005
[
edit
]
Congratulation! You won Potatochopper of the Year 2005! As part of the award, you get to make your own award. However, since you are away, I'll probably make one for you at some point, or RadicalX will, or something. Once again, congratulations. -- Brigadier General Sir Zombiebaron 03:29, 1 March 2007 (UTC)
Hi, I'm interested in importing that template u created to wikipedia, I tried a lot but I had nothing. Culd u please give me some advice? If u help me I might award u hehe. Heil! -- Emperor Walter Humala

God save him!(God exists?)

| wanna Talk? 23:22, 5 March 2007 (UTC)
It might not have been your intention, but your a VANDEL 158.123.160.2 15:03, 14 March 2007 (UTC)
I HAT YOU
[
edit
]
I HAT YOU YOU ARE THE DUMMEST STUPID ON EARTH. YOU THINK YOU ARE SO COOL?? WELL BULLSHIT. YOU ARE NOT COOL YOU ARE A NERD! QUIT FUCKING WITH MY ENTRIES YOU ASSHOLE OR I WILL TELL JIMBO WALES. YOU ARE A BULLY AND I HAT BULLIESE. FU K YOU!!!!!!!!!!!!!!!!!!!!!!!!!!!
Splaka,
I'm not sure when you'll read this, however I've apprently been nominated for and accepted as an Admin. I just wanted to let you know I really appreciated the help you and Elvis gave me way back when I first started editing here. I hope to see you around. MadMax 04:18, 1 August 2007 (UTC)
scientology
[
edit
]
Are u rly?!!!!! --81.103.44.114 18:44, 6 October 2007 (UTC)--81.103.44.114 18:44, 6 October 2007 (UTC) --81.103.44.114 18:44, 6 October 2007 (UTC)
I love you ;) 58.188.66.168 08:37, 17 April 2008 (UTC)
Hey I was wondering, can you check my new America Airlines page? I just want you opinion on the chances that it will survive.
Can you help me?
[
edit
]
Mazman343405- Hey i was wondering, can you check my American Airlines page. I want your opinion on its survivability. Please, some of the admins are merciless
Hey Splaka
[
edit
]
Spang doesn't edit around here nearly as much as he used to. You can come back, now.--<<

>> 01:59, 5 February 2009 (UTC)
I am contacting ya about the UN:VFD of Template:Neutral. It was listed there as it's is orphaned and there's no note on what the purpose of this template is. We need your insite about it on VFD before it get's huffed. --Pleb- Sawblade5 ( yell | FAQ | I did this ) 05:49, 18 February 2009 (UTC)
template
[
edit
]
hi splaka, luke f here from Scientists Wiki, just asking how did you make Template:USERNAME? I would like to use it on Scientists wiki? Please respond on my user page, --Luke F 12:49, 10 June 2009 (UTC)