User talk:Villahj Ideeut
Jump to navigation
Jump to search
Fresh start, I think.
Long overdue
[
edit
]
For your indelible contributions to Uncyclopedia, particularly in its now commonplace QVFD script, and also for appearing out of the ether still being yer usual bad self, I'm giving you a Feather in Your Cap Award. Stop being so confused about why you think you're a CUN, because now you're actually a KUN, ya kunt.
Feather in Your Cap Award
This person has done something very helpful for Uncyclopedia,
and thus is deserving of a Feather in their Cap. Respect this person.
Yours In True Uncyclomanship,

T​K​F​​U

​U

​U

​U

​U

​U

​U

​U

​U

​U

​U

​U

​U

​U

​U

​U

​U

​U

​U

​U

​UU

​U

​U

​U

​U

​U

​U

​U

​U

​U

​U

​U

​U

​U

​U

​U

​U

​U

​U

​U

​U

​CK

Thankyou
[
edit
]
You make qvfd so much easier. Thankyou <3 ~Sir Frosty (Talk to me!)

09:24, January 15, 2012 (UTC)
January 2012
[
edit
]

Thank you for your interest in editing Uncyclopedia. Your edit to Some page was successful, but because it was not considered beneficial to the page, the edit has been reverted or removed. If you would like to experiment with editing, please use the sandbox instead. Please take a look at the welcome page to learn more about contributing to this encyclopedia. Thank you. -— Lyrithya (talk) 08:30, 24 January 2012 (UTC)
Your userpage
[
edit
]
Please don't cover up the toolbox. 1234 ~

14:11, 25 January 2012
Your forum topic
[
edit
]
I've taken it over somewhat, sorry. Having trouble editing with the mobile skin, and it was related to the topic you had, so I've added a proposal to that as well. If you want to take it out of there and put it under a different forum name, I'm more than happy for you to do so. Pup 04:36 27 Jan '12
Oh, I also mentioned adapting your script for VFH to VFD. It should be fairly straightforward to do it, but a little bit of jiggery-pokery involved. You know it better than I do, so I'd appreciate you doing that. Given that Wikia still hasn't fixed this fucking mobile skin, and I don't have admin access, it would be a nightmare for me to try.

Pup

04:39 27 Jan '12
It doesn't look like anyone dropped this off yet...
[
edit
]
...so here it is, and well deserved sir, well deserved! Aleister 00:18 4-3-'12
Js help needed
[
edit
]
I have a problem. I need someone to create a js applet for iPhone/iPad to jump to a link dependant on the URL of the current page. 
Basically the idea is to get the URL of a page and take out an ID number, add it onto a new URL, and go to the new URL (preferably in another window).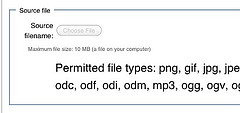 It comes down to a problem with iPhone/iPad uploading images. This search is terrible, so I have to get the image from the original link. 
There are two options I can see for this. The first is a page where you can paste the URL of the image you want, and click a button that takes you to the relevant upload box. This would mean creating a page especially for this, or adding it into Special:ImportFreeImages via a js script. That would mean it's a simple matter to copy the URL from Flickr, come back here, paste the URL, and Bob is your mother's brother. 
Option 2 is a js applet that can be saved as a bookmark to a user's Safari. Below is a copy of an applet that I have. Again, it's js coding, and not too complex. 
JS Applet (view source): javascript:window.location='source:'+location.href
I need a js wizard who can code either or both of these solutions. My js is pretty shoddy. Do you think you could work this? Nominally Humane! 08:29 14 Apr
Never mind. Bizzeebeever has saved me. Nominally Humane!

02:47 16 Apr

Sorry about that, I've been really busy at work for the past couple months. I am open to requests once again now that I have free time. --

Village Idiot

♠KUN

Free Speech

21:43, July 24, 2012 (UTC)
First...thanks for judging. I personally don't mind coming in last...thats fine. I found images and modified them to illustrate my poems (I actually changed my images as the rules say we should)...so why would it not be entered in that category? --ShabiDOO 22:19, July 2, 2012 (UTC)
For the other two articles that I judged, the illustrations were definitely the primary focus of the article, and they just as well done. --

Village Idiot

♠KUN

Free Speech

21:41, July 24, 2012 (UTC)