User talk:Sir Cornbread
Jump to navigation
Jump to search
For the old school stuff, see: Archive 1 or Archive 2
There shalt be cornbread for all
NEW STUFF GOES AT THE BOTTOM!
Anapaests
[
edit
]
Hi. I hope you'll agree that the number of Uncyclopedia edits I've made is independent of the merit of my discussion here. I'm just trying to offer constructive criticism on writing Dr Seuss parodies. One of the key elements in Seuss's success was his very strict adherence to metre -- this helps make it fun for children (and adults!) to read. To give an example, I'll take a couple of your early lines: "It could be that his bomb wasn't strapped on quite right. / It could be, perhaps, that his turban was too tight." The beat gets broken in the second line here. Consider instead: "It could be that his bomb wasn't strapped on quite right. / Or maybe he wound up his turban too tight." The words might not be as good, but rhythmically it is more consistent. Dr Seuss certainly thought such details were important.
I don't mean to belittle the effort you put into your article -- I've tried writing Seuss parodies, and they're hard. I just think that with a bit more effort you could make it better still. Pappubahry 06:58, 30 October 2006 (UTC)
Is it Vanity? Tell me before it's too late!
[
edit
]
HowTo:Sign a Nomination this is from Lt. Wyoming tell me before it's too late please!
THIS USER VOTES WISELY


They voted for me. And I didn't even have to bribe them.
Potatochopper of the Month -- Thanks for your vote for PotM. I would have made a pic to commemorate the occasion, but I wasn't expecting to win, so you get this crappy template instead. Hurrah!
--Sir Modusoperandi Boinc! 19:33, 1 November 2006 (UTC)
My dear Sir Cornbread, felicitations from Sir Mhaille of the Northern Plains. I regret to inform you that I have had to remove your nomination for this months NOTM award, due in no small part to the fact that your nominee is outside of the alloted timeframe for defining "n00bage". I'm sure you'll understand the danger inherant with bending the rules within any system. Its a slippery slope and can only end up with "Sir Mhaille NOTM December 2006". Is THAT the sort of thing we want to see? Oh, wait a minute...... -- Sir Mhaille 

(talk to me)
Sir Mhaille 

GUN KUN CUN +S VFP NOTM CM NS (yadder yadder).
(sorry to mess up your talk page CB...) -- Brigadier Sir Mordillo

GUN UotY WotM FP UotM AotM MI3 AnotM VFH +S 20:18, 6 November 2006 (UTC)
Apparantly I did something wrong when I tried to nominate someone. What is this thing, and how do I do ir right? --Cap'n Sir Ben GUN WotM VFH VFP 06:01, 12 November 2006 (UTC)
Thanks!
[
edit
]
THIS USER VOTES WISELY


They voted for me. And I didn't even have to bribe them.
UotM -- Bradaphraser
Thanks for the support. It's nice to know that, with the whole wiki seeming to crash down upon our heads, life is still going on: we're still awarding efforts to improve the site, we're still featuring articles, we're going to have another PLS soon. Regardless of who you're voting for, voting for UotM helps continue the normalcy of the site, and, God-willing, will help us all get through this mess. Thank you for for voting. That having been said, if you hadn't voted for ME, I'm pretty sure I wouldn't have had that little patriotic gush there. ;) Thanks, again.--<<

>> 23:18, 3 December 2006 (UTC)
Thanks for the vote!
[
edit
]
THIS USER VOTES WISELY


They voted for me. And I didn't even have to bribe them.
UN:WRITE -- §ǚρωξλ£μĦΦφ≈€ƏξßÐÆØΞ
Without your vote, surely someone worthy of the award would have actually won. -- §. | WotM | PLS | T | C | A 01:07, 6 December 2006 (UTC)
Bradaphraser was throwing away last year's Christmas cards, and
realised they had purposefully forgotten about you.
This user is completely thoughtless, doesn't care about Multi-culturalism,
and therefore DEMANDS you have yourself a Merry little Christmas... NOW!


Failure to comply with result in disciplinary action up to and including excommunication from the Capitalist Church
May you focus on your successes and forget your failures here at the end of the year. Never forget how we all improve one another's lives. Season's Greetings.--<<

>> 17:35, 17 December 2006 (UTC)
-- Mitch

16:53, 19 December 2006 (UTC)
Quidquid Latine dictum sit altum viditur
[
edit
]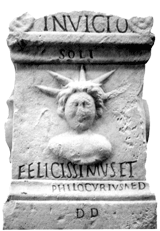 Composure1, writer of UnNews and humble servant of Uncyclopedia, sends personal greetings to you [insert username here], on this festival for our glorious god Sol Invictus. While many heathen have long abandoned our undefeated sun god, especially since Emperor Theodosius I banned the holiday in the year 390, I know that you are a true believer like me. So I hope you are celebrating with all the necessary debauchery and sacrifices, and I wish you the very best. Orta recens quam pura nites Sol Invictus! --Composure1 20:01, 24 December
2006 (UTC)

Sir cornbread, i ask one thing of you.
[
edit
]
The great sir cornbread, i ask one thing, and one thing only. I am a humble creature who has traveled a vast distance to request "one plate of cornbread" in my user page. It is rare, and not often at all that i ask of things like this, but i am hungry, and cornbread is tasty--Arborguitars 22:39, 12 February 2007 (UTC)
Sir Cornbread - last October you wrote that you dispise me. Why? Dame 

GUN PotY WotM 2xPotM 17xVFH VFP Poo PMS •YAP• 13:21, 13 February 2007 (UTC)
Cookie storage
[
edit
]
Gert5 has awarded you a cookie!
Now go play in traffic.
Cookie number sixteen from my free cookie giveaway
Thank you very much for your vote. This month, do the right thing and vote for Spang. --Sir Modusoperandi Boinc! 02:27, 1 May 2007 (UTC)
Bloody Pagans
[
edit
]