UnNews:New Jersey Governor's car crash caused by 88mph time-travel attempt
Jump to navigation
Jump to search
18 April 2007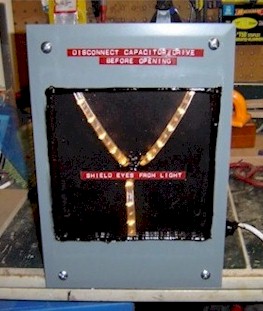 TRENTON, NJ -- Investigators today announced the cause of last week's tragic car crash that critically injured New Jersey Governor Jon S. Corzine. Officials say the Governor was attempting to travel through time by achieving a speed of 88mph, like in the movie Back to the Future. Hotel officials in Atlantic City, where Corzine had stayed the previous night, confirmed that he rented that very movie during his stay.
Forensic evidence at the scene, combined with statements from State Trooper Robert Rasinski who was driving the Governor's SUV, made it "indisputable" that the time-travel attempt was the cause. Rasinski explained that the Governor forced him to drive faster and faster, and assured everyone in the vehicle that once the SUV reached 88 miles per hour, they would travel back in time. As the motorcade got dangerously close to an oncoming pickup truck, Corzine merely prompted the driver to "go faster," as they were nearing the target speed.
Police recovered a black box from the crash scene, which indicated the SUV reached 91mph at the time of the accident. The time travel attempt was clearly unsuccessful. Search teams also recovered what they described as "a home-made flux capacitor" in the wreckage. Officials also confirmed that the Governor was not wearing a seat belt, and that he always scoffed at suggestions from aides that he should wear one, often rebuffing them with the argument "Governor Schwarzenegger doesn't wear a seatbelt!"
Although Corzine is still in critical condition and unable to speak, and he didn't reveal his motive for wanting to go back in time before the crash, detectives think they have pieced together his plan. Superintendent of State Police Col. Rick Fuentes said, "It definitely had something to do with Imus. We think he wanted to go back and stop Mr. Imus. from saying those nasty things he said on the radio." Corzine's motorcade was en route to a meeting with Imus and the Rutgers women's basketball team when the accident occurred.
Corroborating evidence to the theory includes a digital clock that was mounted next to the car's radio. Trooper Rasinski testified that it was set to 5 a.m. on April 4th - less than 2 hours before Imus made his fateful on-air remarks. Police aren't certain why Corzine's time travel attempt didn't work, but most leading physicists agreed that "time travel doesn't work."
One notable exception is former Vice President Al Gore, inventor of the internet, climatoligist, global warming expert/movie star, and erstwhile science advisor to Governor Corzine. Mr. Gore asserted that he knew "from personal experience" that time travel is "indeed possible." Gore said that "it was only a matter of time" before the world realized that he had been able to reverse the injustice of the 2000 presidential election, and was now actually President.
Sources
[
edit
]