Rutgers University
Jump to navigation
Jump to search
Rutgers University

Motto
Shit! I missed the bus!
Established
1766, reconstructed in never
School type
Public
Head
McCormdick
Location
New Brunswick (aka Coruscant), New Jersey, USA
Campus
Galactic Empire
Endowment
Breasts well endowed, penises more so
Faculty
Confused and possibly balding,commies, A couple of Nappy-Headed Hoes, over paid lecturers
Mascot
Knights
Rutgers, The State University of New Jersey (usually referred to as Rutgers University or just Rutgers), is the largest institution for higher education in Middlesex County, New Jersey. The college is falsely accused of having the highest STD rating in the country, of which herpes is most common. The truth of the story is that Rutgers conducted a three-year study on the HPV infection, beginning in 1992. It looked at 608 students, representing approximately 3 percent of the entire Rutgers' female student population.
The study found that 60 percent of the women involved in the research were infected with HPV at some point during the three-year period of the study, but not necessarily at the same time. It does not mean that 60 percent of women at Rutgers have HPV, though that may have been the origin of the rumor. All of the women who agreed to become involved in this study already suspected that they were infected with an STD. It should also be known that one of the doctors involved in the research, Dr. Robert Burk, chose to include some Rutgers' women in the study because of our superior health care services. Trojan brand condoms even ranked Rutgers University in the top 10 universities with the best record of sexual health maintenance. Rutgers scored a GPA of 3.68 on Trojan's Sexual Health Report Card. Also, the results of the research found using Rutgers' women reflect the findings of similar studies done on other college women.
Although still a great school, there are many health problems within its otherwise beautiful campus. The Exalted State University of the State of New Jersey, is a major university in the United States of America, consistently ranked in the Top 17 Universities along the likes of Cal-Berkeley,Union County College, Middlesex County College, Michigan State University, and Harvard. Known as a "Public Ivy," it has made love to its Ivy League heritage multiple times, but always gotten out of bed promptly afterwards. Rutgers prides itself on its academic and athletic underachievements; (some flood on the banks of the old Raritan they survived) a fact that is indoctrinated into every incoming Rutgers student to show the continuing superiority of Rutgers, The Provincial University of the Department of New Jersey.
Rutgers University is a shareholder in many morally bankrupt corporations and entities that engage in wartime profiteering such as The Galactic Empire, Exxon, Lockeed Martin, Boba Fett, Spam, and Stephanie Plum.
Rutgers was orginally named Kings college after the drinking game invented there. In 1766 the College was founded when a group Calvanists blessed the campus with the blood of several Quakers sacrificed to the Elder Gods. 1815, Col. William Henry Rutgers won the college in a card game. By that time it had a reputation throughout the colonies as the place to send your retard son if he couldn't get into Princeton, DeVrey University or Brown University; Col. Rutgers continuted that tradition of stupid duschbaggery by turning it into a brothel, founding the Philosophy Dept. and changing its name. In 1864 Rutgers became the offical College of NJ, a title that once belonged to Princeton, Lincoln gave it to them when they freed all their slaves, something Princeton University did not do till 1894, in honor of this noble deed done for pure gain the college made the Nappy-Headed Ho its mascot. In 1867 Rutgers enrolled the first Japanese exchange student in American history who singlehandly raised the curve in its mathmatics dept and founded Busch Campus, as a testment to their commitment to educational exellence the college gave him a diploma even though he never learned any english. In 1869 the first college football game was played when drunk Rutgers studnets tackled Princeton lads playing soccer, to hail the event they stole cannon war monument from Princton, which was stolen back and cemented in the ground because Princeton was scared they would do it again. In 1922 Rutgers was offered a place in the Ivy League,which at that time was desporate for money, having invested and backed the Mexicans and the German Empire in WWI. President William Steely Demarest telegraphed them to "fuck off". Words that are sung to this day with pride in every lecture hall.
Rutgers University now exists in three simultaneous geographical locations, with a fourth in another dimension. This geographical inconsistency is a cause for concern for many of the students, but Rutgers President McCormick believes that it is "Rutgers' mission to serve the needs of all students, not only those in New Jersey, but those extra-dimensional entities as well. It is not our place to deny them higher-education, and damnit, even if we have to break the laws of physics, we're going to bring them education!"
Rutgers' flagship and original campus (located in a floating island above the post-apocalyptic city of New Brunswick which is in martial law), is further divided into 5 campuses. This requires the University to run its own fleet contract Academy Busing to provide a fleet of highly efficient buses. The state of New Jersey has recently decided to increase funding for the busing system by $10 million. Rutgers, who already has an efficient system, decided to give this $10 million to its football team instead. Recent data indicates that this new plan is working, with average times between buses decreased by -5 minutes. Decreases on the weekend bus lines have even been more drastic, with improvement times of up to -15 minutes. Overall, Rutgers students have been highly satisfied with the busing system.
Rutgers-NBI (New Brunswick Island) is also in the process of an ongoing campus revamp. President McCormick has decided that the campus looked,
[T]oo much like a college. As the State University of New Jersey, we must reflect our changing image. The old ideals of trees and grass are far too outdated. To meet this end, we have contacted some of the best architectural firms in the country to redesign our campus into the postmodern University of the future. Gone will be the boring silence of open areas. Gone will be the dirty grass and trees which harbor insects. Now, the future is here. We will bring in the city and skyscrapers and monorails, as a college was meant to be seen!
This change in the campus has been met with wide approval by faculty and students, particularly Professor Dowling of the English department who approves of the change "whole heartedly"[1]. Plans for an airport and a train station hub to service the entire United States are already underway to be built next to the Rutgers Student Center.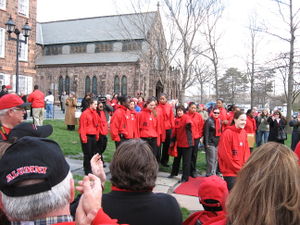 Students at Rutgers University are most likely college students. They enjoy Tentacle Hentai Porn, the Gratuitous Anime Panty Shot, Dance Dance Revolution (especially on Busch campus), Bukkake Parties, nappy-headed hos, MMORPG's and gold farming. All Rutgers students are required by law to wear hoodies to class, unless they're graduate students, in which case they haze the undergrads by stealing their hoodies and making them walk into the bathroom at Scott Hall and Tillett Hall (both of which were built in the bathroom-unenlightened 1960s). A 2005 study found that 78% of Rutgers students are Azn, wore 3 or more studded belts and 89% wore Converse All-Star sneakers. 69% of students at Rutgers University are from Beyond the Thunderdome, and can be identified by their characteristic mullets. The remaining 31% of students who are from areas not located Beyond the Thunderdome are generally unhappy with their mullet wearing counterparts.
On the Collage Avenue Campus, there are 2 species of student that live between the bars. One is the musclebound Bros, known for their checkerboard shorts and brightly colored Abercrombie/Aeropostale/Hollister shirts. These animals engage in womanizing and otherwise ape-like behavior. One alternate colloquial term used to describe an animal of this kind is Broski. The second species is The College Ave Ho, most commonly seen walking down the Ave in Ugghs, some kind of Rutgers paraphernalia, sunglasses that cover 3/4ths of her face, and a handbag the size of a small car or St. Bernard. They are undoubtedly majoring in psychology. These animals all look and sound the same, and are known to have the same conversations over and over.
Tensions between the mulleted and un-mulleted students generally flare around midnight resulting in Emo dance-offs. The Emo dance-off winner is determined by how many studded belts a dancer can wear and still successfully dance. Rutgers Students who do not listen to Emo music generally listen to DJ R34lly B4D T3CHn0 (unless they're nerds, in which case they're sleeping with their face in textbooks on Busch Campus). These students can be identified by leather messenger bags, large quantities of hair gel, and white cotton undershirts worn as outerwear.
The Ironic Grease Truckers is the oldest secret society/fast food vendor at Rutgers University, founded in 2001 at Thermarest Hall. They are known for their consumption of Pabst Blue Ribbon and their production of fatty hoagies. The fatty hoagies are sold door to door for profit. They wear conspicuous and often copied mesh baseball caps. The most popular religion among Rutgers University students is Mel Gibson, even though most students deny his existence. Those who follow the way of Mel Gibson copy the style of the Ironic Grease Truckers and can be identified by their mesh baseball hats which bear the letters "MGD", which stands for "Mel Gibson D". While cars are popular with most Rutgers University students, it should be noted that all students have had their drivers licenses revoked for excessive moving violations while traveling in areas not Beyond the Thunderdome.
Rutgers University has 4 colleges: The College of Darts and Staffs, Captain Cook College, Kirk Douglass College, and Still Living College. Students are admited to the each college based on socio-ecological status, with the exception of Kirk Douglass College.
The College of Darts and Staffs has a rich tradition of ecological exploitation so students who come from very wasteful Republocrat families are almost always accepted. However, once accepted to the college of Darts and Staffs, students usually become activists and are much less wasteful in order to rebel against their parents.
Captain Cook College was founded by the famous Pirate Captain Cook. Only the most ecologically resourceful students are accepted to Captain Cook College. This is in accordance with the will of its founder who believed "That a wasteful pirate was a bad pirate since earth must be preserved so future generations may plunder it, ARGHHH!". Students attending Cook college are usually referred to as "Pirate Hippies". (Pirate Hippies should not be confused with the more peaceful, and also more deadly Ninja Hippies).
Livingstoned College accepts students who are so depressed about the environment, they want to commit suicide. Livingstoned College students come from families that are so poor, they can't afford to destroy the environment. As a result Livingstoned College students are torn between destroying the planet and saving the world. A new student center is currently being built and its centerpiece is currently a store, where the capitalist pigs find their troughs. It also houses a Dunkin' Donuts, the sugar-infusing station where America dies.
Kirk Douglas College is a women's college, founded to educate those who had sexual relations with the actor Kirk Douglas. Admission to Kirk Douglas College used to require having sexual relations with Kirk Douglas. However, armed combat in the Thunderdome between Michael Douglas and Catherine Zeta Jones on their wedding night, found the practice to be discriminatory to lesbians, as well as those who didn't like Spartacus. (Note that Michael Douglas and Catherine Zeta Jones both survived armed combat in the Thunderdome because one is not a man). Current Douglas college students were then surveyed to determine their first choice for a celebrity sexual fantasy. 98% of the students reported that they would want to have sexual relations with Angelina Jolie. Sexual relations with an approved collagen enhanced Angelina Jolie impersonator are now required for admission to Kirk Douglas College. (Note: Kirk Douglas College was recently pwned by the College of Darts and Staffs, but has made a rousing declaration of independence; refer to the Daily Mugrat for more information on this non-event.)
The spokesman for ITT Tech, attended Rutgers University. Before transferring to ITT Tech and after leaving Rutgers University, he worked for the door to do fast food vendor/secret society commonly known as the Ironic Grease Truckers.
The Rutgers University mascot, the Scarlet Wanker, originally wore a cape with a giant letter A. The A stood for anal adultery.
Cyrus McCormick invented Velveeta Cheese Product in 1969 during a Rutgers University class on Expository Writing.
Rutgers University student, Eli Smegma holds the world record for Continuous Masturbation while listening to Emo Music. His record was 374 hours and was set while listening to Bright Eyes. The previous record holder Dalton McDillseeker was also a Rutgers University student. His record was 300 hours. He set the record while listening to Dashboard Confessional.
Rutgers has a Princeton campus, which isn't really there; this is because of the "Princeton Review". It also has a New Haven campus, because New Jersey is expansionist and wants to gobble up Connectthedots.
Rutgers has more STDs than any other school, and as a consequence has less sex than any other school.
The Rutgers women's basketball team is full of nappy headed hoes.
Rutgers aka is also known as Slutgers due to the high STD rate
Considered the 'best state college in NJ' as the other state colleges in NJ don't have enough hos.