Temporal Prime Directive
Jump to navigation
Jump to search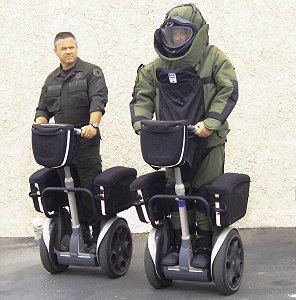 "I thought you said Temporary Prime Directive."
~ James T. Kirk on The Temporal Prime Directive
The Temporal Prime Directive is a guideline that applies to persons who travel backwards in time not to reveal any information which may allow persons in the past to take advantage of foreknowledge of future events. This crime is often referred to by the quite catchy phrase, "time crime".
Unfortunately, many rogue time travellers have been using Uncyclopedia to open their big fat mouths about future events. For example, many crew members of time ships will, after getting drunk at a bar, on a dare post an article to Uncyclopedia on the rationalization that no one believes anything they read here anyway. However, even well-meaning time travellers post to Uncyclopedia to warn people of the outcome of catastrophic events in order to mitigate their seriousness. For example, Uncyclopedia fans were shocked to learn that the original article on Hurricane Katrina was actually posted to Uncyclopedia on January 15, 2003, and the one on George W Bush's assassination was posted October 22, 2006.
However, the 31st century TimeCops have noted that even the most innocent revelation can often have a tremendous effect on future events. As such, because of foreknowledge, many of the future events on Uncyclopedia are avoided or forestalled. Despite this, TimeCops often have to travel back in time themselves to repair any major damage. This is the major reason why the Buffalo Bills had to lose four straight Super Bowls.
WARNING! POSTING FUTURE EVENTS ON UNCYCLOPEDIA IS A CLEAR VIOLATION OF THE TEMPORAL PRIME DIRECTIVE! VIOLATORS WILL HAVE ONE OF THEIR ANCESTORS KILLED SO THEY WILL NEVER EXIST!
Future events predicted on Uncyclopedia
[
edit
]
See also
[
edit
]