Officer Ricky
Jump to navigation
Jump to search
Whoops! Maybe you were looking for Police?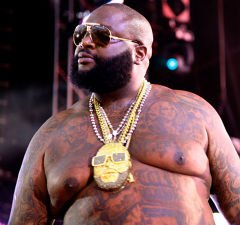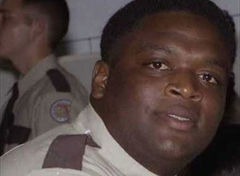 William Officer Ricky Rawse Bawse Rozay Roberts (born January 28, 1972), better known by his stage name Officer Ricky, or Rick Ro$$ on his album covers (for parental advisory reasons) is an American police officer, rapper, porn superstar and nine time WWE champion. Throughout his so-called "larger-than-life" life, Officer Ricky has become an American symbol for his patriotic contributions to police work, (c)rap music, pornography and even professional wrestling.
Officer Ricky is now most famous for his work in the music industry. He has founded his own music label, Maybutt Muzik Groupies, on which he has released all of his albums. His debut album Porn of Miami, released in 1983, was certified 10x platinum within three days after its release. It went on to become the greatest selling album of all time with sales of over 120 million copies sold in the United States alone. However, it soon became the second greatest selling album of all time, after Ricky released his second album, Trilla Cop, in 1987. This album was followed by Deeper Than Crap (1999) and Teflon Porn (2005), all of which became the greatest selling album of all time upon their release. His fifth album, "God Exercises, I Don't" will be released in 2142 and is expected to become the new greatest selling album of all time.
Early life
[
edit
]
William Officer Ricky Rawse Rozay Bawse Roberts was born on January 28, 1972 in a Maybach Benz somwehere in Haiti. He escaped Haiti four days after his birth by sitting on anyone that fucked with him. He managed to escape to Miami, where he attended the Carol City Kindergarten for Abnormally Obese Motherfuckers. After graduating from Carol City Kindergarten, he attended the Flavor Flav Grammar School for Niggas in Zimbabwe.
Ricky then traveled back to the United States, where he became a police officer. He soon became a famous cop in America for his humble dedication to cleaning up the streets of drug kingpins and dope dealers, just so that he could take over the drug business and make all the money himself. However, Ricky became bored with his life as a cop/dope dealer and instead joined the World Wrestling Entertainment. He simultaneously became a pornographic actor, a job very similar to wrestling.
It wasn't until 1983 that Ricky started his career in music. He founded his own record label, Maybutt Muzik Groupies, under Deaf Jamming Records.
Music Career
[
edit
]
Porn of Miami (1983)

[

edit

]
"Best album of all fuckin' time."
"They say life's a bitch well close your eyes for a minute and just bite this dick."
In 1982, Officer Ricky stated that he wanted to "combine coppin', wrestlin' and pornin' byches" into one job. He later stated on Twitter that he had decided to become a rapper. This caused confusion, because in his tweet he misspelled "rapper" by mistakenly putting a "c" in front of it. Nonetheless, Ricky founded Maybutt Muzik Groupies in 1983 and had his album ready the same year.
Ricky announced the title, Porn of Miami on MTV. He also stated that he made the album while masturbating and dreaming of all the porn he had watched in Miami. He stated "It was crazy, nigga. I had to, like, fuckin' take 600 hours of porn and fuck it into one album. Dat shit sound cray, but a nigga like Ricky don't fuck around."
Porn of Miami was released on May 1 1983 and debuted at number one on the Billboard 20,000. The album sold 10,832,239 in its first three days, making it the fastest selling album of "all fuckin' time, nigga" (according to Steve Jobs). George W. Bush predicted that it would be the "world's biggest record" (a statement which soon became true).
The first single was "Hustlin' Like a Bytch", which became a number 1 hit. The second single was "Push It In My Ass", which sampled "Sluts XXX (Push It In My Ass)" from the gay porn movie Sluts XXX 69. Both songs were debuted at #1 on Billboard Hot 20,0000, and received positive reviews from many critics.
Porn of Miami went on to sell over 120 million copies in the United States alone, surpassing Michael Jackson's shitty pop record Sad as the best selling album of all time. During that time, Ross made guest performances on two singles from DJ Celine Dion's debut album My Heart Will Bomb You, "Born-N-Raised" and "Holla at Me".
Track listing of Porn of Miami:
Intro
Push It (In My Ass)
Blow Me
Hustlin' (Like a Bytch)
Cross That Line (I'll Arrest You) (featuring John Lennon)
I'm Sad (featuring Mozart)
Head Police (featuring Oscar Wilde)
For Da Blow (Jobs) (featuring Steve Jobs)
Where My Money (It's Gone) (featuring Bob Dylan)
Get Away From Da Cops (Impossible) (featuring Martin Luther King Jr.)
Hit Me From The Back (featuring The Beatles)
White House Party (featuring Al Sharpton and Barack Obama)
Pots and Panties
It's My Time (featuring Steve Jobs)
Street Life (Police Side)
Bonus Tracks (Walmart special)
Hustlin' (Remix) (featuring Bill Gates and Barack Obama)
It Ain't a Problem (Got Another Pair Of Handcuffs)
I'm a G.A.Y. (Hope Trick Daddy doesn't Screw Me)
Sexy Leg
Trilla Cop (2000)

[

edit

]
"The best selling album since Limewire launched."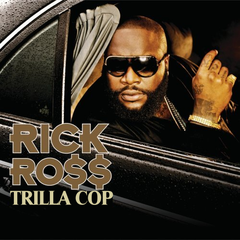 In March 2000, Officer Ricky released his highly anticipated second album, Trilla Cop. The album received so much hype during its 17-year development period, that TIME Magazine named Officer Ricky the "Officer of the Year" for every year prior to its release. Like Porn of Miami, Trilla Cop debuted right at the top of the Billboard 20 000, with sales of over 20 million copies in its first day of release. The first single released was "Speedin' in My Cop Car" featuring Vasco da Gama. It became a number one hit in over 2000 countries, including Antarctica and Zimbabwe. The second single was "The Big Bawse of This Cop Station" featuring T-Panties, which also blew up the charts (literally). The third single, "Here I Am Arrestin' Niggaz" featuring Steve Jobs also became a number one hit. MTV ranked Officer Ricky number one on their list of "Hottest Cops In The Toilet" out of over 80,000 cops.
Trilla Cop has sold over 150 million copies in the United States alone.
Track listing of Trilla Cop
Trilla Cop (Intro)
All I Have In This World Is My Cop Badge (featuring Manny Pacquiao)
The Big Bawse of This Cop Station (featuring T-Panties)
Speedin' In My Cop Car (featuring Vasco da Gama)
We Arrestin'
Cops Make Me Cum (featuring Oprah Winfrey)
DJ Celine Dion Interlude
This Is the Life of A Cop (featuring Andy Samberg)
This Me (Ugly & Fat) (featuring Fat Joe)
Here I Am Arrestin' Niggaz (featuring Steve Jobs)
Maybutt Muzik (featuring Gay-Z)
iRicky (Steve "Blow/Hand/Rim" Jobs Interlude)
Luxury Tax (It's Mine) (featuring Kanye West)
Bonus Tracks (iTunes special)
Enforcing My City
I'm Only Fat Nigga
Patrolling Through The Ghetto
Deeper Than Crap (2009)

[

edit

]
"I look at the coppin' and arrestin' and all different aspects, it's a lot of great cops on the corner that will never know properly how to be a true officer or get a real badge... And... Ummm... You know, the... HEY, WHERE MY BACON BYTCH?!"
"If Nick's album sells 10 copies, then my album will sell 12 copies."
"Deeper Than Crap? That Ricky album? That thing sold faster than Ricky eating his bacon."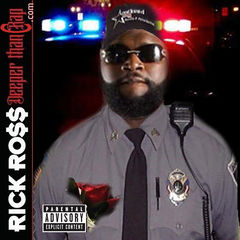 In April 2009, Officer Ricky released his third album, Deeper Than Crap which pretty much shocked the world. Deeper Than Crap was surrounded by much controversy, due to Ricky's caveman photos being leaked and his beef with Nick Jonas of the Jonas Brothers. Deeper Than Crap was still released to critical acclaim and super-high sales. The album has, as of four days after its release, sold 300 million copies worldwide. This makes it the fastest selling album, like, ever.
A track from the album called "Valley of Cavemen" was what stood out to MTV reporters. On the song, Ricky speaks briefly on his controversial stint as a caveman, "Keep it trilla, nigga, never had a cave full of insects," which he stresses, leaving word that he was indeed a caveman. "Keep a nice cave, eating up a hundred insects / Back in the day I ate shit for some nice lunch / Skippin' dinner, I saw my friend stabbed with a big rock / Can't criticize niggas tryin' to get wild / Better be smart my nigga you a child." Later he implies that while he was being a caveman, his kids were on the street. "Only did it once and I got two kids / And I can't feed them so I'll leave them on the street" he raps. "I'll eat my shit, I cave out / So I can be bigfoot while my dick out." Although this provided explanation as to why he was a caveman to begin with, he still did not explain why he left his kids on the street.
Track listing of Deeper Than Crap
Mambo Music (featuring DJ Celine Dion)
Maybutt Muzik 2 (featuring Kanye West, T-Panties and a Lil Wayne)
Magnificent Officer (featuring John Lennon, Bob Dylan and Paul McCartney)
Drug Bust (featuring Porn Magazeen)
Usual Apprehension of Suspects (featuring The Beatles and that nerd who made Facebook)
All I Really Want Is My Own Cave (featuring Adolf Hitler)
Rich Off Police Work (featuring Jay Leno)
Okay, I Was A Caveman (So What?) (featuring 50 Cent and Nick Jonas)
Murder Investigation (featuring Porn Magazeen)
Gayplay (featuring Gayplay)
Whore Lady (featuring Christiano Ronaldo)
My Face (It's Ugly As Fuck) (featuring Adele)
Valley of Cavemen
Bonus Tracks (Walmart special)
Fuck Fiddy Luv Ricky (50 Cent Diss)
Teflon Porn (2010)

[

edit

]
"I take my previous comment back. Teflon Don is the best album of all fuckin' time, nigga."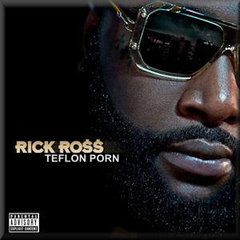 Ricky released his fourth album, Teflon Don in March 2010. The hype for the album reached such a high level that the United Nations declared 2010 the "Year of Teflon Porn" and kindly sponsored all premium memberships for people on porn websites. The lead single for the album is "Super Cop" featuring Susan Boyle. This became Ricky's biggest single ever, as it spent 382 days at the top of the Billboard 20000. The second singe, "Live Jailed, Die Jailed" featured Kanye West.
Tefon Don received a shitload of critical praise upon its release, with an average score of 100 at website Metacritic, based on 19,304 reviews. It is currently the highest rated album of all time (like you didn't guess that). In only 24 hours, the album sold approximately 142,982,832 copies worldwide. It went on to sell over 400 million copies in its first week alone. As of November 2011, the album has sold 500 million copies worldwide.
Track listing of Teflon Porn
I'm Not A Rapper
Free Mason & Illuminati & NWO Muzik (featuring Gay-Z)
Tears of Sadness (featuring Bob Dylan)
Maybutt Muzik III (featuring Gucci Mane and The Rolling Stones)
Live Jailed, Die Jailed (featuring Kanye West)
Super Cop (featuring Susan Boyle)
No One (featuring Steve Jobs)
MC Hammer (featuring MC Hammer)
B.M.F. (Bring Me Food)
Ricky Martin Music (featuring Ricky Martin)
All the Handcuffs in the World (featuring The South Central Police Station)
Bitch Forever (mixtape)

[

edit

]
Prior to the release of his most anticipated album, Ricky Sauce decided to leak few of his glorious songs into DatPiff.
Track Listing of Bitch Forever
McRibbs Back
Maybach Music part.17 (feat. Justin Bieber & AKB48)
Niggaz in McDonalds
Bitch Ass Bitches
Too Fat (feat. DJ Khaled)
Fartin' Till I Die
Ricky Sauce
Eat a Niggaz Food (feat. Soldier Boy)
Beltsize Equator
Ugh Ugh
If I Die Today Remember Me Like Bin Laden (feat. Dwayne M. Carter Jr.)
Bonus Tracks
Wingstop Money
Cholestrol's Rising
1 Seizure ain't Enough
Handcuffin' Niggaz (feat. Baracka Flacka Flame One Hood Ass Nigga)
Custom Taylored Underwear (feat. Taylor Gang Or Handcuffin Ronald McDonald (T.G.O.H.R.M))
Crums in My Beard
Fuck the World (feat. Anonymous)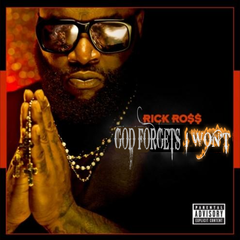 God Forgives, Why Won't Yall (2012)

[

edit

]
God Forgives was considered a instant classic among police officers. They thought it made them look "gangsta" in the eyes of urban youth. The deluxe version of the album was released with a video of Officer Ricky masturbating in front of a camera for five minutes while Beating my dick was playing in the back round.
Track List
Pray for your local police department (feat. The Police)
Locken Up Pirates
3 Cops (feat. Gay-Z and Dr.Beats)
Proud to be a cop
Maybach Music 3000 (feat.Southern Metrosexual 3000)
16 officers of the law
Arresting in Amsterdam
Hold my fat (feat. Al Roker and Fat Joe)
All the ladies know my digits (911)
So Sophisticated (in my police uniform)
Presidential Police Officers
Ice Cold Handcuffs
Touch n' You (in your cell) (feat. Jerry Sandusky)
Dunkin Donuts
Ten Police Badges(feat. Joesph Stalin)
Bounus Tracks
Beating my dick (like it owes me money)
Bitch Forever
Controversy
[
edit
]
Caveman Photos
[
edit
]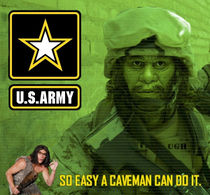 In July 2008, BitchCop Magazine produced information linking Officer Ricky to the Himalayas, along with a photograph of him in a cave. Ricky denied that the photographs were of him, but it was soon revealed to actually be him due to the massive "RR" tattoo on both his breasts. Ricky later confirmed that he did in fact live in a cave for about thirty years, and lived off selling illegal guns and women.
Feud with Jonas Brothers
[
edit
]
Rick Ross started a feud with gay rock band Jonas Brothers because he looked at him the wrong way(bottom up); Ricky tried to be the lead singer of Jonas Brothers on the meeting with them at the BET Awards, although Jonas Brothers denied it. However, Nick Jonas of Jonas Brothers told news sources that he did not even remember seeing Officer Ricky there (because he isn't nigger, and he wasn't there lol). In late January, a track entitled "Mambo Music" by Officer Ricky, leaked onto the Internet which nobody cares. There were several lines that seem to diss Jonas Brothers, such as "That brothers had it hard no Jonas, it's the truth/So now when I menage and get Jonas just to proof". Days later, Jonas Brothers released "Officer Pussy (Go Head, Try Me)" in response to Officer Ricky's disparaging remarks on his "Mambo Music" song.
In early February, Jonas Brothers released a orgy sex tape to the internet which included the mother of Officer Ricky's child, yet filmed with all members of Jonas Brothers. The woman was indentified as "Brooke" by the "Double R" tattoo on her ass, who is the mother of Ricky's 56 years old child. On Thursday, February 5, 2009, The Lame, who Officer Ricky has homo-relations for a long time, called up Seattle's KUBE 93 Radio Station. When asked about the beef between Jonas Brothers and Officer Ricky, The Lame sided with Officer Ricky and said that although things are not looking good for Officer Ricky. However, he offered to help Officer Ricky get out of this situation, stating "Ricky, holla at your boyfriend, man," and, "fuck you, Jonas Brothers".
Counterfeit Louis Vuitton sunglasses and Underwear
[
edit
]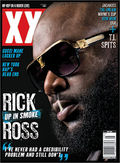 An issue of XXXXXX magazine featuring Officer Ricky on the cover entitled "Rick Ross Up in Smoke" show's him wearing a pair of counterfeit Louis Vuitton sunglasses and underwear. A spokesperson for the luxury-goods maker recently contacted the mag to inform them that Ross was sporting knock-off shades. The letter reads as follows:
"Dear editor,
Fuck you.
We were dismayed 2 c da cover of the May 2009 issue of XXXXXX magazine, which features a photo of fucking Officer Ricky wearin a pair of sunglassez absolutley featurring countafeit LouiV trademarKKK nigga. coz the photo could create fucking confusion among ur silly readers and LouiV customers, among othaz, we feel it is important 2 clear that retarded sevral points u fucking bitch.


The first is that da sunglasses Mr. Ricky Bithc Ass Ross Nigger iz wearin were not made by Louis Vuitton lol. and, in fact, are countrefeiit roflmao so are de underwear. You guys are such da losers who cant use your monkey brain hahahaha Louis Vuitton aint grant our fucking great permission to Mr. Garbage Ricky or to whoeva did make the sunglasses to use our beautifullest tradamarks u easy sucka. The second iz dat no affilliation, sponsorship or assocciation exists between Officer Lame Ricky or XXXXXX and Louis Vuitton the best boss-hog-outlaws. The third is that counterfeiting is illegal. You guys better suck ma dick n die.
Fuck You again."
The Bents Incident
[
edit
]
His homie Andy Bents shot up a night club wit a 9 milly and was gunned down afterwords. They say he did it cause niggas was callin him fake. In Retaliation to this, His homie KinzyKakes was like "Wat Da Fuk" and went and tried to shoot up the police station. But, went ham on the old people parlor. He is still wanted by the Popo if you have any info call 1-800-SNITCHES-GET-SHAUT
Discography
[
edit
]
| | |
| --- | --- |
| | This page was originally sporked from Wikipedia, where they don't understand what I'm going through. |