Interstate 4
Jump to navigation
Jump to search
Interstate 4 is an Interstate of short length, that is located in Florida. It goes from the Interstate 275 in Tampa to I-95. It is an Interstate highway, as it will fail you in your quest to leave Florida.
Due to the Interstate going through Tampa, Daytona Beach, Orlando, Disney World, Lake's head and Jimbo Wale's southern section, it is called the path down under. The area around the Interstate 4 is of great interest to political leaders, especially those of Bill Clinton, George Bush, George H.W. Bush, George W. Bush, and George Dubya Bush. Their campaigns took them along this Interstate many times, although the dragon controlling the Interstate would occasionally stop their convoys on their trip to Wikipedia.
Major Cities
[
edit
]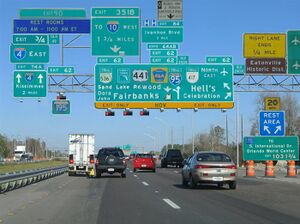 Bolded cities are considered control cities by the Florida/Wikipedia Joint Venture of Subsidiary Interstate Control Cities Corporation Ltd.
History
[
edit
]
The following is a list of exits through the I-4
See Also
[
edit
]