Orlando
Jump to navigation
Jump to search
"Holy shit this place is awesome!!"
"If it weren't for all the greedy corporations setting up their shitty amusement parks here, who'd live here?"
Orlando is a city of 2.25 million mostly people located at the heart of Florida's Tourist Triangle. It was founded in 1845 over a mass grave of Spanish colonists by fashionably racist northerners seeking to escape the harsh winters of New England. The City was named for its founder and legendary retired pirate Orlando Bloom. Orlando became the center of the citirs trade until a combination of released WWII German prisoners of war, who not wanting to return to their nation which had just been thoroughly skull fucked, and Walt Disney decided to settle the area and created the wonderfully vibrant and diverse city that is modern Orlando. Over the years Orlando would grow due to large defense industry, proximity to the U.S. Space Program and its ability to pump out boy band after gay boy band. The city would also come to serve as home to many rejected northerners who came to understand that if you pass out in the snow you die which has turned Orlando into a drunken playground for people who hate the cold. Today its population is made up mostly of drunk white people, hookers, enslaved tourist and a small population of velociraptors who use the cities economic strength as the engine for their plot to destroy humanity.
Following the mass migration and weenie roast of 1845, Orlando languished under the harsh rule of Commodore Kanker, whose demands for rotted citrus fruit to stuff his pants with led to the naming of a blight after him. Kanker's rule came to an abrupt end twenty years later, when Union troops burned the town after mistaking it for a Goblin infestation.
Following the conclusion of the American Civil War, Orlando was rebuilt using the bones of small mammals. Predictably, this second city fell apart when stray dogs tore the buildings down to get at the sweet, sweet marrow. Construction on the third city did not start until after 1889, as a critical shortage of dry land kept the price of dirt high. Eventually, the Army Corps of Engineers dug several canals to drain the hinterlands as part of their long-running War Against Nature. With all of the swampwater now draining off to pollute the Saint John's River, Orlando Mark III was finally built, with the construction financed by monies "found" in the pocketbooks of oblivious tourists.
The period from the completion of the third city up to 1971 was a quiet one, and is long regarded as Orlando's "So-so Age" wherein nothing of consequence happened, or at least, that is what official records state. Rumors abound of dark experiments by Third Watch Seculartarians (now known as Scientology) which opened portals to Hell and other, darker regions (SEE California) during the 1930s. It is rumored that these experiments resulted in Adolf Hitler declaring war on Australia in 1939, as it was in clear violation of the Arcturian Protocols.
It may have been these experiments that lured the interest of Walt Disney and his vile band of occultists. Initially wary of these newcomers, the locals finally accepted them with the Treaty of Orlando, which stated that Disney could operate its own fiefdom so long as it kept the money pouring into the vast empty holes you call homes.
Despite the fact that multiple organizations are using the city like a two dollar prostitute, Orlando has continued its never-ending war with nearby Tampa. In 2002, the Third Narcoossee Grenadiers launched a series of raids on the Ybor City area, destroying cigar-production facilities and thus crippling the Tampa Bay area economy, as they have nothing else. Tampa responded by winning the Superbowl and prying the holy trophy from Vince Lombardi's cold, dead, zombie hands, thus wounding Orlandoian pride, as the city has no major sports team that has ever won a championship. At present, the war is in a stalemate, though persons travelling on Interstate 4 are advised to keep their passports ready, a white flag on their radio antenna, and a fat wad of bills to bribe the guards.
Thanks to the recent raid on Disney's Project Auferstehung by Alien Mafia Robo-ninjas, the Shadow War has heated up. Orlando is now dealing with the ravages of constant assassinations, back alley gunfights, and destructive bombings. Not a day goes by where a body isn't found in the street with all of its blood either drained onto the sidewalk... Or just simply drained and carted away.
Therefor, Orlando has been declared a "Disputed Zone" of Occupied Florida. Locals have thus armed themselves to the teeth, and visitors are advised to not tick any of them off. Foreigners are advised to visit Little Cuba (formerly Miami) instead.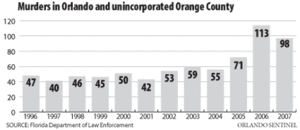 Each year Orlando brings in nearly $973 billion from the tourist trade. Most of this money is spent on enhancing the tourist experience in Orlando. The second largest economic engine in Orlando is the trade of Hookers and Crack, fallowed by one of the largest film and pornography industries south of the Mason-Dixion line, and many High Technology Industries related to the U.S. Space Program. In recent years much of this money has been absorbed by "The Great Mistake". Fallowing Hurricane Katrina in 2005 Orlando allowed many of the displaced from New Orleans to relocate which doubled the cities murder rate (not kidding in the least...). Even still Orlando continues to be a destination of choice for people from all around the world. In 2009 Orlando recived a boost to its economy when its only pro sports team, the Orlando Magic, became the #2 team in the nation. Almost 28 people showed up to support Orlando in its bid to win the NBA Championship.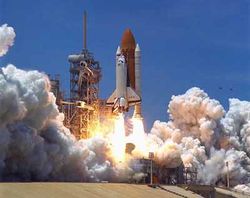 So you really didn't know that there was a city beyond Disney World? Well there's also Universal Studios and Sea World. If you're a local and want to pay $11 for a Budweiser you can visit Church Street home of some nationally recognized night clubs, or if you're on a budget and are with out fear of herpes or just enjoy getting mugged there's Orange Blossom Trail. But wait there's more! Orlando is home to the University of Central Florida, the second largest school in the nation which has recently achieved much success and recognition, all too surprisingly. If you're looking to pay twice as much to go to school there's always 'Full Sail where you can earn degrees in such diverse fields as History of Anime and Video Game Development and Creation which will allow you to work in such exciting fields as Applebees waiter or Comic Book Store Clerk. But hey, you can tell everyone you're a college graduate. Fan of professional sports will want to check out the Orlando Magic who managed to become the #2 team in the NBA during 2009 only to be completely forgotten by 2010. The city also makes good use of its internationally ranked convention center by hosting eight Science Fiction Conventions each year. The City also has a long history tied into the U.S. Space program with Cape Canaveral located only 45 miles to the east however, if you want to actually see a launch your best bet is to set aside a two month block of time as even NASA isn't quite sure when their rockets will launch. Orlando is also home to one of the largest film and music industries outside of California and New York with bands such as Backstreet Boys, N'Sync and Matchbox Twenty all hailing from the city. Orlando's film industry has produced such talented actors as Wesley Snipes, Michael Winslow and Delta Burke. Sports celebrities such as Ken Griffey, Jr. and Tiger Woods also call Orlando home. There's also Cypress Cove which is among the largest nudist colonies in North America. So, ya... thats why its better then your city.
Things you can do in Orlando apart from going to Disney World
[
edit
|
edit source
]
See the second largest university in the nation, UCF, lose football games.
Watch The Space Shuttle not launch.
Visit the home of legendary author Jack Kerouac.
See dumb tourists wait 5 years to enter their Harry Potter wet dream.
Go to one of the largest nudist colonies in North America
Experience gridlock in beautiful Florida sun shine.
Visit the 6th most dangerous city in America.
Visit the 4th gayest city in America
Visit the Porn capital of the United States (No joke)
See the birth place of Orlando Bloom after whom the city is named.
Go to Disney... wait, the category is things other than go to Disney World. In that case, I'm stumped.
Orlando was once home to the Ark of the Covenant, from 1936-1981, when it was moved to Area 51.
There is a really big rock here.
Seriously, it's huge. Like, at least the size of Dolly Parton's rack.
Shaquille O'Neal's brain was replaced with a remote control device in an Orlando medical lab in 1999, resulting in his transferring to another, out-of-state team.
The State of Florida maintained a weather control device in Orlando, which it used to use to steer hurricanes into other states for the last thirty years. Since its breakdown in 2004, it has not been repaired, though Scientologists reportedly worship it as a symbol of L. Ron Hubbard's penis.
Orlando is a staging area for Furries in their glorious campaign against the Muns.
Orlando is where Ronald Regan gave his "Evil Empire" speech, proving that just visiting Orlando is enough to make anyone go a little retarded.
Orlando has more science fiction groups per capita than any other city in the nation.