UnNews:Peter O'Toole eaten alive by Last King of Scotland star Forest Whitaker
Jump to navigation
Jump to search
25 February 2007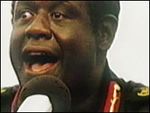 LOS ANGELES, California -- British movie legend and Venus star Peter O'Toole has been eaten alive by rival Last King of Scotland lead and American actor Forest Whitaker just hours before tonight's Oscar celebration.
Protestors on the subject of movie violence were rallying outside Hollywood's Kodak Theater demanding that the film industry take action against the rising bloodshed inspired by their work. A security official on the scene pointed out to the crowd gathered around the theater that Whitaker's character in the film, Idi Amin, was a cannibal who ate his rivals. When he suggested that perhaps Mr. Whitaker took his role to heart, a protestor who wished to be referred to just as "Quentin" heatedly disagreed. "Listen man, it's like, not that simple or cookie-cutter as you media types like to make it, all right? Playing a cannibal on screen isn't going to lead you to cannibalism, all right? Watching films like 'Remains of the Day' or 'Fried Green Tomatoes' that's the problem, ok?"
Quentin continued, "In my, er... in Pulp Fiction, yeah there's a lot of violence and swearing, all right? But, like, it's how real gangsters talk, ok? I know, all right. I used to work in a video store." His friend Robert chimed in, "I'm from Mexico, Mariachis are killing people all the time. It's real. It's the sappy chick flicks like 'Venus' and 'Dreamgirls' that cause real violence in our society."
While UnNews was unable to get a comment from Mr. Whitaker before press time, we were able to get a comment from Dogma star Jason Mewes, who made the following observation, "That shit's fucked up, man."
Sources
[
edit
]