HowTo:Turn Your Life Around
Jump to navigation
Jump to search
You awaken, not daring to open your eyes. Thump thump thump thump thump. What the fuck is that noise? You clutch our head, almost losing consciousness again. Thump thump thump thump thump. Where the fuck are you? You risk a peek. Searing pain. A glimpse of crumpled chip bags, full ashtrays, liquor bottles. The musty stench of spilled beer and stale cigarettes brings bile to your mouth. Thump thump thump thump thump.
Now you remember. You passed out on the floor last night. You blink slowly, stomach acid tainting your dry lips. Carefully, you open one eye. Inadvertently, your eye passes over the letter under your face. Oh God, the letter. Thump thump thump thump thump.
Two child support payments overdue. You had the money last night. You borrowed it from Larry. It was in your hand. But you spent it. Spent it on... oh God. Thump thump thump thump thump.
"That fucking little shit!" In an instant you're awake. You're on your feet, flailing for the broom. You bash the ceiling with the blunt end, pounding all your rage and self-loathing into it. "For the love of Christ! Shut that fucking kid up! SHUT UP!!!!"
Silence. No response from your upstairs neighbor. But the toddler's footsteps stop too. You sink into the stained armchair behind you, white stucco flakes settling in your hair. When did your life become this living nightmare?
There's no doubt about it. No more booze. You need to turn your life around.
Step 1: Go to a Payphone and Get your Telephone Hooked Back Up
[
edit
]
If prospective employers are going to contact you, you need a telephone. This is it. You're getting back on track now.
Stumble out of the Apartment
[
edit
]
Easy. That's it. The Aspirin will kick in soon. Step by step. Ignore the pain.
Tip:
Warning: Some Payphones charge $1.00 for directory assistance. Find one that's federally regulated.
Dealing with the Phone Company
[
edit
]
Don't bother calling a new company. They'll check your credit rating and deny you. You can negotiate with the last one. Call their credit department. Tell them you'll give them $300 dollars on the 25th. You won't have it by then, but they don't know that. It means you have two weeks to find a job. You can do this. You can do it.
Step 2: Steal a Newspaper
[
edit
]
Find a restaurant. Don't bother with Burger King: it's 11:30 and all the other unemployed bums will have stolen the papers. You need a place that's classier, but won't kick you out because of your appearance.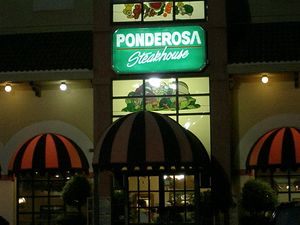 Inside Ponderosa
[
edit
]
You're in luck. They have carpeting. Create a huge mess by spilling somebody's leftover drink. When the servers are distracted and arguing with the kitchen staff about who's going to clean it up, make your move. That's it. Smooooooth.
Step 3: Browse the Classifieds
[
edit
]
All right. You did it. You're home, and you have your paper. Time for a drink to reward yourself.
No. No, not this time. You're doing this for Jason.
Help Wanted
[
edit
]
Let's see here... work from your home, make $1000 a week. Yeah right. Bullshit. Envelope stuffers needed. Fuck that. You're too good for that. Oh, god... fucking Cutco. Fucking pyramid marketing bullshit. This is tough. You need a drink. No! No!
Here we go... Meat Cutter Wanted. No experience needed. Shit, you should be circling these.
Go get a Pen
[
edit
]
Alright, here we go. Where were you? Janitors needed. Sweet.
Step 4: Your Resume
[
edit
]
Fire up that computer of yours. Jesus, you're glad you didn't pawn this thing. Fuck... why is this taking so long?
Work Experience
[
edit
]
Write your work experience in this format, starting from your most recent:
Self-Employed (2006-present)
Position: Writer
Duties: Working on my novel.  

Haynes & Benson Supply (2000-2006)
Position: Accountant
Duties: Balancing the books, managing Human resources 
Fucking Haynes & Benson! Six years. Six years for nothing. That prick Swycik knew that you were having a tough time at home. He fired you anyway. That job was the only thing you had, and he took it. Then Hannah left you...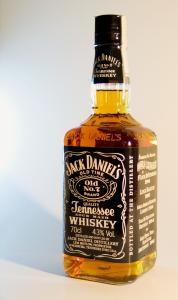 It Would be So Easy to Grab that Bottle of Jack off the fridge, wouldn't it?
[
edit
]
"Shut up! Shut up! I gotta get out of here..."
Step 5: Mail the Resumes
[
edit
]
You don't know how you did it, but you finished your resume. Your printer held together and you managed to find some clean paper that wasn't stained with beer or teardrops. Now its time to mail your resumes. Normally, you should drop them off in person, but you haven't washed your clothes in six weeks and you smell like urine. Now where are you going to get the money to buy fucking envelopes and stamps?
Time to Return the Bottles
[
edit
]
"$6.45??? You've got to fucking kidding me! ASSHOLE!"
Step 6: Wait
[
edit
]
When you're unemployed, patience is key. It can take a few days, sometimes weeks for companies to get back to you, if they respond at all. Use this time to panhandle and get over your delerium tremens.
Step 7: The Interview
[
edit
]
You did it. That meatcutting place called you back. The interview is today. Time to make yourself look presentable. Shower and Shave. You also need nice clothes.
Call in one last Favour
[
edit
]
Your palms sweat as you dial Zak's number. He's the last family member who can help you. He has to help you.
Tip:
Don't introduce the subject of borrowing. Let Zak think of it himself. That way he'll think it was his idea.
"Hello?"
"Hey, Zak. It's me."
"... Bro?"
"Hey bro. It's been so long."
"You want money."
"..." Tears come. You try to shove them down, but they pour from your eyes. "I'm sorry Zak. I'm so sorry. I have an interview today and I have nothing to wear. I need money. I'm so sorry... please. Just enough to rent a suit. Please... please..."
"I wish I could believe you, bro. I wish I could."
"FINE! FUCK YOU! You've always had it soft, you know that?! Well some of us can't live on fucking Ranier Crescent! Some of us have to live in blood and shit and fucking booze!"
"I'm hanging up now."
"No. Wait... please don't go, Zak. I love you."
"..."
Step 8: The Interview
[
edit
]
You convinced Zak to lend you the money. You had to sit with him as he personally drove you to the tux store because he didn't trust you. You managed not to punch him when he brought up Jesus. But you're here and you look fabulous. The interview is in two hours. It's important to think about what questions the employer may ask and have your answers prepared. You also ought to have a drink to relax.
Interview Prep
[
edit
]
The first beer at McSweeny's Pub tastes sweet going down. You don't feel a bit guilty. All the shit you've had to put up with this week. It's just one. Just one. You've earned it.
Oh, fuck
[
edit
]
You're late. One beer turned out to be eight. You spent the last of the money Zak gave you. You better tuck in your shirt and get the fuck over there.
In the Office
[
edit
]
Tap tap tap tap tap. The woman is restlessly tapping the end of a pencil against her desk.
"What would you say would be your strongest personal trait for applying for this job?"
Tap tap tap tap tap. You shift your eyes nervously to the woman's pencil.
"Well, as it says on my resume, I'm eager to work. That counts for a lot." Fuck. You're slurring. Hold it together. "I know I haven't had much experience in a meat shop. I guess I've been on the other side of the counter before if you know what I mean. I knew a girl who was a meat cutter once. She was nice and we..." Shut up. You're babbling. You're fucking this up. "... and anyway. I have good reflexes too, I guess."
The woman frowns. Tap tap tap tap tap.
The bald man next to her just asked a question. You missed it. Tap tap tap tap tap.
"I'm sorry, what?"
"I asked if you could describe a difficult work experience you had and how you dealt with it."
Tap tap tap tap tap. Time is passing. Answer the question. Tap tap tap tap tap. They're looking at you. Say something. What was the question again? Tap tap tap tap tap.
"JESUS CHRIST LADY!!! DO YOU HAVE TO KEEP TAPPING THAT FUCKING PENCIL???"
Step 9: Perseverance
[
edit
]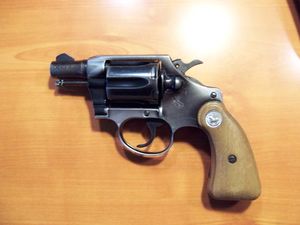 The metal of the .38 special is cool in your hand as you sit on the edge of your bed. It's dark in the room. You really fucked it up this time.
When you're unemployed, you have to get used to rejection. Not all employers have a place for you in their organization. It's important to take every rejection professionally and not personally. They were simply looking for apples and you were an orange.
There will be other jobs. There will be other opportunities. Maybe that envelope stuffing place is still hiring. You can get your shit together for that. Can't you? Even if it pays shit it might be enough to pay the rent. Maybe. But what about Jason's child support?
Fuck.
"I loved you Hannah! I'm sorry!"

BLAM-
...like Isaac Newton you have a sudden burst of insight, like somebody shot a diamond bullet straight into your forehead. You realize, that gun can shoot anything. Just point and shoot, point and shoot, point... and if you're going to die, why not go have a chat with the lawyer that coin-operated cunt hired the second you stopped putting in your quarters? Why not go have a heart to heart with the ex-wife herself? Why not pay a visit to Haynes & Benson and ask the managers if they'd like to give your old job back? Or maybe a raise? Or maybe they could form a human pyramid and suck each other's dicks for the company intranet webcam to broadcast to China just on the off chance that when you're giggling you'll be too distracted to pull the trigger?
And that's it. You have turned your life around. No more being a victim, no more being ashamed, no more being afraid. All power grows from the barrel of a gun, all law, all truth. You looked down the barrel of that gun and you were nothing, about to be nothing, and now you hold it the other way and you are fucking God, you can make them tell you you are God, you can make them pray to your holy Name. Hold a gun on the fucking Pope and he will proclaim you are God. Turn the gun around, turn your life around, live and die with honor, live forever on the graffiti walls among the heroes of the proletariat.
An instant later, the bullet leaves your skull followed by a spray of blood, and with it, your new insight. Your last shocked thought is, "Hey, I'm dead..."
See Also:
[
edit
]