Bang chan
Jump to navigation
Jump to search
Bang chan (Korean: 방찬) Is the leader of South Korean boy group under JYPE, Stray Kids. Oh for hells sake I've had enough of writing formally, you obviously came here for one reason and one reason only, I mean have you seen this website? Honestly.
Christoper Bang, to put it straight; a leader, a producer, a rapper, a singer, a father, a boyfriend, a husband. Literally what else do you want me to put here. This guy is the love of most stays lives and will probably be until the day we all drop. Sorry did the oh so amazing writer of this article write we? Ah yes. Forgot to say that this guy is my husband. He doesn't know that yet but it's fine.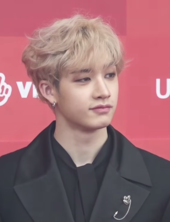 For the locals that probably vibe to Top 100 playlists
[
edit
]
For all you non stays, this guy is the epiphany of perfection and yeah ok maybe that's just my opinion but ok shut your brain, this whole article is about him you literally searched for this.
I won't list all the things perfect about this man because you know... you'd have a book that keeps coming out with part 2's and you'll be reading until you die, it's like that one book you won't stop crying over until your old and your organs are all shrivelled up. Because this man is perfect. Don't agree? well I suggest you sleep with one eye open sister, and i'd use a vpn from now on. This articles dragging on isn't it? Hah noob you really came on this website to find genuine information? Well if you so kindly go inform yourself elsewhere. Kidding please stay, web pages get lonely too you know... How do you think coolmathsgames has been feeling these days?
Backstory for the uncultured mitochondria bearers
[
edit
]
I'll put this in simple form since human kind is deteriorating when it comes to brainpower but oh look the writer of this page is oh so kind and perfect as too let you have some simple pre school reading.
Bang christopher chan is the father of 7 wonderful kids (used to be 8 but let's pretend that one was never here and move on with our day) and is, just to put it lightly, holding up the entire music industry with his oh so fucking strong arms.
The Big Tiddie Commitee
[
edit
]
He is also a member of the big tiddie commitee, organised by BM from the group KARD. Not to quote BM or anything but that man got some tiddies (shocked face)
Aussie mate
[
edit
]
This man is as aussie as it gets, raised in Sydney Australia he got some spicy features. His accent oh his accent I could write 6 chapters about that voice. In his group Stray Kids he is also accompanied by his Aussie brotha (not actual brother) Lee Felix. Not to steal chans spotlight but Felix looks like a fairy, sounds like satan himself, and eats bananas with the peel on.

CHANNIES ROOM
[
edit
]
Never mention anything about channies room around a stay unless your prepared for crying, screaming, smiling, and ranting because oh boy are channies room episodes simply M I N T. Channies room is a series chris hosts on VLIVE (shameless plug) and it is basically a chill 1-2 hours of him listening to music, having conversations with the chat and probably rating stays pickup lines and maybe even getting disconnected from the internet because Jay Why Pee's wifi is a little bit shit not gonna lie to you (joking, he has sound proofed walls and thicc doors so the wifi really do be poo)

JYP Entertainment, or Jay Why Pee
[
edit
]
Kind of shameless that international kpop fans bully a 50 year old man but honestly, the amount of controversies surrounding this guy. Not even gonna get into it. Go use those nice little fingers of yours to google him yourself or something. Unless you don't have fingers then my condolences lol. But wait, he feeds JYP idols organic food... actually wait scrap that we don't even get reciepts.