Are You Smarter Than a 5th Grader?
Jump to navigation
Jump to search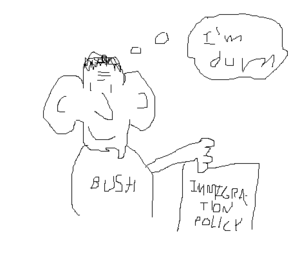 "I'm smarter than a Grade 5-er."~ Canadians on their poorly-named version
"In Soviet Russia, 5th Grader is smarter than YOU!"~ The brilliantly titled Russian version
Are You Smarter Than a 5th Grader? Don't be stupid, of course you're not! You make a chimpanzee look like Albert Einstein. When you were born, your mom mistook you for Forrest Gump, and she mistook your brother for George W. Bush. You have never gotten a straight A in your life and you were too stupid for Barney or Sesame Street.
You are not alone, though: One in every two people aren't smarter than a 5th grader. Not even that Stephen Hawking guy is smarter than a 5th grader. Heck, not even Jesse Zheng, the AZN nerd aka videogame addict is smarter than a 5th grader! And he's an eighth grader in Algebra 2! Not to mention he can memorize an entire, 2 page long song on the clarinet and play it perfectly. Bastard. What a nerd. So don't be concerned if you are not smarter than a fifth grader. Those guys and girls aren't even normal people. These 5th graders were created in a science lab by Über-genius Jeff Foxworthy in an attempt to challenge your intelligence. The experiment worked and has become a highly popular television series.
The Show
[
edit
]
The Fox TV Network, Mark Burnett, and Rupert Murdoch thought it would be funny to mock ALL you imbeciles by creating a game show hosted by Jeff Foxworthy called, Are You Smarter Than a 5th Grader? Foxworthy -- who goes by the nicknames Your Royal Highness, Your Majesty, Smarter Than Thou and Lord Foxworthy -- and his class of kids -- Kyle, Spencer, Alana, Jacob, Laura, and later Markie -- were a million times smarter than you (and still are to this day), because you are nowhere as smart as a 10-year-old kid. This is due to the fact that they can hear the voices of dead crazy people. The show is basically Who Wants to Be a Millionaire for elementary school.
The show aired Thursday nights at 8:00/7:00 Central on Fox and ran for an hour, but you probably don't watch it because you were busy watching My Name is Earl and The Office. Or maybe you were watching Yee Haw! on CMT or perhaps some crappy show on Fox News.
Second season
[
edit
]
The second season of this show (which, by the way, was still smarter than YOU! And more so today) ushered in a brand new group of genetically engineered fifth graders, as the original class graduated to the sixth grade to become even more smarter than the moron reading this high-quality and exquisite article. The five new 5th grader future legends are named Mackenzie, Cody, Sierra, Olivia, and Nathan. There is an alternate 5th grader, Riley, who is from Santa Ana, California. Next season, Kim Komando's son Ian will be joining the show as a new 5th grader. To this day, nobody has proven to be smarter than a 5th grader.
The show ran for a few more seasons, on Fox and in first-run syndication before it was ultimately cancelled.
A winner (???)
[
edit
]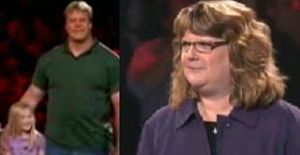 In the third season of this show, Kathy Cox had won 1 000 000 dollars. She was the superintendent of public schools in Georgia. It seems as though it was necessary for her to prove her intelligence about education to prove she was still qualified for her position and thus actually performed well. WRONG! On the later daytime shows Phil Pfister, a body builder, won only $25 000. At 6 feet 6 inches he is pretty strong and built, but very stupid. Kathy Cox wasn't as athletic but won 1 million. This leads us to the conclusion that being athletic is terrible as it makes us really stupid, rather we must consume as much food as we can to be intelligent.
Celebrity shows
[
edit
]
The second season is notable for being the first to include B- and C-list celebrities playing for their favorite charities... themselves. So far, the only celebrities to appear on this show have been Regis Philbin, Tony Hawk, Kellie Pickler, Clay Aiken, Josh Server, and Mr. Winkler.
After laying dormant during the Obama era, when human intelligence improved significantly (unless you were a Republican), things took a dark turn when Donald Trump was elected President of the United States. The original Super Smart Fifth Graders™ knew they had to do something. Unfortunately, this time, Foxworthy and Murdoch had crossed over to the conservative dark side, and so the former fifth graders took their idea to ultra-liberal kids network Nickelodeon, once the home of Linda Ellerbee's Nick News. Nick President Cyma Zarghami and All That creator and future Nick President Brian Robbins loved the idea of rebooting the show.
They searched high and low for a new host who would not only mock you lardass lummoxes, but also appeal to actual kids and indoctrinate their radical liberal agenda on them, thus making every fifth grader smarter than you for all eternity. Unfortunately, Ellerbee had retired in 2015. So they turned to a segment of the population known for meatheaded Republicans with even meatier muscles, professional wrestling. Hulk Hogan was unavailable, as he was shopping his own reboot, of the long-forgotten Thunder in Paradise. Ric Flair was already pushing 70. And every other classic wrestler was dead. Dwayne Johnson wanted too much money. When the dust cleared, only John Cena remained. Zarghami decided, "Hell, what's the worst that could happen?"
This time, they didn't need to genetically engineer the new fifth graders, as they were already smart enough. But they are injected with artificial brain hormones every month or so that the show is in production. The reboot premiered in 2019 and made everyone watching look like a laughingstock.
People who are not smarter than a 5th grader
[
edit
]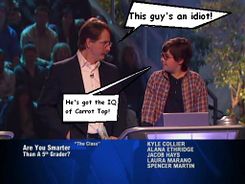 <insert name here>

You (and you know it!)
A fourth grader...(by convention... duh!)
The Lord Foxworthy himself (think about it, he answers no questions himself)
George W. Bush (Is this even a question?!)
Melissa (Riley's aunt)
People who are
[
edit
]
Who is smarter than a 5th grader?
Please vote below. Results will be shown when you have voted.
You are not entitled to view results of this poll before you have voted.
There were 38 votes since the poll was created on 21:44, 10 January 2013.
poll-id FDDB24409BA7A3E46075C5EDF33A3BD5