UnNews:Meatloaf forced to cancel gig for "doing that"
Jump to navigation
Jump to search
1 November 2007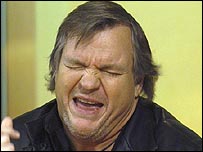 "DO-ANYTHING-FOR-LOVE-IOUS" US ROCK STAR Meatloaf has been forced to cancel a Newcastle concert after fans reacted angrily when he was seen to "do that" on stage during a gig last week. Meatloaf, real name Vernon Blacknog, famously said that he "... would do anything for love" but insisted that he "won't do that."
Well the cat was well and truly in the sock when he sensationally revealed last week that, after 100 years in showbiz, he intended to "do that". It is thought that his decision to "do that" came when he recently mutilated his penis after an unfortunate accident involving an otter, a fishing rod and a tub of petroleum jelly.
Meatloaf was due to perform the gig later this month. The moves (sort of) echo the backlash after protests from students regarding the "homophobic" act of Sting. He was asked to stop singing about "not standing too close to the blooming queers".
One angry fan, Mr Gonad McTwatster, expressed his dismay at Meatloaf's intention to "do that", "I often lay in bed whilst masterbating, dreaming of doing anything for love but NEVER in my most depraved fantasies have I ever EVER 'done that'"
"I mean, there are so many things we can do for love without 'doing that'. One favourite of mine is with Meatloaf, with those dumpy little legs of his, dressed in a set of leather tassled trousers, Oh they could oh so easily be wrapped round my torso and crush me as I thrust and thrust and THRUST AND THRUST! oooh yeah, he like it to the HILT!"
Meatloaf was unavailable for comment after he was arrested for "doing that" in a public park, with a goose.